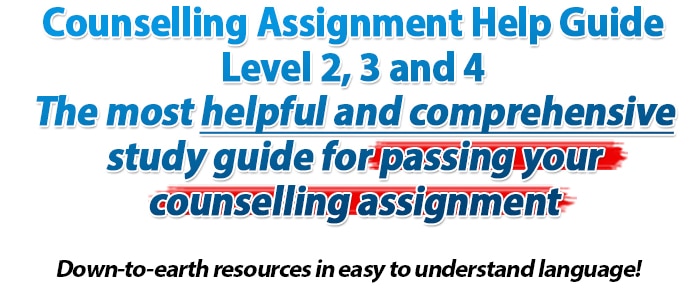 Counselling assignment help guide level 2, 3 and 4 Bundle. The complete assignment resource for your counselling study.
The most helpful and comprehensive study guide for passing counselling assignments.
This guide will suit students intending to qualify as counsellors. The guide was written to support you with your counselling assignments from Certificate in Counselling Concepts, right through to the final year of your Level 4 Diploma in Therapeutic Counselling. (Equivalent to UK levels 2, 3 and 4)

The information shared in the counselling assignment guides have helped hundreds of students pass their counselling assignments.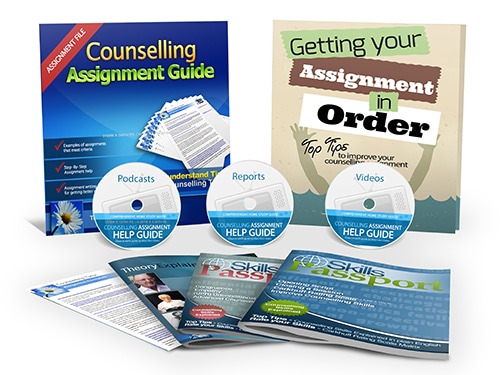 Bundle Guide Overview
The bundle contains counselling resources, video links, podcasts, ebooks, a skills passport, citable reference documents as well as 15 assignment exemplars containing over 30.000 words of counselling theory linked to practice. The assignment exemplars are real assignments that have been completed by students just like you. All assignment exemplars were submitted for grading and met criteria at the time of assessment. You also get lifetime free updates to ensure your guide remains up to date.
Who Compiled This Guide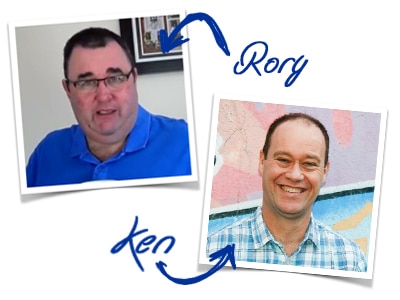 The guide has been written by, Rory Lees-Oakes, a counselling tutor with a wealth of experience training counsellors. Apart from his counselling qualification, Rory holds a post graduate certificate in teaching, a counselling supervision certificate and he is also in practice as counsellor.
The guide was compiled by Kenneth Kelly. Ken is also a counselling Tutor and practicing counsellor working closely with Rory at a college in the United Kingdom.
Having the combined experience of two counselling tutors gives you the best chance to pass your counselling assignments. The main model covered is the Person Centred Approach to counselling with Transactional Analysis and Rational Emotive Behavioural Therapy outlines as comparative models.
The counselling assignment help guide walks you through what information the awarding bodies are looking for and how the information should be presented in order to pass. You get the guidance of a real counselling tutor who has a wealth of experience helping students meet the grade.

Assignment Guidance Over Three Years of Your Counselling Study
The Level 2, 3 and 4 Bundle contains all of the Counselling Assignment Help Guides that you will need in your study to become a practicing counsellor. The bundle includes all of the Certificate in Counselling Concepts (UK Level 2) and The Certificate in Counselling Skills (UK Level 3), Diploma in Counselling Skills (UK Level 3) guides as well as additional specialist resources for students undertaking the, 2 year, Level 4 Diploma in Therapeutic Counselling (UK Level 4) in counselling.
The "Counselling Assignment Help Guide" walks you through step-by-step!
Would you find any of this helpful?
Guidance on assignment structure
Writing tips for better marks
Words and phrases you should use
How to reference and use quotes
Assignment language explained such as compare, contrast, describe and define.
Citable reference resources
All of this and so much more is included.
Certificate in Counselling (UK Level 3)
Assignment exemplars of assignments that meet level 2 and 3 criteria. Click here to see topics
You will look over a successful assignment that has been marked as passed.
Get a feel for the structure and content in relation to the assignment questions and use this formula in preparing your own assignment.
Diploma In Therapeutic Counselling (UK Level 4)
Over 20.000 words of level 4 assignment exemplar material. Click here to see assignment topics
A 14 page ebook on how to analyse supervision case studies
Examples of a case study with notes on where criteria is being met.
A level 4 exemplar on the the theoretical approach to Person Centred Counselling with notes of what hits criteria
The 19 propositions decoded
Citable, quality reference materials on the Caldecott Principles, Carl Rogers, Eric Berne, History of CBT, History of TA, REBT Elements, History of Psychoanalysis.
A final year counselling diploma portfolio index to help you arrange your portfolio

Assignment exemplars at Diploma level.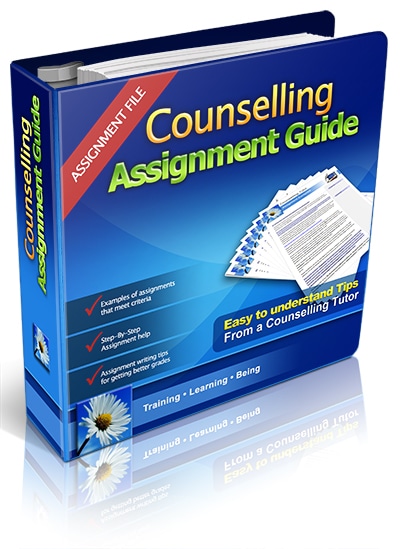 Assignment topics include
Professional organisational issues in counselling (2727 words)
Counselling in a diverse society (2794 words)
Advanced Counselling skills (2647 words)
Specialism report and research into alcoholism (2740 words)
An exemplar of a completed portfolio including
Information on one relevant piece of legislation (543 words)
Practical Case study linked to supervision (1649 words)
Practical Case study linked to theory (1614 words)
The benefits of using working agreements evaluation (517 words)
Description of agencies and other organisation, including team work (2749 words)
Commentary on learning learned from placements (1028 words)
Self awareness for counsellors (2746 words)
Video reference guide at level 4
You also get
A comprehensive Counselling Theory and Practice Guide (Level 2, 3 and 4)
A counselling skills passport - 6000 words outlining how skills are used and evaluated (level 3 and 4)
38 pages of paraphrased counselling theory relevant to your assignment. (Level 2, 3 and 4)
The guide has been carefully written to include the key words and phrases that hit the criteria of the awarding body's. Important facts are included

without going too deep into details that are not needed for the assignment.
Topics include
Comparing and contrasting three models of therapy
Ethics in counselling
The Law related to counselling
Supervision
Making referrals
Barriers to communication
Counselling skills
Non-verbal communication explained
Use of silence explained
Attending
Reflection explained
use of closed questions
Focusing explained
And so much more
Instant Access! No waiting for days for your guide!
Plain English is used so easy to read and understand!
FREE updates ensure your guide remains up to date!
Audio, video and documents make for varied learning
30 day money back guarantee so no risk to you
Free Bonus Included
If you are not good with computers read this
Non computer people – We have you covered.
Ken built the VLE where you get your guide and Ken is also the Counselling Tutor support man.
In 2 years of delivering hundreds of guides to counselling students from all around the world, Ken has not had a technical issue he could not walk the learner through.
He has your back. Your VLE is super simple to access. You enter your email address and a password, that you setup during registration, and it acts as a key to the VLE. Once setup its simple to get in from your smartphone (apple and android), tablet, laptop and desktop. If you have connection to the internet, you have your Counsellor VLE with you. Any issues at all and you then get Ken Kelly's support.
FREE BONUS RESOURCES INCLUDED!

Bonus #1 - Reports (theory linked to assignment)
A report outlining the key features of the BACP ethical framework
A report comparison of two ethical frameworks
A report examining advantage and disadvantage of power in counseling


Bonus #2 - Videos (watch on phone, tablet & PC)
A list of topics and related videos that underpin the Counselling Theory and Practice Guide all linked to the assignment criteria.
13 videos from our highly successful YouTube channel covering the topics covered in the assignments. The videos are referenced for you on a document, you just click the link and you are taken directly to the video. No more trawling YouTube tying to find the relevant videos.

Bonus #3 - Audio Podcast (listen on your phone, mp3 player or computer)
An audio file on how to keep a reflective journal
An audio file on the life and work of Carl Rogers
An audio file comparison of two ethical frameworks
An audio file examining advantages and disadvantages of power in counselling
Audio files are iPhone and smartphone compatible for use on phone, computer, laptop or tablet.
Want to see what it looks like? Take a peek below!
A snippet showing some of the assignment exemplar topics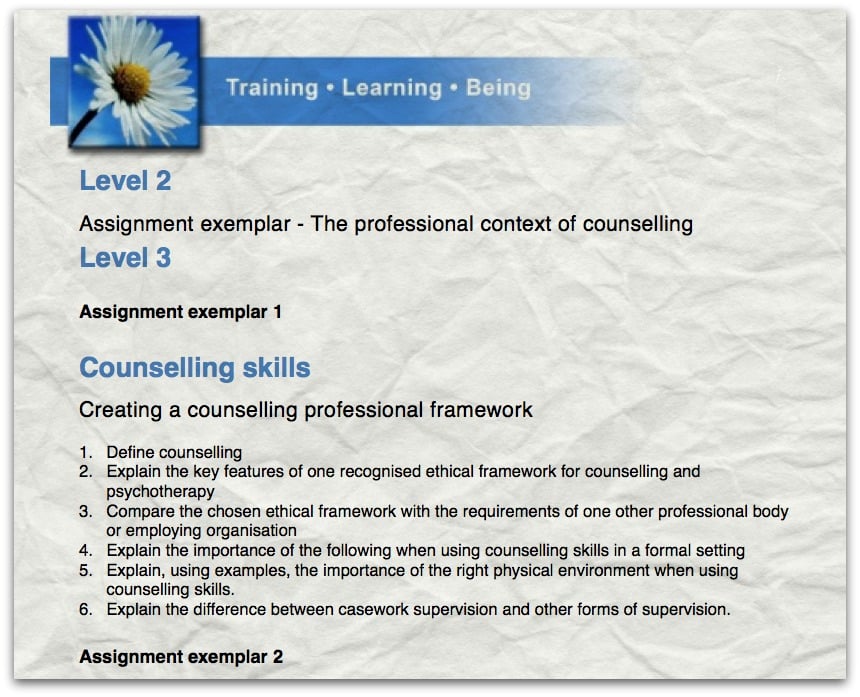 Snippet from one of the Level 3 counselling assignment exemplars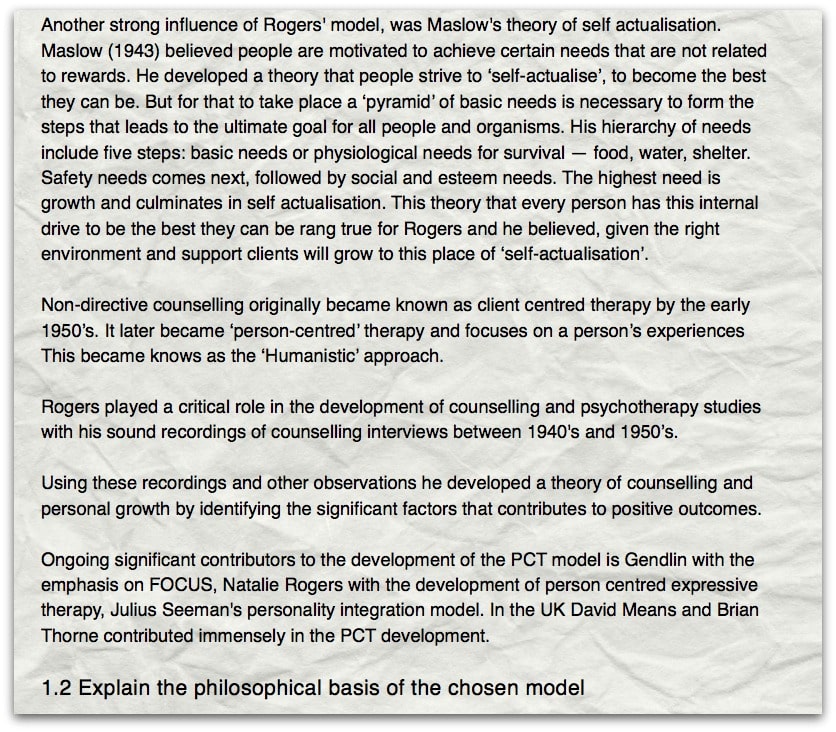 Snippet from one of the diploma in counselling assignments (UK Level 4)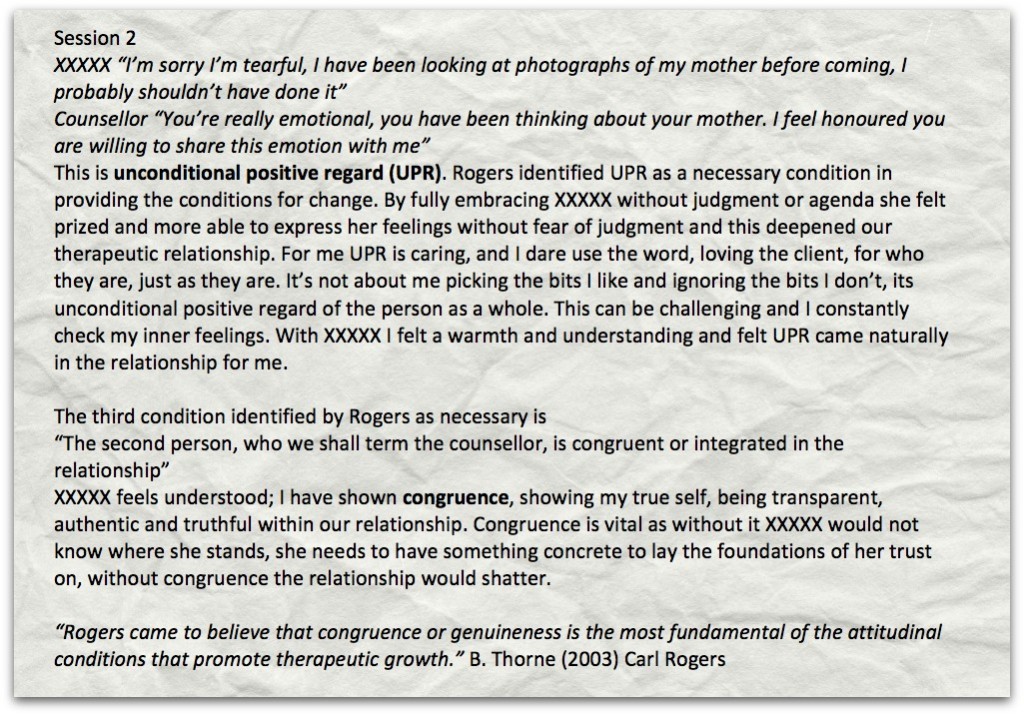 Snippet from "How to Analyse Supervision Case Studies" e-Book (UK Level 4)
Snippet from "Carl Rogers 19 Propositions Decoded" (Level 4)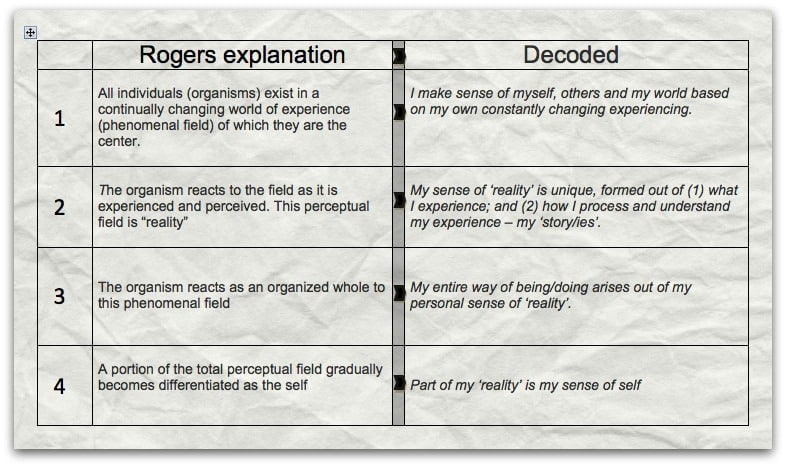 Snippet from the Skills Passport (over 6000 words)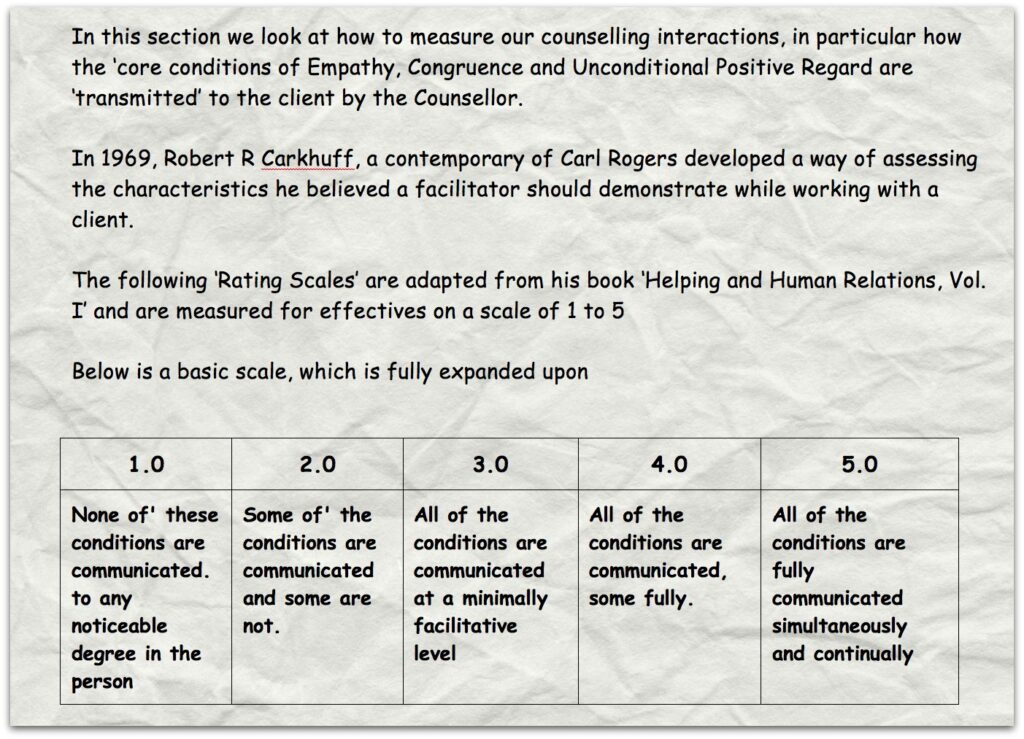 Snippet from Counselling Theory and Practice Ebook (35 pages)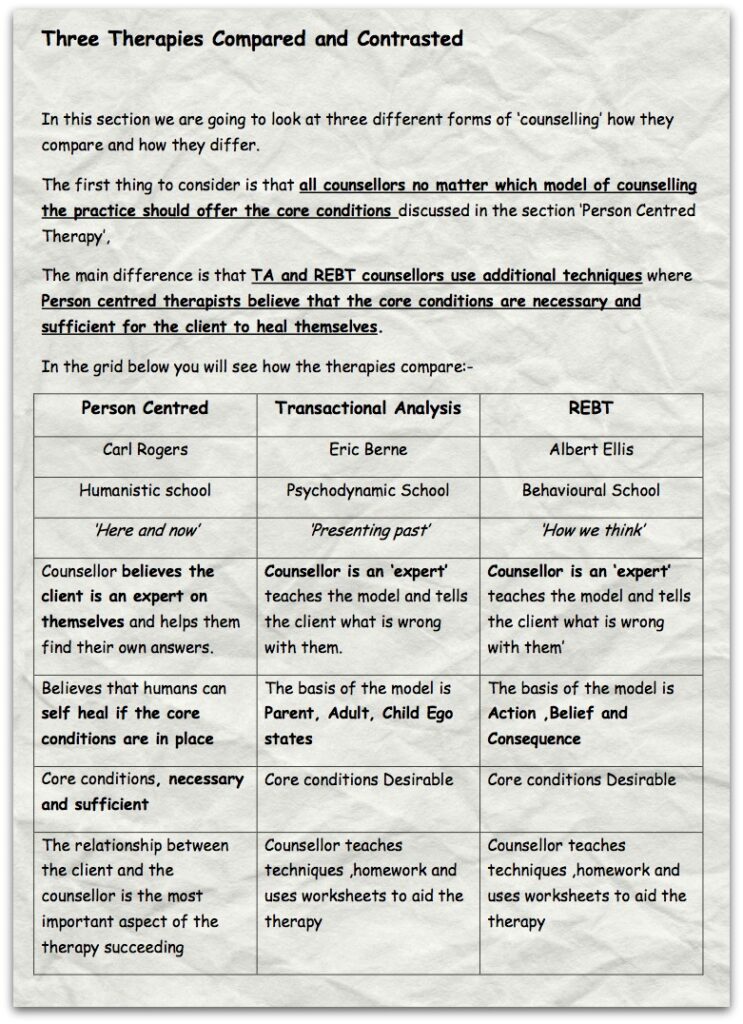 Snippet from Assignment Tips Guide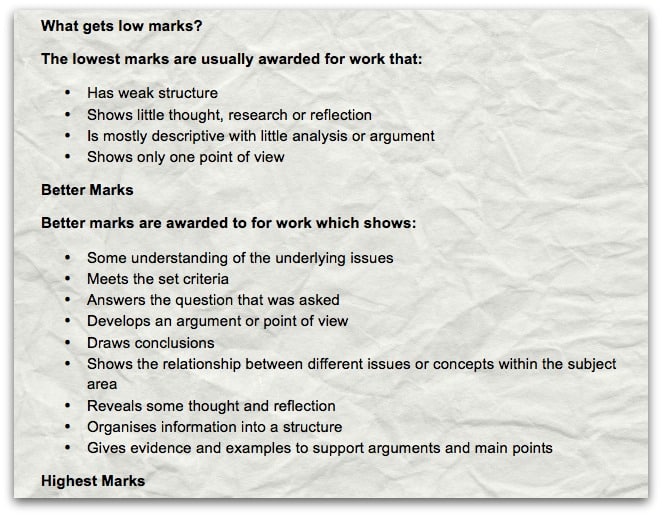 Thank you for taking the time to read this. I wish you the best of luck with your counselling assignment.

p.s Just think! You will not have to worry about what to study, how to study or what to do next.
Sincerely,
Rory Lees-Oakes, Counselling Tutor.