Autonomy in counselling – the texting generation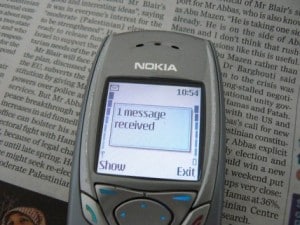 Autonomy in counselling – the texting generation
I had interesting discussion with a colleague this week on the subject of client autonomy; it revolved around the ethics of a client being 'text 'to remind them of their appointment.
He was trying to decide if  a counsellor or a counselling organisation sending a text to a client to remind them of their appointment was tantamount to coercion and did it clash with the fundamental principle of autonomy, described in the ethical framework of the Bacp as:-
'Respect for the client's right to be self-governing'
This principle emphasises the importance of the client's commitment to participating in counselling or psychotherapy, usually on a voluntary basis. Practitioners who respect their clients' autonomy … protect privacy; protect confidentiality; normally make any disclosures of confidential information conditional on the consent of the person concerned …'
Ethical Framework for Good Practice in Counselling and Psychotherapy BACP-  http://www.bacp.co.uk/ethical_framework/ethics.php accessed 7th of March 2012
To try to get a better understanding of the subject I undertook an internet search using the phrase 'counselling + texting + appointments'
The first page of Google brought up two organisations that used an 'opt in' text based messaging service to remind clients of their appointment. The first Nottinghamshire Health Care part of the NHS, the other was a private organisation called 'The Basement counselling service, located in Liverpool.
I also discovered a piece of research undertaken as part of a master's degree by Dr Qasim Hameed Afridi on the effect of text based reminders to patients receiving cognitive  behavioural therapy at The CBT department at Saint Patrick's Hospital, Dublin, which I will return to later.
So it would seem that on the face of it that organisations who offer counselling use SMS text messaging services as a form of electronic appointment card.
The next question I considered was 'why do organisations offer text based appointment reminders?'
The answer to this question was quickly found across a number of websites which indicated that it was used to reduce DNA's – clients who did not attend.
The website http://www.connectingforhealth.nhs.uk, cited a piece of research from the Times newspaper in 2011 which was indicated that
"Almost seven million patients failed to keep hospital appointments last year, costing the NHS hundreds of millions of pounds in wasted time and lost revenue'. It goes on to say that "The Government has estimated that a missed appointment costs more than £100 in lost hospital revenue and time wasted. This would equate to almost £700 million over the 12 month period".
While counsellors should be rightly wary of acting as agents of social control, on behalf of organisational accounting, the argument for texting is that money makes the world go round and that to offer a service you need to keep staff utilised .
Another point used to justify the use of  texting to remind clients of appointments is that most practices have waiting lists, clients who do not turn up for whatever reason extend the time a counsellor engages with them and thus extend the waiting time for the next client to get help.
So on the face of it texting clients is a good idea ?
Well  the conclusion of Dr Qasim Hameed Afridi's research makes interesting reading,  of the 53 research participants who were receiving CBT, were asked questions about their preference for appointment reminders, 47 preferred a phone call, because it gave them the ability to change the appointment date, which I guess takes us back to the original question about autonomy .
The ability to engage with another human being and express a desire to make a choice seems to have been an overarching choice for these clients.
To be, as the ethical framework so eloquently puts it 'self governing '.
References
https://www.cs.tcd.ie/postgraduate/health-informatics/assets/pdfs/Impact%20of%20SMS%20Reminders%20on%20CBT%20Appointments.pdf
http://www.esendex.co.uk/
http://www.the-basement.org.uk/
http://www.connectingforhealth.nhs.uk
What is your view on texting to remind clients of appointments?
Why not leave a comment?