Bigotry about mental health is alive and well … ask TalkSPORT presenter Alan Brazil
The death of actor Robin Williams apparently by suicide, is a sad loss both to his family and to the millions of fans who marveled at his performances in films such as Good Morning Vietnam, Dead Poets Society, and Goodwill Hunting.
Williams who had a well chronicled struggle with both addiction and bipolar disorder, was always candid about his illness, however his death at 62 is both saddening and stark reminder that poor mental health does not respect age, gender or sexuality.
Rich or poor, black or white, gay or heterosexual, when poor mental health comes a knocking, you better be prepared as it can bring you to your knees and as we have seen, kill you.
In recent years I would have hoped that with all the mental health information available on the internet, awareness raising by organisations such as Mind, that those in the media would have had a compassionate response to the passing of Robin Williams.
After all we have come a long way since the Sun newspaper ran the headline 'Bonkers Bruno' in 2003… haven't we?
Well apparently not!
TalkSPORT presenter Alan Brazil  commented that he had "no sympathy" Robin Williams and considers the situation he left behind "diabolical ".
Stan Collymore a fellow presenter on TalkSPORT who himself has battled with depression hit back with a number of tweets.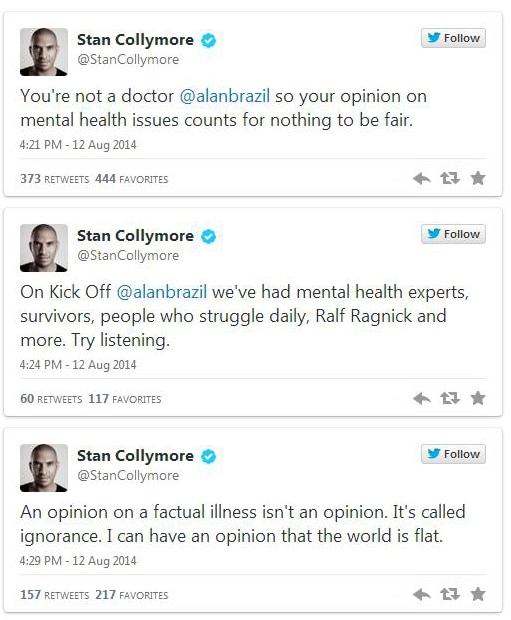 However Brazil remains unrepentant stating;
"Well done @StanCollymore for retweeting comments about me. I stand by what I said today. The sympathy I do have is for RW's family & friends," he wrote. "@StanCollymore has his opinion and I'm entitled to mine."
Perhaps Mr Brazil , would be better sticking to his own area of expertise,leaving commentary on mental health to those who have a bit more knowledge and a damn sight more compassion.
Please tweet and  share this article 
What are your view on how mental health is portrayed in the media ?  We would love to read your comments !