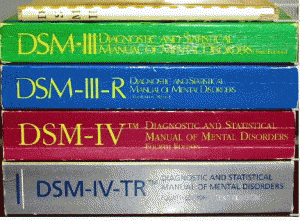 To psychiatric clinicians the DSM or Diagnostic Statistical Manual is an essential tool in the diagnosis and treatment of psychiatric disorders such as schizophrenia or behavioural difficulties such as eating or personality disorders.
First published in 1952, by the
American Psychiatric Association
, the manual is due for its fifth revision in 2013, however not everyone involved in the world of mental health is welcoming this latest edition, with some dissenters coming from the very establishment it was meant to serve.
"The Society is concerned that clients and the general public are negatively affected by the continued and continuous medicalisation of their natural and normal responses to their experiences; responses which undoubtedly have distressing consequences which demand helping responses, but which do not reflect illnesses so much as normal individual variation." (1)
In an open letter to the DSM5 Task force, the
Society for Humanistic Psychology,
( a division of the American Psychological Association ) raised question regarding the lowering of diagnostic thresholds " (2) Which may artificially inflate the prevalence on numerous disorders".
In other words widening the net on what clinicians can diagnose as a mental disorder, the main concern of both organizations is that the wider range of 'normal human behavior ' could be stigmatized as a mental health problem"
Considering DSM's history of stigmatizing Homosexuality, (its inclusion as a mental disorder was first re-categorized in 1973 as , ego-dystonic homosexuality (3) before being removed completely from DSM'S third edition in 1980). It is small wonder that thinkers in the field are concerned that a wider range of human behavior could be classified as a mental disorder.
Perhaps one of the most pointed arguments against DSM is that of it's biological roots or treatment by medication, as someone who was employed as a support worker in the field of mental health I can say that some of my ex clients seemed to benefit from psychiatric medication, however I do wonder at the over exuberance of some physicians to prescribe when talking therapies or just talking to someone may be of more help and support.
I also find it slightly sinister that a group of individuals can decide what constitutes mental disorder and what can be considered "normal" .
For example in her book '
Why We Lie', Dorothy Rowe
a well known psychotherapist and author cites the case of Dr Richard Gardner an America psychiatrist who published a paper on PAS (parental alienation syndrome,) were a child may become abusive to parents who are splitting up.
Gardner lobbied for PAS to be included in DSM IV however it was rejected, as Rowe points out children becoming angry at parents who are separating is a "normal' reaction which does not warrant a psychiatric diagnosis.
As a counselor I have worked with lots of clients who have had diagnosed disorders , one case that comes to mind was man in his mid twenties who had been diagnosed with " verbal dyslexia" referred to as aphasia(4) in the DSM IV.
He told me that he had a domineering mother who was prone to irrational emotional outbursts to both his father and himself , consequently the father would encourage him to lie to his mother about any issue that would upset her, the manta was 'don't tell your mother'.
Consequently my client fell into a pattern of behavior that meant that he would go out of his way to avoid any truth that may even slightly upset anyone, the impact on this was that when he tried to speak he was so afraid of upsetting anyone that he literally became lost for words.
However after about three sessions his difficulties in communicating with me seemed to ebb, and we looked at the consequences of telling the truth, how it could be phrased and whether it was worth struggling through life trying not to upset anyone.
I don't know how my client fared in the wider world, I do know that by the end of therapy his communication with me was fluid and he told me that his relationship with others was improving,though notably not with his parents who seemed to be having a little disharmony in the relationship when Mr and Mrs truth came to visit!
I also wonder what the clinician who made the diagnosis no doubt from DSM thought about my clients 'recovery'……
The psychologist Carl Rogers shifted from clinician to counselor writing;
"…In my early professionals years I was asking the question: How can I treat, or cure, or change this person? Now I would phrase the question in this way: How can I provide a relationship which this person may use for his own personal growth?"
— Carl Rogers, On Becoming a Person
While Rogers had some well documented setbacks on the road to developing the Client Centered Approach ( Google Rogers+ Psych project + Wisconsin) his approach normalized individual behavior not categorized it.
This is an important point as it gave permission for individuals to consider their own individuality, and how to live on their terms , something that you will not find in the pages of DSM….
References
(4) Aphasia can also be a result of a stroke or brain damage