Introduction to Counselling Skills and Theory
Introduction to counselling skills and theory
Counselling students handbook
Written by Linda Mather a practising counsellor, trainer and supervisor. Introduction to counselling skills and theory is an excellent text for students on a level 2 counselling skills program
How is the book structured ?
Students will find the index split into 2 sections.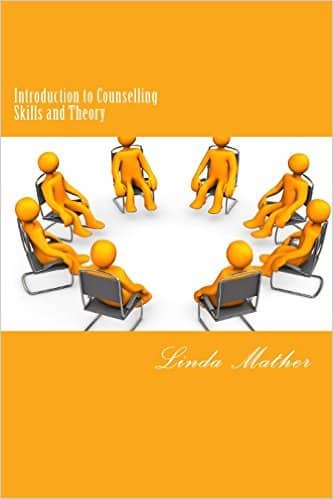 Introduction
Level 2 Certificate
The introduction section outlines what a counselling student should expect at the first session. Observing that-
You will notice right from the moment you walk in to the classroom or counselling program that this is not the same as other academic courses . Counselling studies studies does not just focus on theory and skills; it also focuses on your own personal development and the engagement of the group of the students also embarking on the course. (P 9)
The rest of the chapter is written in the same clear and concise way, explaining topics such as 'check-ins', keeping a journal and personal development groups.
The second part of the book explores areas such as  ;
Counselling theories
Application of skills
Ethics
Overview of personal development groups
Finally, this book is hugely useful for trainers, in addition to outlining theory and skills, the chapters also give ideas for lesson activities, providing useful templates for handouts and group work .Ideal for 'last minute' lesson preparation.
In conclusion, this is a well written and researched book which strongly competes with the better-known titles in the counselling world. Definitely one for the trainee counsellors book shelf!
Please watch my video review below.
Suggested reference for the book .
Mather, L (2014) Introduction to counselling skills and theory, Burton on Trent :CreateSpace Independent Publishing Platform .
Where can I get my copy?
Introduction to counselling skills and theory is published by CreateSpace Independent Publishing Platform and is available from Here
Find out more about the Swivl Robot Here