Natalie Rogers – An Appreciation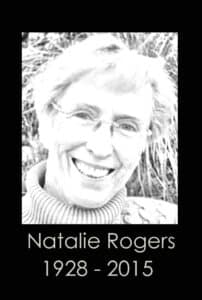 The news of Natalie Rogers death, shocked and saddened the world of counselling and psychotherapy in equal measure.
Natalie Rogers was born in 1928 to Carl Rogers and Helen Elliot, and went on to become, like her father an influential voice in the world of counselling and psychotherapy.
In 1960 she enrolled Brandeis University's graduate psychology program, training initially under mentorship of Abraham Maslow. In 1973 she completed her MA and started her first role as a psychologist at the University Counselling Centre in Honolulu, Hawaii.
Best known for her pioneering development of Person Centred expressive arts therapy, describe by her father Carl Rogers as "ploughing new ground", Natalie Rogers was commemorated in 1998 with a Lifetime Achievement Award presented by the International Expressive Arts Therapy Association.
A prolific author, Natalie Rogers wrote extensively on feminist issues, written in 2006 'Seeing the soul of the "Other": Bringing Israeli and Palestinian women together for a peaceful future' is a first-hand account of the experience her work with women from a troubled area of the middle east, using dialogue and expressive arts to form a mutual understanding.
Natalie Rogers died peacefully in her home on Oct. 17, 2015 at 87 years of age.