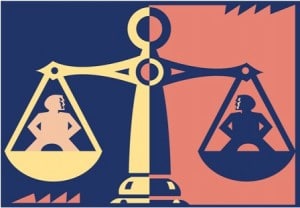 Well' I thought to myself, – 'I did not expect this to happen !', as I processed the unexpected turn of events, which found me, stood along with the entire school population on an all weather pitch on a cold wet January morning, being 'accounted for ' as part of a fire drill.
As I waited for the 'all clear' to return to the school building, I distracted myself from the rain sodden summer shirt I was wearing, which was now sticking to my body , by reflecting on how sometimes what is taught in class and the real world of counselling are not quite the same thing.
Let me explain – a few minutes before the fire alarm went off, I was sitting in the therapy room with my client engaged in a deep and meaningful dialogue.
I was offering the core conditions, being empathic, and valuing the autonomy of the client, working hard to equalise any power differences.
Then the fire alarm went off……….Beep – Beep – Beep…..
I looked at the client.
Client looked at me.
And I found myself uttering the immortal phrase 'That's the fire alarm – follow me!'.
Any vestige of equality disappeared, just as quickly as my client became one of a sea of students making their way out of the building.
As a trainer I spend a lot of my time banging on about ethics, reducing power differences, client autonomy – as my students would tell you ,however there are some occasions when I have to retain power. As a school counsellor I work under statutory legislation, in this case the child protection act which asks me to exercise due diligence in matters of risk
Fire is a risk, and I don't think anyone would consider me competent if I had asked my client, "so it seems the fire alarm is going off – How do you feel about that? ".
The real world of counselling sometimes asks practitioners to make choices that may feel counter intuitive to the ethos of the profession – that of retaining and using power, if this happens then we need to consider the idea of Universality, a philosophical position which asks us to consider logically the best course of action.
It's also worth remembering that power it's self, is neither good or bad, it is how it is used and for what outcome……..
Have you had any experience of what you were taught and what happens in the real world 'bumping' in to each other ?
Please comment below