Review – To Lead An Honorable Life
To Lead An Honorable Life
An invitation to Person Centred Counselling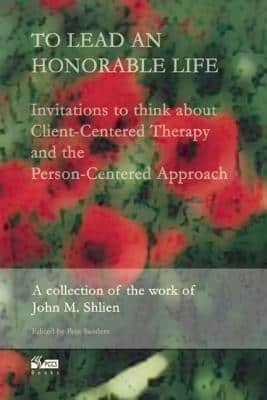 John M Shlien, a contemporary and former student of Carl Rogers. A former lecturer at Harvard University,he remained one of the most influential voices in the world of person-centered counselling until his death in 2002 .
Students who read this book will discover some of Shlien's radical thinking . For example, a countertheory of transference in which he explained-
'Transference' is  a fiction , invented and maintained by therapists to protect themselves from their own behaviour '
John Shlien was also one of the few therapists to state his personal ideals . Described by him as a 'Declaration of Principles;
All theory is autobiographical.
No theory is universal. If it claims to be, it exaggerates and has a totalitarian tendency, because the client is unique, has the right to fail as well as succeed and this is the main factor in success.
In the history of ideas , everything is personal.
The main human problem is: how to live an honorable life .
My objectives are clarity and cleanliness.
Do what you want . Call it what it is.
Everyone knows everything.This is not a theory of knowledge , it is you, I, we, know every about ourselves . There may be defenses , denials ,l cover-ups secrets ,faults and overloads in memory , but we know …We are the ultimate source.
The last principle makes reference to a key idea in person-centered therapy . In other words, it is the client who knows what hurts .
What else will I learn ?
The chapter on Phenomenology and Personality offers a challenge to behavioural thinkers such as Skinner and Pavlov. By emphasising the importance of both free will and lived experience as a direction in personality formation.
Another chapter A Client-Centred Approach to Schizophrenia. Discusses that although Carl Rogers once believed that PCT was not a suitable therapy for psychosis. Shlien, argues  that the term Psychosis covers a wide spectrum of presentations some of which are treatable with PCT.
In conclusion, this collection of papers, research, and observations from John M Shlien , lovingly edited by Pete Sanders. Provides both an important historical record  and a refreshing insight in a widely practiced and still evolving therapy .
Suggested reference for the book .
Shlien, J M. et al (2003) To Lead An Honorable Life, Ross-on-Wye: PCCS Books.
Where can I get my copy?
To Lead An Honorable Life  published by PCCS Books and is available from their website.
Find out more about the Swivl Robot Here