Selfish – the greatest gift of all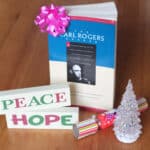 Selfish- the greatest gift of all
Time to close the counselling books, put the assignment briefs away and engage in one of the most important lessons counselling training can offer – Self Care.
Being selfish is a much underrated pass time, which is sometimes misconstrued as being uncaring, aloof and cold hearted.
It's a skill we need to learn, as being 'the good enough other 'to our clients, peers and colleagues takes a huge amount of emotional energy and as such we need to value ourselves in the same regard as those we help – not an easy task for some.
Training to be a counsellor is unusually demanding of students, it simultaneously asks for academic skills and emotional intelligence, sometimes in the same moment! , Not to mention being in practice, writing assignments or presentations, attending supervision meetings. And of course the PD group – need I go on?
So, my message this year is a simple one – Give yourself a gift which you cannot buy on Amazon, or hope to receive from others.
Give yourself the Core Conditions of Empathy, Congruence and Unconditional Positive Regard, the greatest gift that counsellors offer others, is in fact the greatest gift we can offer ourselves.
So go on, be selfish…….
Have a great holiday break and see you again in 2014.
Rory x