Special Edition: Progression Routes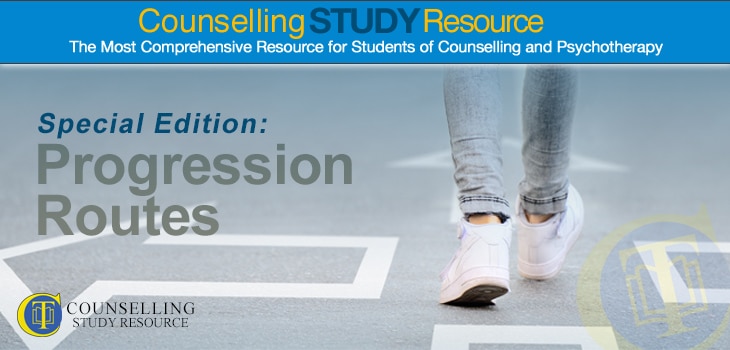 Special Edition: Progression Routes

In this special edition of the Counselling Tutor Podcast – broadcast outside the usual UK academic term-time, and covering one topic in greater depth – Rory Lees-Oakes and Ken Kelly discuss progression routes for those finishing counselling training courses. At this time of year – when UK colleges and universities finish for the summer break – it may be a time for you to relax and reflect on next steps, or you may still be working hard on final assignments.
CPD Opportunities for Graduating Counselling Students
Many previous episodes of Counselling Tutor Podcast have covered topics that can support you through this time, for example on:
Our Counselling Study Resource (CSR) provides input that is global across all levels and awarding bodies – and so is suitable for all students of counselling and psychotherapy.
Completing Your ABC External Portfolio
Different courses are assessed in different ways. For example, universities – which have the authority to award their own qualifications rather than using an external awarding body – may require students to complete exams and/or a dissertation. Many colleges in the UK offer the ABC Level 4 Diploma in Therapeutic Counselling. This is assessed through an external portfolio relating to your counselling placement; it comprises a large folder of written work – 12 pieces of work in total, plus client/supervision logs and placement/supervision contracts.
Many counselling students each year find that their external portfolio is referred by ABC, i.e. that they need to spend more time working on it before it can pass. Although this is not a failure – more an opportunity to look at your work again – it does delay your search for paid work and also costs money (currently £36.90 for each time you resubmit). A common reason for the portfolio to be referred is that the student has not answered the exact questions that have been asked. Even an eloquently written answer of the right length will not pass if it does not meet the relevant criterion. When writing your external portfolio, it is important to look at the detailed instructions.
With over ten years' experience as a counselling lecturer and trainer, Rory has written the ABC Portfolio Key. This is available free of charge to existing members of the CSR, and non-members can purchase access. It includes:
19 podcasts where Rory explains what has to be included in the portfolio and how to answer the assignment questions
seven in-depth briefing documents that discuss in detail what you need to include in the assignments to pass
one complete portfolio that has passed, so you can examine how to structure your assignments and resources prior to submission
a link to the awarding-body page of relevant documents
a bonus lecture on Bloom's taxonomy (the system behind the important terms 'evaluate, 'analyse' etc.).
Continuing Professional Development (CPD)
CPD is our learning after qualification as a counsellor. This is vital for us to keep up-to-date, ensuring our practice meets the standards of our professional body (e.g. the BACP, which requires registered members to have at least 30 hours' CPD each year). CPD courses are great to enhance your knowledge and build on your core training, but you need to choose them with care. Rory interviews special guest (and fellow pioneer in online learning) John Wilson, who – with his business partner Sandra (Saz) – runs Online Events, a one-stop shop for CPD.
The service offers one-hour sessions on a variety of different topics, and even online conferences (recent ones being on trauma, and on supervision). Events are held live (during which you can participate in a chatroom, meaning you can comment on the content and ask questions of John, Saz and the presenter). These are then stored in an online library, where you can access almost 500 sessions for one annual subscription.
CPD Opportunities for Graduating Counselling Students
A huge range and depth of topics – across the span of modalities – is covered, with John describing the service as 'modality-agnostic'. Presenters to date have included Mick Cooper, Colin Lago, John McLeod, Dave Mearns, Peggy Natiello and Regina Stamatiadis – as well as 'rock-star' Rory Lees Oakes! The events provide an ideal way not only of gathering your CPD hours, but also of gaining a taster of a topic before you decide to invest in a face-to-face day course or book on this.
CPD certificates are provided for all events, and you can now also record your detailed learning through the website, with the option to print this off at the end of the year in a format that fits the requirements of the BACP.
Links and Resources
Counselling Tutor Facebook group
Basic Counselling Skills: A Student Guide