UK Supermarkets Asda and Tesco stereotype mental illness.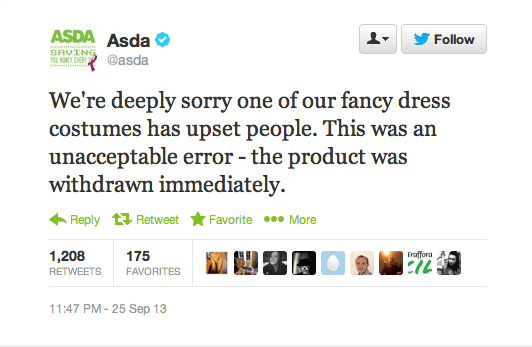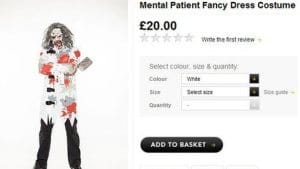 UK supermarket giant Asda have found themselves getting publicity for all the wrong reasons after marketing a hugely insensitive Halloween outfit described as 'Mental Patient Fancy Dress Costume' featuring fake blood, a mask and a fake meat cleaver.

They have withdrawn the product from sale and pledged a donation of £25000 to the charity Mind after they were pilloried on Face book and Twitter from individuals such as the ex footballer Stan Collymore and the charities Rethink and Time to Change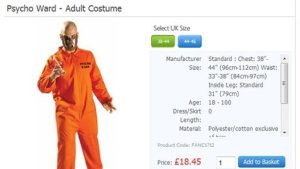 Tesco, also came under fire for advertising a 'Psycho Ward' costume (boiler suit, mask and machete), and like Asda found themselves having to issue an official apology and withdrawing the product.
As someone who is a practising counsellor and a lecturer in counselling studies I find it incredibly offensive and am disgusted by the sale and promotion of these products
After years of hard work and by charities, service users and mental health professionals to raise awareness and remove the stigma from mental health here we are again having to police companies who should know better.
We still live in an age where mental illness is stigmatized and dim witted publicity stunts like this only fuel negative stereotypes giving the general public an opportunity to publicly mock those in our society who live with mental heath difficulties.
I wonder if the individuals who signed off these disgraceful products realise how many people kill themselves because they could not live with the stigma.
Having spent a decade working in mental health , visiting psychiatric wards , supporting people who have left hospital and are recovering in their home, I have yet to meet anyone dressed as these picture depict in Asda's and Tesco's advertising.
Individuals with mental health issues need our compassion and understanding not public humiliation, a donation and a few lines of apology on twitter are really not enough.
What do you think about the way Asda and Tesco have depicted mental illness ? Post your comments below