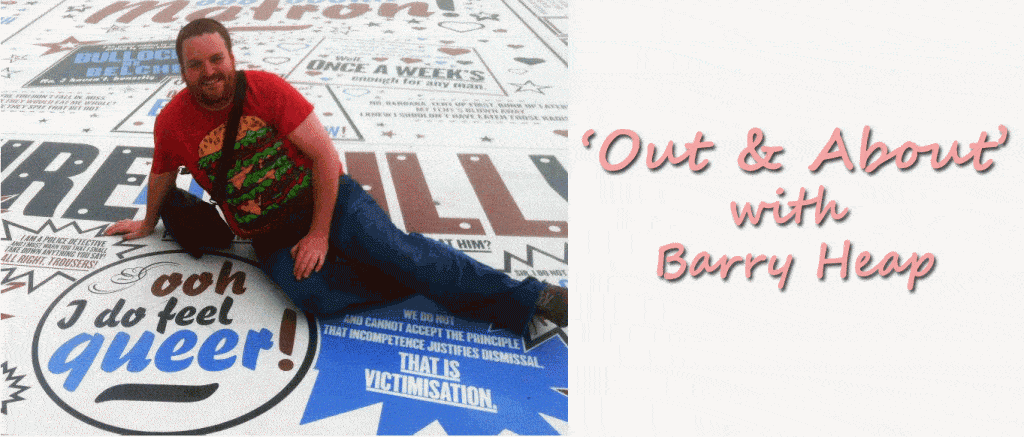 Guest blogger and 'reporter at large' Barry Heap returns this week, to discuss why regional Gay pride events help challenge stereotypes , providing both education and support for all the community.
Barry writes a regular 'agony aunt' column for the online magazine thegayuk.com

Warrington recently held its second pride event. The purpose of pride is to give the lgbt community a chance to celebrate their sexuality.The Warrington event is much different to the bigger cities nearby. Unlike the cities there is not a specific gay area or community based around bars. As such the pride event is less geared towards a drinking culture and more towards a family orientated event. In terms of approach I feel that this incredibly positive.
I've been attending pride events for the last few years and I will admit that I was surprised that Warrington was holding a pride event.they showcase diversity not just in terms of sexual identity but in terms of the different people who take part, police, ambulance and the fire service are all involved as well as many companies such as easyjet and co-op who have long upheld the rights of their LGBT employee's. There is also usually some representation from religious groups such as the Quakers who support same sex partnerships.
I've always been part of prides from afar usually I would go an watch the parade and attend a few of the events and that was as much as I was willing to get involved. But this year was different. This was the first time I marched.
I walked with GLYSS; the Gay lesbian youth support service. GLYSS seeks to support any young people in the Warrington area who are exploring their identity .My boyfriend is a volunteer with them and I felt that it was a cause that was worth supporting.
Pride events are at a strange time at the moment, when they began in the 6o's homosexuality was still an offence. Over the course of 40 years we have seen decriminalisation, the lowering of the age of consent to come in line with hetro sexuality civil partnerships and finally this year same sex marriage bill being passed from the house of lords and receiving royal ascent. Next year, it will become law. Many argue that there has never been a more accepting time in this country. So why is a pride event necessary?
I can tell you why, when walking through town of the way to Warrington pride, I passed 2 ladies who had obviously seen the event. One of them remarked to the other that she didn't see the point and actually said "in Warrington of all places".
This is why we need pride events. While there is ignorance we need to educate. Being gay is not exclusive to the city. It is not a fashionable lifestyle choice. It is life.
Being outside of the counselling bubble is always eye opening for me. Although I can offer unconditional positive regard in practice, it can be easy to lose sight that this is not the case in all situations or that people are not as accepting as we are. The conditions that we offer are unique and we must never forget the power of offering someone acceptance in a society that feels unaccepting.
The pride events are important as it gives a sense of community and in a world where middle aged straight women (you presume they are! Ed) "can't see the point" It sends the message out to anyone coming to terms with their sexuality that you are accepted and valued, you are normal.
What are your feelings on awarness raising events such as Warrington Pride? – Post your Comments below