Counselling Clients in Substance Misuse
Get on-demand Certified CPD that is implementable in your practice,
Counsellor CPD Library
Over 150 hours of on-demand CPD lectures to help you stay current with your CPD ethical requirements, all with personalised CPD certificates.
Support, and be supported, by thousands of other counsellors as a member of the exclusive online community.
Access your learning anytime you want ... anywhere you choose ... using any device type — desktop or mobile.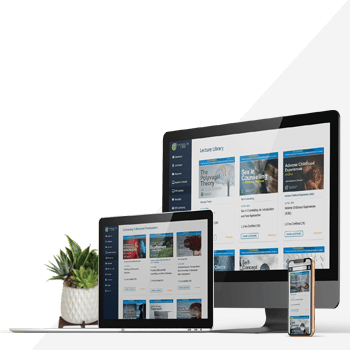 Hi, I'm Linda Mather. In this presentation, I will be sharing with you my experience and knowledge of working with clients in the substance misuse field.
The aims of this training are to offer an understanding of substances, why people use substances and ways in which you as a therapist can work with clients in the substance misuse field. The objectives of the course are to have a deeper understanding of substances. You will be able to identify areas in which you may be able to support clients in recovery. You will have tools and techniques to support clients in working towards abstinence.
I've been a counselor for just over 20 years and 11 of those years I've been with the NHS working in the substance misuse field. I'm also a trainer of counseling courses, from introduction level right up to level four and five. I\'m also a clinical supervisor and author of Counselling Textbooks for Students on training, self-help books for clients and counselors, novels and children's books. I currently work generically in a GP practice two days a week. I do some private practice and the rest of my time, if I have any, I do some writing.
I am now going to explain to you the different types of substances. The stimulants, depressants, hallucinogenics.
Stimulants are usually amphetamine; ecstasy, cocaine, crack, legal highs. Alcohol can also be a stimulant for some and a depressant for others. Equally, one day when you drink alcohol, it can be a stimulant and another day it can be a depressant.
Under the heading of depressant comes cannabis and heroin and hallucinogenics are drugs like LSD and magic mushrooms. There are, of course, many more drugs on the market today, including the new zombie drugs, however, I believe treatment would be much the same.
Let\'s look at stimulants and what they actually do. They work on the neurological system so they speed or stimulate the central nervous system in the brain and they give the user a sense of euphoria. This is due to the following. If you can imagine the inside of the brain, we have a neurotransmitter and we'll call that the giver of pleasure. There is also a receptor and we'll call that a receiver of pleasure.
Each time that we experience something good in our life, the neurotransmitter, the giver of pleasure briefly goes into the receptor, the receiver of pleasure and release some endorphins. We will call them happy bubbles. This leaves you with a feeling of a sense of euphoria. Many things can do this; a first date, a party, birthdays, Christmas coming, chocolate, a new job, a win on the bingo, holiday, sex, etc. Each time that we experience something pleasurable, this is what happens.
Stimulants, however, stop the neurotransmitter, the giver of pleasure from coming out of the receptor. It holds it in for a lot longer and releases a full load of endorphins. Basically, emptying the bubble bag, so to speak so you've no longer got endorphins in your system. This is what gives the user a big high and a sense of euphoria. This is also why stimulant users experience a massive crash when they come down off the drug. They will have no happy bubbles left and although they will rejuvenate, it could take a couple of days, sometimes a month or more.
This is why this client group may often present with symptoms of depression after their use of the drug. With some drugs such as crack and cocaine, the client may present with extreme anxiety.
We now move on to depressants. Depressants are substances which slow down the normal function of the central nervous system. These drugs include barbiturates, benzodiazepines, alcohol, heroin, cannabis and some inhalants are also depressants. The use of depressants can result in a slowed pulse and breathing, slurred speech, drowsiness, lowered blood pressure, a poor concentration, fatigue and confusion, as well as impaired coordination, memory and judgment. Clients describe the experience of this drug as floating on a cloud without a care in the world.
It's a chilling out that they can't get by any other means. All their problems disappear and they have a calming effect. Some clients have also experienced a sense of being out of control and not liking the actual sensation. They often decrease painful emotions and irrational and negative thoughts. They calm down the mind.
Last but not least, hallucinogenics. This refers to a variety of substances which are capable of inducing profound altered states of consciousness. These substances have a long history of use in societies throughout the world.
Some of you may have read on the Internet or heard that some therapists are now using hallucinogenics to help clients get in touch with their inner consciousness. They induced a hyper suggestible state. To the general, hallucinogenics are psychoactive drugs. They produce altered perceptions or ways of thinking and feeling when taken. They alter the way you perceive the world around you and are said to expand the mind that is turn off your brain's selective perception function and allow you to perceive everything around you in a more intense and colorful way and not just see, but also sound and taste. Everything is heightened when people use hallucinogenics.
There are many reasons why people use substances. In my experience, it's to manage emotional and psychological pain, trauma, to manage mental health issues, everything from depression right up to schizophrenia and a series of mental health issues, physical health and physical pain. The National Institute on Drug Abuse states that people take drugs for a number of reasons: To feel good - the euphoric effect. To feel better - to manage stress, anxiety and depression. Sometimes to do better - to improve sports, schoolwork, etc. Lastly, curiosity - a social pressure to impress friends.
The difficulty with using drugs to self-medicate, whether that be for physical health, emotional health, psychological or psychiatric health, is that the drug use will inevitably increase over time because their tolerance to the drug changes. The longer that they use, the more they will need to get the same effect. Find that they need more of the drug to get the same effect, which can become very costly, much more expensive than prescription charges and or therapy.
When people first use a drug, they may perceive what seem to be positive effects. They can also believe that they can control their use. Often those positive effects turn to negative effects and they can't control their use. Drugs can easily take over a person's life. Over time, all their pleasurable activities, all the things that they used to enjoy, become less pleasurable and the person has to take the drug just to feel normal.
There are many skills needed when working with this client group. Some of the most important ones we'll be covering today. Empathy, core conditions, self-esteem work, exploring with a client to find out why they use drugs, what are the triggers to their drug.
We will also look at CBT techniques to work with this client group. CBT was once the evidence-based model that the nice guidelines recommended for working with addictions, however, a more integrative approach is often now used.
The important thing is that this type of work is often directive, particularly when working towards change. We'll be looking at alternative coping strategies, reduction plans, ambivalence and sabotage, also taking a history questionnaire and a timeline on the underlying issues to the client's substance misuse. The most important thing that we can offer this client group, and I hope that we offer this to all the clients in our work, but for this client group it\'s really important and that's empathy and understanding.
Most people in the drug used as life will not show this, and society in general are not accepting of them, and they will have had all the lectures they need from family and friends. After listening to their story, you may say, "I'm not surprised you've turned to drugs. I'm guessing for you it is a coping strategy". This is the first time the client may have heard this level of understanding and that is where the connection and the relationship begin.
As well as empathy, we need to ensure that we remain non-judgmental. Again, this client group will have had all the judgments they can cope with. Last but not least, congruence. Be honest. "I'm not sure that it's been a healthy coping strategy for you. What are your thoughts?" The core conditions need to be a thread through all your work together to help engage and connect with the client because this client group do not engage or connect very well. This client group inevitably have a low self-esteem. If they didn't have one before their drug use, they develop one during their substance misuse journey.
This will be from the names they have been called, the media's view of drug users and society's view of drug users. After offering the core conditions, I will thread self-esteem work through my work with them. On the first session or maybe the second, I will use this tool. This tool can be used with any client with a low self-esteem. Remember, clients often use substances when they are feeling bad about themselves.
This is a tool that you can do yourself, so if you want to pause the training and have a go at this, I always find that you see the powerfulness of tools if you try them yourself.
Take a piece of A4 paper and put a line down the middle. On the left-hand side, I want you to write down five people that you admire. They can be friends or family; you can have one celebrity or icon and you could have someone who is no longer with us. We're always mindful that there is good and bad in everybody and we're looking at the good qualities that these five people have.
As you can see, I've got Anne, Emma, Paul, Claire and Deb. Now, I'd like you to write down three things that you admire about these people on the right-hand side, however, you can't use the same quality twice. As you can see from my copy, I've got Anne, Emma, Paul, Claire and Deb and the three things I admire about Anne is she's caring, straightforward and brave. Emma has a good sense of humor, she's empathic and assertive. Paul is kind, helpful and chatty. Claire is loyal, fun and spirited. Deb is fun, spirited, honest, laidback and calm.
What the client has in front of them, or what you have in front of you if you've joined in on this exercise, are fifteen qualities.
Tear the paper in half, put the left-hand side in the bin or in your handbag or your pocket if you want to keep it, and write 'I am' at the top. You would tell the client that they now have their quality list in their hand because it is impossible to recognize these qualities in others if you do not have them yourself. I am caring, straightforward, brave, have a good sense of humor, empathic, assertive, kind, helpful, chatty, loyal, fun, spirited, honest, laidback and calm. Read out what you are.
You can show the client that the whole of him or her is not just a drug user. They have many of the qualities too. You could help them to draw out this diagram of all the qualities. You will notice that the drug user, the part in the right-hand bottom corner in black, is just that part of them. Many drug users feel that it's the whole of them. The whole of them is the drug user and you are showing them that actually it's not, it's just a small behavior. They have all these other wonderful qualities.
Then you can ask your client to turn their quality list into a poster and put it up around the house. Put one on the fridge, one on the wardrobe door, one above the bathroom mirror or, one on the desk at work or anywhere in the house and each time they feel bad about themselves, invite them to read it.
If our washing machine breaks down, what do we do? Do we fix it? No. We troubleshoot first, get to the bottom of what is wrong with it. If we tried to fix it without troubleshooting, then we risk it going wrong again. It is the same with life and the same with drug users. We need to troubleshoot it first. If we don't troubleshoot and the client stops, they're at a high risk of a relapse.
The first thing we need to know is why do they use drugs? Every client will use for a different reason. I will ask the client to finish off my sentence and I will say to him or her, "I use drugs because", and they may say to "manage my anger" and I won't stop there because there may be several reasons. It may be that "I use drugs because", "to manage my stress", "I use drugs because", "to feel good". "I use drugs because", "I enjoy them", "because all my friends use them", "to manage painful feelings" or "obsessive thoughts" and I write this down.
Then I'll hand the client the piece of paper. I will say "alright, I'm going to be the client and I'd like you to be the counsellor and we'll role reverse and I will say to the client, who is now the counselor, "I use drugs to manage my anger". Hopefully the client will give me some guidance and advice back. The client therefore finds a solution to their own problems.
I'll also do a drug diary with the client, and obviously these tools and techniques are not all used in one session, it's over a period of time amidst your listening and your normal counseling skills.
I'll ask them to do a drug diary of when; day and time. What were you thinking at the time? Most clients will put "life is crap. I am worthless". What were you feeling? "Stressed". What were you doing? "I sat in my room". Did it help? "Temporarily". Notice the client said, "I was home alone. I sat in my room". This is where you may want to highlight that loneliness may be the feeling when he uses drugs. You may say "I'm curious to if you were feeling lonely when you sat in your room?" If he was, then lonely would be the feeling that he may want to add to the list.
When exploring the diary with the client, this is when you both may find a pattern or a theme to their use. We can then look with a client that alternatives. What else can they do when they were lonely or stressed? Helping the client to find healthier coping strategies.
We also need to look at triggers. A good initial plan for people who are starting off with change in their drug use is to avoid the risky situations and triggers to their use. This may seem obvious, but for example, some people go to the pub after only a few days of not drinking and think that will power alone would stop them from having a drink. We often don't notice the triggers because it's just there in our everyday life. This is why it is important at this stage to explore the client's triggers to their use. It is important to remember that will power alone does not work. They will need a toolkit to manage the difficult situations that they may find themselves in.
If they place themselves in a risky situation without the skills and tools to cope with the situation, then they're at risk of relapse.
We could do a trigger chart and we'll try and cover and look at everything that may trigger the client to use. We'll look at the behavioral things. This is all the things that the client does that may trigger them to use. This may be social withdrawal, watching TV, walking the streets, whilst on the computer. Those of you that are smokers might remember triggers to your smoking; when you poured a cup of coffee or when you're answering the phone. These are all behavioral triggers to a user's use.
Then we look at the emotional triggers, all the things that they feel that may trigger them to use. Stress, hurt, depressed, anger. Then we have cognitive triggers or the things that they think that may trigger them to use. Things such as "I'm worthless. No one loves me. I would never get a girlfriend. Everyone is out to get me". These are just some examples. We have the visual triggers which are the things that they see that may trigger them to use. This is dealers house, paraphernalia, the drug, the friends.
Environmental triggers are all the places that they may go that may trigger them to use. The pub, the park, friend\'s house. Then we have their senses and these are the things that they taste, smell or hear that may trigger them to use. This can be music, cannabis, coffee, alcohol.
The client will often not explore their drug use to this depth. They may just know the emotional triggers. It's really important because once they stop and they do not have all their triggers covered, then they are at risk of relapse. One of the things I say to clients is that if you've got money in your pocket and you feel like you want to use, make sure that you always carry a stamped addressed envelope to yourself in your pocket. Put the £20 in the envelope and post it to yourself. You'll get it back the next day. That will help you to avoid using on that day.
As soon as a client has detected and explored all their chiggers, then we look at how they may be able to avoid or manage the trigger. For example, if walking the streets is a trigger, maybe think about avoiding this for a while. If stress is a trigger, try meditation or a bubble bath. Find out what techniques the client might find useful when they're stressed. The thought of "I'm worthless" is when they can use the CBT tool that I'm going to teach you today, which you can teach to them.
The dealer's house. How about walking a different route? Park, avoid this for a while. Music, see if reading a book instead might help. There are some things you may completely need to avoid but there will come a time when you'll be able to walk down that street and manage.
This information could facilitate a treatment plan with your clients. All the information and they've given you about the reasons for using drugs, if they've used drugs before and the triggers to using drugs can inform your treatment and which way you'd like to go with the client. She or he has told you all the things that trigger their drug use.
With any model you can work in whatever way that you normally work with, with that particular issue. If you're person-centered, you know what their conditions of worth may be from that information. If you're CBT, the thought process that triggers they use or if you're psychodynamic, what their internal processes may be. Although you may not be a directive therapist, you are then able to use your own style of model to work with this.
Once we've explored their drug use, we can then help them with healthy coping strategies. If they use drugs for anger - anger management, anxiety - anxiety management, assertive training, communication skills, depression work, grief work, perfectionism work, relationship work, trauma or abuse work. Using the tools and experience from whatever models you are trained in, whether that be person-centered, CBT, solution focused, transactional analysis and so on.
We all use coping strategies to manage pain. Some are healthy, some are not. These clients are no different to all of us or all of your other clients other than they use substances as their go to or as their coping strategy.
We'll be working in exactly the same way as you would with any other client and helping them to find healthy coping strategies. The CBT cycle - this is a technique that you can use for clients and I find to be extremely powerful with all clients as well as drug users. This will help them to challenge their irrational thoughts. Draw out this cycle and I'll use the thought that our previous client had that was a trigger to his drug use.
"The world is a crap place to live in. I'm a worthless person". I will ask the client how he feels when he is thinking this. He may say "angry, frustrated and depressed". I would then ask the client what's going on physically for you. He may say "lethargic, insomnia, irritable, panic attacks, anxiety".
I would then say "when your thought is that the world is a crap place to live in and you think that you're a worthless person, you're feeling angry, frustrated, depressed and physically, you feel lethargic, insomnia and irritable, what do you do?"
The client will perhaps say use "I use drugs, isolate myself and lash out". Then I ask the client, "which starts first, the feelings, the physical symptoms, the behavior or the thoughts?"
Some might say the feelings, because the feelings are always far more powerful than the thoughts. We think to uncover the feelings and say "if you didn't have those feelings, would you have that thought?" The client may often say "yes, I'd still have the thought". "If we take away the thought, putting your hand over the thought box, would you have those feelings and physical symptoms and would you behave in that way?" The client will often say "no".
I explain that the thoughts will trigger the negative feelings and subsequently, the behavior which in turn may set them up for further pain, reinforcing the negative thought process. If the client has done that full circle, of course they're going to think the world is a crap place to live in and that they're a worthless person.
In other words, wonky thinking leads to wonky feelings and these produce unhealthy behaviors. We teach the client that they have exit points. As you can see on this diagram, there is four exit points.
West Exit Point is the first 'one stopping the thought in its tracks', and I would use imagery with a client to check out those thoughts, which I will share with you later on in these slides.
Occasionally they're not quick enough. The imagery doesn't work and the feelings kick in. I'll explain to them that you can only have one feeling at the same time. If you're feeling angry, you can't feel happy. If you're feeling happy, you can't feel sad. What we need to do is try and change that feeling. There's a lot of things that you can do to do that. Relaxation, watch a comedy. If you feel unhappy, you won't feel unhappy when you're laughing. Equally, if you're feeling happy and you watch a sad movie you end up feeling sad. Read a book or watch an action-packed box-set.
If the physical symptoms, however, have kicked in and they forgot to use the techniques and tools at the feelings exit point, then they will need to do something physical to calm those down.
Relaxation or watching a comedy might not be strong enough, so that would be where you would go for a walk, go to the gym, run or clean. Some people clean their houses from top to bottom when they feel like this and that calms down the physical symptoms.
If you've gone the full circle and acted out on all those thoughts and feelings, be compassionate with yourself. This is every human being's process and at the end of the day, you are just a human being.
On the previous slide, I told you that when you are having a negative thought, the exit point imagery is really useful to use to challenge that thought. I'm going to teach you that now, you will find it to be very powerful and you might want to use it yourself.
If you think about a negative thought that you have and run along with me and see if it's useful for you too. You can use imagery for challenging your negative thoughts but first I need you to think about someone famous. This may be an actress, politician, sports personality, comedian that you really do not like or that you think talks a lot of rubbish. Bear in mind this will be your perception. I'm sure you can imagine which politicians are coming up in my exercises with clients at the moment. If this person entered the room, you would walk out because nothing she or he said would be interesting, honest or make any sense. My example is Janet Porter.
I'd like you to think of someone you admire and you feel talks a lot of sense. Someone who tells you the truth, who speaks honestly and someone who you could sit and listen to for hours. My example is Cheryl Cole.
First person in my example, Janet Porter, is my negative thoughts, my critical self, my internal bully.
Second person in my example is Cheryl Cole. She is my positive thoughts, my nurturing self, the one that would challenge bullies and challenge the things that are not the truth.
Therefore, when a negative thought comes into your head, before believing it ask what your nurturing self would say. In most cases it will say "be kinder". For example, sometimes I get up in the morning and I look at myself and I think "Gosh Linda, you're getting old". That's Janet Porter talking.
Before I believe that thought, I say what does Cheryl Cole say? She'll say, "Yeah, you are getting old Linda. Everybody gets old, but you're a cracker for your age". If I held on to that internal message of Janet Porter, I would feel depressed, lethargic. I'd go to work but I would be a bit snappy, but because the second person has challenged that thought, I go to work and I'm happy and I have a better day.
With my clients, "the world is a crap place and I'm worthless", I would say "what would Cheryl Cole say?" and he would give me a more nurturing answer. Then I'd say, "so why are you listening to Janet Porter?", and usually they would laugh.
I encourage my clients to download pictures of the nurturing person, Cheryl Cole in this example, and post them around the house to remind them to challenge the thought and also to use when a negative thought is triggering them to use. The reason I do that is because often when clients leave the therapy room, they forget the tools and techniques that you've given them and if they've got Cheryl Cole or somebody similar around the house, that will remind them to challenge the thoughts. By this time, they've got their self-esteem tool up on the fridge and the wardrobe door and in the bathroom and now they've got their Cheryl Cole or their positive person around the house.
Another useful tool to do with a drug using client is a timeline. Looking at the timeline of the client's drug use and also their life experience, because from my experience, nine out of 10 times you will find a link between a substance misuse, the substance change or increase around painful experiences. For example, this client. His parents separated when he was twelve. His dad went off and he's never seen him again.
When he reached 17, he had his first girlfriend and after several months he was dumped. When he was 22, his mom had had enough of his drug use, had enough of him perhaps stealing money, so she rejected him. Interestingly, he started using cannabis at twelve. Even more interesting is that he started smoking heroin, a stronger drug at 17 and at 22, he started injecting heroin.
The timeline would tell you something and the timeline will give you information. This tells me straightaway that rejection is a very painful emotion for this client so therefore, when he feels real or imagined rejection, this would be a big trigger to use.
Bringing the clients awareness of this will help him monitor his drug use and look at and listen to his feelings, listen to what's going on for him and be able to perhaps manage rejection more often. What's really important is that when you've explored the clients to drug use, you help the client to find alternative coping strategies. The client has possibly been using substances to manage thoughts and feelings for quite some time and may not have other coping strategies. We learn coping strategies as we grow up. For example, our first rowel with our mom, we go to a youth club or we go to a dance and we come home feeling better.
Sometimes these clients' first coping strategy has been a joint so that's the only coping strategy that they know. It's therefor important to help them find healthy coping strategies for when they're triggered to use.
To take away the substance without alternative coping strategies leaves them at risk of relapse. Equally, these would need to be put in place before you work with any underlying trauma, pain or painful issues. To not do this would leave the client at the risk of an increase in their substance rather than a decrease.
If you've got a client that's had trauma as a child and you take away their drug before healthy coping strategies are put in place, then they have nothing to manage these painful feelings and this can leave them at risk of suicide as well.
Once this work has been done, then we can look at the client doing a reduction plan. This is all before you start working with underlying trauma or painful childhoods.
Another tool that you can use in your work with clients when they're ready to start to change and when they've got some healthy coping strategies in place, is a reduction diary. This is an example of one for 10 joints a day. As you can see, he smokes 10 joints a day. We would start on Monday - Ten, nine, ten, eight, nine, ten, eight. It will be reduced by six and the idea is to do a small reduction so that we can see if any painful stuff or underlying stuff comes up while they\'re doing the reduction and while they're in therapy with you and you can work with that.
Week two will again just be a small reduction as well as week three and week four. Even though these are small reductions, the client is reduced by fifty-three joints at the end of the month and at a pound per joint, that is a saving of £53.
This can be used for cannabis and alcohol reduction. Heroin use, however will need support from the drug team. There may be a detox or substitute medication. The reason for that is because when people come off heroin, they experience really horrendous withdrawal symptoms so that has to be done medically as well as psychologically. Alcohol must be reduced and not just stopped abruptly as this can lead to seizures. It's really important that if you've got an alcohol user that he or she doesn't just stop and that a reduction plan is put in place.
Going back to this one, it's worth asking the client if he felt any different when he reduced from ten to nine joints and you will often find that they don't. It is the first couple of joints that manage their trigger, their emotions or thoughts, not the ninth or 10th. In fact, they did not need those extra joints and that's often something that clients don't realize when they're using.
Ambivalence - many of this client group can be quite ambivalent about change. "I want to" one week and "I don't want to" the next. Equally, "I want to" one minute and "I don't want to" the next. Ambivalence is a reasonable place to visit but you wouldn't want to live there. It's a normal aspect of human nature. Passing through ambivalence is a natural phase in the process of change. It's when we get stuck in ambivalence that problems can persist and build up.
Ambivalence is common in substance misuse work. To explore the client ambivalence is to work at the heart of the problem of being stuck.
Until you can help the client to resolve the "I want to" "I don't want to" dilemma, change is likely to be slow going and short lived and this is often when key workers, drug workers, counselors become quite frustrated with the client.
The thing is to just be with the "stuckness", stay with the "stuckness" because the client will shift. If the client is in this place, the question to ask is not "why aren't you motivated? Why don't you want to change? Why are you saying you do want to change and on the other hand saying you don't?", but rather "what are you motivated to do at this time?" Motivational interviewing techniques are useful if you have an ambivalent client. It's worth having a read through some of that online.
I thought it might be helpful on looking at ambivalence and sabotage to share with you a case today of a client that was ambivalent and regularly sabotaged treatment. We will call this client, Fred, and he'd been in for a detoxification of heroin about five times. Now, bearing in mind that these detoxification programs cost thousands of pounds and each time he remained clean for about two months and then he'd relapse and he wanted to have a detoxification again. However, his key worker referred him to me to explore with him what had gone wrong in his previous attempts?
He was very ambivalent with "part of him wanted this, but the other part of him didn't". He came into the therapy room and I saw him and I explored this with him. What we learned through exploration, just like we've learned today, is that when he was using heroin, all his family were around every day. They were paying him attention, doing things for him, helping him, doing his meals, doing his washing, because they knew he wouldn't. They were helping him to pay his bills and they were giving him a lot of affection and, of course, a lot of negative attention about his drug use.
However, when he had recovered and left hospital and was abstinent, he didn't see them as much. They left him to his own devices and sort his own life out.
It would actually have been more helpful if his family had done things the other way around. However, I could see what was happening. While he was using drugs, they were worried about him. They were rescuing him and became very hands on and tried to help him, which must have been quite exhausting, but once he stopped using drugs, they could get on with their own lives. They didn't have to rescue him. They didn't have to check on him, do for him anymore. In fact, they did not have to run around after him anymore.
They were relieved. However, for Fred, he became lonely during these times. He felt that no one cared and he missed the attention. Negative attention is better than no attention so when he was all alone all these feelings and negative thoughts would resurface, he would sabotage his treatment just to feel cared for again and have the company that kept him busy and stopped him from thinking and feeling. Of course, busyness stops you from thinking and feeling. When you're in a social group, it stops you from thinking and feeling. This was all on an unconscious level until therapy brought it into conscious awareness. Once this came into his awareness, Fred was able to see this and communicate this to his family.
With this exploration of his ambivalence to change and sabotage of his treatment and of course, some trouble shooting, exploring alternative coping strategies, as described earlier, it made his sixth attempt to recovery a successful one.
When do we work with the underlying issues to the client's drug use? Some of them you were working with the work that we've already talked about, but the more traumatic ones, the drug use needs to have stopped and the client needs to be stable and the client needs to have good, healthy coping strategies in place.
Once the client is stable and free from substances, if you're not offering time-limited counseling and the client has healthy coping strategies in place to manage difficult feelings and pain that may come up, then this would be the time to work with the clients painful underlying issues in the same way as you would any other client coming to you for help.
Remember, to do this whilst they are still using could increase their use, particularly if there is a traumatic history of abuse.
Thank you for listening. I hope this podcast has giving you some level of understanding of substance misuse and given you some tools and techniques to work with this issue if a client presents to you with a substance misuse problem.
If you would like further information on working with clients in substance misuse, please refer to the Web page for further links and resources.
Thank you for watching and remember to claim your CPD certificate for this presentation.
FURTHER LINKS AND RESOURCES
- Click the links below for more information and resources
FREE PDF editor tool to add your name to your certificate.
Please watch the 3-minute video below to see how to add your name to your certificate.