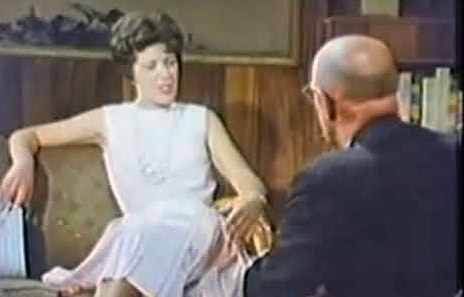 Carl Rogers and Gloria
Carl Rogers and Gloria, there cannot be many counsellors or students of counselling that have not watched the film 'Three approaches to Psychotherapy' and wondered who Gloria was and what was the story behind the film?
'Three approaches to psychotherapy'., filmed in 1964 was Everett Shostrom's second attempt at filming the world of counselling and psychotherapy, the first, made 3 years earlier featured an actor 'playing' the role of the client , he considered her performance to be 'inauthentic', consequently the film never got a wider screening.
Three Approaches, showed a real client 'Gloria being' interviewed in turn by Carl Rogers, Albert Ellis and Fritz Perls ',the idea was to produce an academic firm used for the training of Psychotherapists, however it slipped out of academia and ended up being played in cinemas across America.
The story of how Gloria became involved in the project is as an intriguing as the film itself, In the book Living with 'The Gloria Films' ,written by Gloria's daughter - Pamela J Burry, (referred to in the film as Pammy ),she states that both Gloria and herself were individually in therapy with Everett and Miram Shostrom, acquaintances of Fritz Perls.
The film itself was ground breaking, showing Gloria talking about having sexual relationships with men, and how she would explain this to her young daughter 'Pammy', the material by contemporary standards is fairly,tame, however in the historical context of 1960's American society it was quite shocking, Gloria's courage in talking openly and being filmed should not be underestimated.
Asked after filming which therapist she preferred, she stated that if she was at the beginning of therapy she would have chosen Rogers, but in her current position preferred Perls whom had dominated her in the interview, however later on her opinion changed.
.A year or so later Gloria contacted Carl Rogers and asked to attended the annual psychology convention hosted by the Western Behavioural Sciences institute, La Jolla ,California. Rogers agreed but warned Gloria that the publicity around the film may be unsettling for her, she attended anyway. As part of the event the film was screened to an audience, according to contemporary accounts at the end Gloria stood up in front of over 100 delegates angrily stating " Why did I do all those things that he asked me to do! Why did I let him do that to me! " referring to her session with Perls.
The next day Rogers describes meeting Gloria for lunch with his wife Helen, he goes on -
"The second aspect of the weekend which I wish to report is the luncheon she shared with me and my wife. I had wanted to learn how life was going for her and I invited her to take lunch with us. She and Helen formed a very quick contact (Helen's interest in people was like a magnet) and we had a lively and enjoyable luncheon. As we were about to leave, she said she had a question she wanted to ask. Would we object if, in her thinking, she regarded us as her parents in spirit? We both understood her to mean that she wished to see us as parents she would have liked to have had. We each replied that we would be pleased and honored to have that status in her life. Her warm feelings for us were reciprocated." (Levant, Ronald F. and Shlien, John M.,)
So who was Gloria?, Gloria Szymanski was born in October 1933 to a polish family that had recently emigrated to America. In 1953 she Married Bill Burry a Korean war veteran , however the marriage did not last and in 1958 she found herself with daughter Pammy going West literally to build a new life in California .
After the film Gloria's life took her in many directions, she married again in 1968 separating in 1978, the same year later she published an academic paper entitled' Comments on the art of psychotherapy' ,she trained and practised as a nurse, had in interest in eastern philosophies, and by all accounts lived a varied and full life, although not always happy.
Gloria died of leukaemia in September 1979 at home in Carmel California, she was 46 years old, her passing, as her life seemed to have a profound effect Carl Rogers , who later wrote :
"In the ensuing years she wrote me about many things in her life, but I do not feel free to reveal the content. I will only say that there were very good times, and there were tragic times, especially of family illness, and she showed sensitivity, wisdom, and courage in meeting the different aspects of her experience. I felt enriched by knowing the open way in which she met difficult issues. I was often touched by her letters. I believe that those who view (or read*) the interview will gain more from it by knowing a small part of my later interaction with Gloria. I am awed by the fact that this fifteen-year association grew out of the quality of the relationship we formed in one thirty-minute period in which we truly met as persons. It is good to know that even one half-hour can make a difference in a life." (Levant, Ronald F. and Shlien, John M.,)
Perhaps the legacy of what is now known as the 'Gloria Film',shows the therapies in historic context providing inspiration not a template or instruction book of how to practice.
Have you seen the film?
What are your thoughts, how did it influence your learning?
Please leave a comment  below 
Reference list Burrell Pamela J ., Living with the 'Gloria Films' . Ross on Wye PCCS Books .2008 Levant, Ronald F. and Shlien, John M., Client-Centered Therapy and the Person-Centered Approach: New Directions in Theory, Research, and Practice. New York, Praeger Publishers, 1984, pp. 423-425