Counselling Assignment Help Guide
What Guide will suit you?
Assignments can bring up anxiety in most of us, we know the work but getting it down in a way that hits the awarding body criteria can sometimes be a challenge.
I have been lecturing counselling for over a decade and in that time I have identified the more  common areas that some students find challenging. I have formulated a range of counselling assignment help guides to assist and guide students in getting their knowledge into an assignment format that meets criteria.
Take a look over the guides below and select the level which feels right for you.
Click on the guides for more detailed information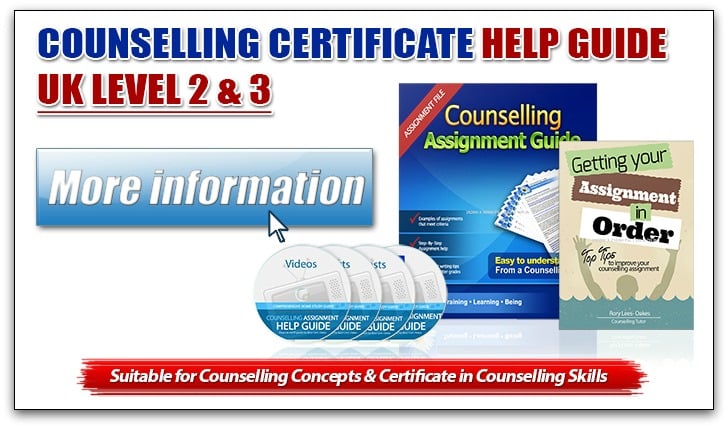 What do the guides contain?
The counselling assignment help guides are comprehensive and designed to meet varied learning styles. The guides contain assignment exemplars, podcasts, theory and practice reports, video list matrixes, skills to practice theory and assignment writing support tips. They contain information to help students pass their assignments. The material is keyword rich in the trigger vocabulary that the awarding bodies deem as hitting criteria. My guides give you opportunity to compare your assignment against an assignment that passed at your level.
Special Bundle Offer
For students just entering counselling training who are intending on becoming counsellors, I have created a bundle assignment guide. The bundle offers a saving on buying each individual guide and it contains all the assignment help needed from the basic concepts in counselling right through to the final year of the Diploma in therapeutic counselling.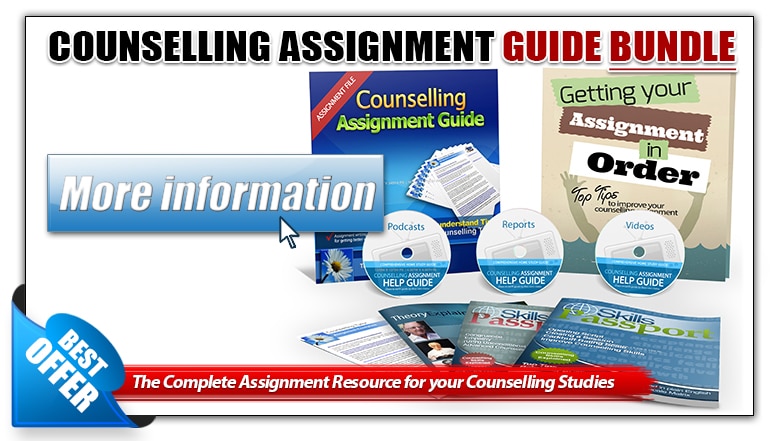 My 30 day, no questions asked guarantee. My intention in putting these guides together is to provide a rich and valuable resource to support students and underpin their existing knowledge. I truly feel that the guides are exceptional value having spent the best part of 2 years getting them to where they are now. If for any reason you do not feel the guide is the real deal, I will refund your money without question.
All my guides come with a free update service to ensure you have the most up to date information available. The guides are not a substitute for the knowledge you get from your course provider, please see my guide disclaimer.