Free Academic Writing Course for Counselling Students
ACE your assignments without the stress!
The passion to want to help others can fade into feelings of panic and negativity when we are faced with assignments and academic writing.
We know from years of tutoring and helping counselling students succeed that hitting criteria is easy if you understand some base principles.

That is why we created this free course, use the "JOIN FREE COURSE" button, and get started now.
Counselling Tutors, Emma Chapman, and Rory Lees-Oakes show you…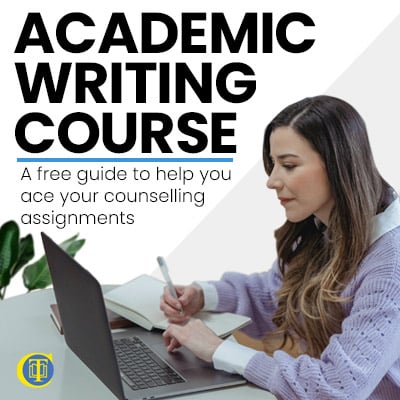 How it works
The training takes place online, you can use any device that connects to the internet.
Access your course via the self-directed learning portal at any time from anywhere.
Revisit this training as often as you like – you get free life membership.
Emma Chapman
(MA Clinical Counselling, PGCert Education, BA (Hons), Registered MBACP)
Emma is a counsellor and trainer working in private counselling practice in Cheshire. In her Northwich office, she works with adults, young people and couples.
Emma is a qualified teacher and she uses her teaching skills to deliver training packages for fellow counsellors, educational providers, and businesses.
As a passionate advocate for mental health, Emma also delivers mental health training to a variety of audiences across the North West of England.
Rory Lees-Oakes
(MBACP, Clinical supervisor, Counselling Tutor)
Rory Lees-Oakes is Co-Director at Counselling Tutor and author of Counselling Theory in Practice: A Student Guide. He spent over a decade lecturing in counselling, and continues to enjoy sharing his valuable insights into counselling theory and practice.
Rory is a qualified counsellor, clinical supervisor, and lecturer. In 2015, he was awarded the prestigious Silver Plato award for outstanding use of technology in education.
Frequently Asked Questions
Click the "+" to expand the answer, and the "-" to close again