How Can I Study Effectively Online?
In our article 'What Are the Challenges of Remote Learning?', we gave you some starter tips on how to overcome the possible hurdles of online education.
Here, we look in more detail at some specific areas that can help you study effectively online.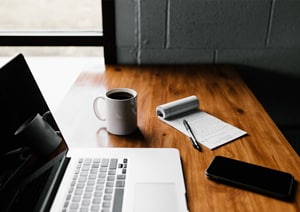 Setting Goals and Learning Objectives
This applies both to whole courses and to parts of courses. Decide before you commit to a course what you want to get out of it and why you are doing it.
That doesn't mean that you've got to have a definite plan for exactly what you will do with the learning. And just being drawn to a subject and wanting to know more about it for your own interest may well be enough.
But sometimes it can be easy to drift into a learning commitment, perhaps because it follows on from a previous course or because your friends or colleagues are doing it.
Ask yourself: am I genuinely interested in this new course, and what will it give me?
Once you've signed up to your course, it helps then to approach each individual lecture with clear objectives of what you need from it.
All good tutors will start a session with a set of learning objectives, describing to students what they can expect to get out of it.
For example, the lectures on our Counselling Study Resource (CSR) all include a slide specifying the learning objectives; these can help you assess whether it will give you what you are looking for, and adjust your expectations if need be (e.g. if the topic is one you need to know about, even if you don't find it naturally fascinating).
Having learning objectives in place can help you focus on the content of learning sessions (meaning you remember more of what's covered), and give you greater determination and motivation to persevere and finish your course.
You can also use learning objectives as a way of testing yourself: how successfully did you complete each teaching session and the course? This evaluation process can help you increase your study effectiveness for future classes and courses.
Most students take notes when listening to a lecture, but is there a best way to do this? Is traditional paper-and-pen the way to go, or is it more efficient to make electronic notes, e.g. on a laptop or tablet?
Recent research from Kent State University (Morehead et al., 2020) surveyed over 500 students, finding that many students didn't even bother to take notes in online courses!
We wonder if that's because such lectures are often recorded, so the students think they can just watch it back in future when they want to revise the topic.
What that doesn't take account of is that the very act of note-taking – whatever we do with the notes afterwards – can help us to process the information, make sense of it, and implant it in the brain.
Also, it's time-consuming to revisit whole lectures when you've a lot to revise. Writing summary notes of key points can make the revision task much less onerous. You can also use them to test your own knowledge, or to get others to test you.
Writing down what's said during lectures may seem fairly straightforward. But there is evidence that some strategies are better than others — and knowing what those are could help you take notes more efficiently.
Exactly how you write notes (on paper or on a device) and how you structure them is quite a personal choice. For example, some people like quite wordy notes, while others rave about mind maps as a way to record information (this can really help show connections between different concepts).
You might also like to experiment with different coloured pens and papers, perhaps to code your notes by theme – or just to make the process of writing and reading notes a bit prettier and more fun!
The very act of note-taking – whatever we do with the notes afterwards – can help us to process the information, make sense of it, and implant it in the brain.
Free Handout Download
How Can I Study Effectively Online?
Unlike traditional methods, online learning can be lonely: you don't get the coffee breaks and chatting time that counselling students have traditionally found so valuable during face-to-face courses.
It's a social loss but potentially also an academic one, as being able to discuss your learning experiences with peers can really help keep you on track and improve your understanding of the course material.
Discussion via online forums works too – you don't have to be with others in person to reap the benefits. And Traxler et al. (2018) found that it is the students who participate the most in online forums who achieve a higher final grade.
Counselling Tutor has an active Facebook page that anyone with a professional interest in the field of counselling and psychotherapy can join, as well as exclusive forums for each subscription package and course that we offer.
Trusting Your Own Self-Knowledge and Instincts
Everyone has their own ideas on what works best for them study-wise. We hope that what we've said so far gives you some possibilities that might work for you, but – in true person-centred style – we'd like you to trust in your own instincts on what's best for you.
For example, looking at a screen all day is really tiring, and you'll need to work out how to keep your focus.
For some people, investing in a standing or treadmill desk is the way to go, while others are more comfortable sitting but having regular short breaks to stretch, walk etc.
And there's natural variety too in the times that suit people for studying: are you a lark or an owl?
The good thing about online lectures – if they're recorded (like ours) – is that you can watch at a time that suits you and that catches your best time for concentrating well.
Whatever timing you choose for your studies, do try to 'switch off' for the rest of the day/night.
One of the big topics in counselling training is managing boundaries, and your own are a priority. (Apart from helping you study more effectively, it's also good experience for helping clients manage theirs.)
For example, you might want to switch off alerts for college emails on your phone, so you look just during your allocated study time. Not only will you enjoy and relax more when you're not studying, but you'll also feel fresher when you get back to it.
And whatever timing you choose for your study, do try too to get enough rest (which might be sleep or just having a lie-down: too much focus on having to sleep can make it elude us!), as this boosts concentration, memory and overall wellbeing.
A great resource for anyone who's struggling with sleep and how they think about it is The Sleep Book by Dr Guy Meadows.
Meadows G (2014) The Sleep Book, Orion Books: https://www.orionbooks.co.uk/titles/guy-meadows/the-sleep-book/9781409158042/
Morehead K, Dunlosky J, Rawson K, Blasiman R & Hollis R (2019) 'Note-taking habits of 21st Century college students: implications for student learning, memory, and achievement', Memory, 807–819: https://www.tandfonline.com/doi/abs/10.1080/09658211.2019.1569694
Traxler A, Gavrin A & Lindell R (2018) 'Networks identify productive forum discussions', Physical Review Physics Education Research: https://journals.aps.org/prper/abstract/10.1103/PhysRevPhysEducRes.14.020107