This lecture features Lisa Cromar, who is a person-centred counsellor, trainer and author; she is also studying for her doctorate at the University of Chester.
Lisa has both personal and professional experience of autism, and is the co-founder of Counsellors Working with Neurodiversity (a network for counsellors who work with neurodiverse clients, helping to spread awareness, and to share training events and useful literature).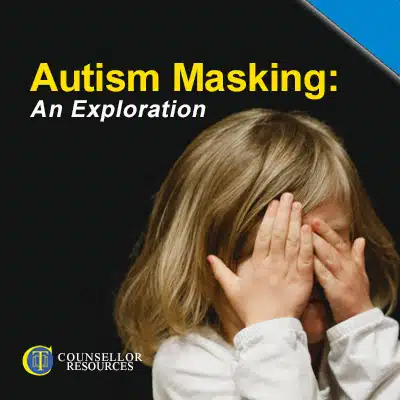 Watch this Lecture + Access Hundreds of Hours of CPD
Certified CPD for Qualified Counsellors
Hundreds of hours of on-demand CPD lectures to help you stay current with your CPD ethical requirements
Support, and be supported, by thousands of other counsellors as a member of the exclusive online community.
Access your learning anytime you want ... anywhere you choose ... using any device type — desktop or mobile.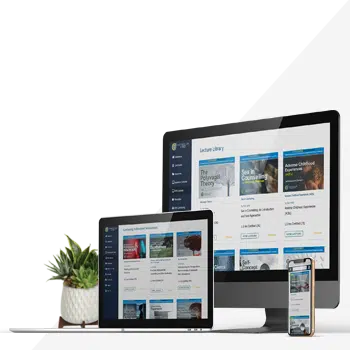 In the lecture, you will hear from Lisa:
how to decipher masking behaviours, identifying their purpose and the damage they can cause
an insider's view and understanding of autistic masking and compensation
how to provide a creative counselling intervention that can be used to support a client to unmask
the importance of accepting and celebrating autism and neurodivergence.
Talking therapies can be restrictive for autistic people, due to social communication challenges. There are other ways to work more effectively with autistic people, and Lisa describes in detail the creative approaches that can be so helpful to this client group.
Lisa sets her approach within the context of person-centred theory (including the concepts of the fully functioning person, actualising tendency and Maslow's hierarchy of needs) and also social identity theory.
Because autistic people can find themselves attracting unwanted attention, masking and compensation emerge as common behavioural patterns – and Lisa examines these in detail.
From a practical standpoint, Lisa suggests ways of helping clients to avoid autistic burnout, and – more widely – of helping to promote and provide a positive autism identity in counselling.
Lisa concludes the lecture with a list of 22 references that you can explore in order to read further on this important and fascinating topic, highly relevant in a world that is increasingly aware of the importance of equality and diversity.
Neurodiversity has been recognised as important only relatively recently (compared to other aspects of diversity), and is an area of which all counsellors should have some knowledge.
About the Lecture Presenter
Hi, I am Lisa Cromar. I am a qualified Person-Centred Counsellor and am studying towards a PhD whereby I aim to improve research in counselling and autism.
In my academic career, I am honoured to have received some awards, including a Professional Learner of the Year Award from Cheshire College South and West and a Dean's Award and the Vice-Chancellor's Award from the University of Derby. I have also appeared on Anna Kennedy's Autism Hour for the Women's Radio Show (available on podcast).
I have a personal interest in autism in large part because I found out at the age of 37 that I am autistic (my formal diagnosis being Asperger's Syndrome).
Professionally I specialise in working with autistic clients at a local college. Additionally, I provide autism awareness workshops training counsellors in how to make counselling more accessible to this client group, increasing counsellor confidence in working with this group which is currently known to be generally low.
I have presented at conferences alongside Janet Tolan, Pete Sanders, Mick Cooper (The Person-Centred Trainers Conference) and Andrew Reeves (The University of Salford Creative Therapies Conference). During the lockdown, I have provided online training for counselling organisations, and at conferences for BACP Private Practice and the Creative Counsellors Association.
I am the author of the pioneering literature review: Exploring the Efficacy of  Person-Centred Counselling (PCC) for Autistic People, published in the spring 2019 edition of The Person-Centred Quarterly (PCQ) and as a chapter in the Neurodiversity Reader, Pavilion Publishing and Media Ltd. The review highlights that although the research in this area is minimal, what is available, demonstrates that PCC, with adaptations, is a highly effective modality for the autistic client group.
The review highlights research that shows that Rogers' (1967) core conditions; empathy, unconditional positive regards, congruence and the relationship are vital for positive therapeutic outcomes when working with autistic clients. It also supports research, which found that autistic clients experience extreme levels of conditions of worth, in large part due to failing to comfortably 'fit in' to societal expectations. PCC is known to be highly effective for addressing conditions of worth. I have also written an article for the Creative Counsellors Club, called Creative Counselling for Autistic Clients.
I have cofounded the Facebook forum 'Counsellors Working for Neurodivergence.' We aim to raise awareness of autism on this page and bring counsellors together across the field to advance knowledge of autism in counselling. This is a lively page that has over 1500 members.
Although my primary modality is Person-Centred Counselling, my awareness training can help counsellors of any modality. In fact, I have provided bespoke training to driving instructors before.
My eventual career goal is to assume responsibility for pioneering a version of person-centred counselling for autistic people. I aim to play my part in making the world a better place to live when autistic.
Free Handout Download
Autism Masking lecture overview