Teenagers Hierarchy of Needs
Let me ask you a question, if Abraham Maslow was alive today , and he was asked what a teenagers 'Hierarchy of needs look like , do you think he would describe it like the graphic below?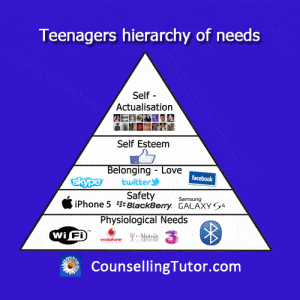 While the image above may seem flippant and dismissive of young peoples experience, I believe it tells us an uncomfortable truth about how young people build attachments in a technological age.
The recent reports in the media of the two young people who took their own lives because of the cruelty of others across the internet, seems to confirm this,14 year old Hanna Smith and 17 year old Daniel Perry both took her lives after being taunted by individuals on the internet, on face value it seems incredible that they put so much stock in what an anonymous stranger thought over those close to them.
Just try ,as I did Googling ' teenage + suicide + internet' the results will shock you , stories and pictures of young people who's lives ended prematurely because of an interaction on the internet.
As a school counsellor , I have come to the realisation that for many young people there is no separation between 'virtual and real life' , all the interactions they experience be it in a chat room on the internet or in the street all take on equal importance and equal reality.
Significantly , a comment made by an anonymous individual on a website can cause just as much pain as something said by someone who is known to them.
Even adults are not immune, there are plenty of media stories of individuals who make bad choices driven by an interaction in a chat room or an a social media site.
The reason for this, I believe is that we strive to be connected to other human beings ,be it in a reality based environment such as school, work or in a social setting and when we are 'connected' at some level ,we give a piece of ourselves away, to the 'other', which paradoxically has the potential to make us more vulnerabl
So what is to be done?
First,all acknowledge that for some young people the boundary between real and virtual life is non existent, and that the attachments young people make in the virtual world can just as life affirming as relationships in the 'real world'.
Second, realise that the shiny new ipad, tablet or smart phone , is in fact an open door in to your children's life , and like any open door anyone can step through it at any time.
Lastly , build a culture of awareness around the use of social media sites, especially around the awareness that some individuals who believe that they are anonymous will say and do bad things, share this with your children.
If you or someone you know is feeling bullied or is considering suicide , there is help – the two organisation below exist to support you.
Papyrus is an organisation who supports young people who are considering suicide, Click here for details
CEOP (Child Exploitation and Online Protection Centre ) is an organisation which is dedicated to eradicating the sexual abuse of children, Click here for details
For those outside the UK, Google 'Internet +child+protection insert the name of your country'
Please share your experiences in the comments section below.