Carl Rogers - Person Centred Therapy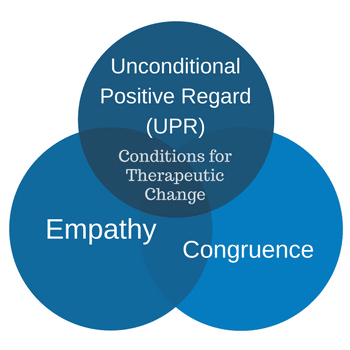 Rogers also developed a rich vocabulary for understanding how human beings perceive the world. The term 'locus of evaluation' has become known as the way we make sense of the world around us.
An internal locus of evaluation sees us trusting our organismic self.
Conversely, if we receive conditions of worth (conditional love) from others when we were young, we develop introjected values.
As a result live our lives from an external locus of evaluation – in other words, being able to be happy only when we have the approval of others.
Carl Rogers - early years
Carl Ransom Rogers was born on 8 January 1902 in Oak Park, Illinois, a Chicago suburb. His parents – Walter A Rogers and Julia M Cushing – were both devout Christians attending a Pentecostal church.
Rogers became the fourth of six children, who were brought up in a strict religious and ethical environment. He was taught to read at home before he attended kindergarten, where he was deemed so advanced that he immediately joined the second-year students.
In 1914, the Rogers family bought a farm in the neighbouring suburb of Glen Ellyn. There, the young Rogers gained his appreciation of the scientific method, by observing moths and other living things.
Carl Rogers' contributions to psychology
In 1951, Rogers published the book Client-Centered Therapy (Constable & Company). In this, he outlined his theory of personality, entitled 'the 19 propositions'. Rogers' theory of personality is based on the philosophy of phenomenology.
This was followed in 1957 by an academic paper published in the Journal of Consulting Psychology, entitled 'The Necessary and Sufficient Conditions of Therapeutic Personality Change', three of which – empathy, congruence and unconditional positive regard (UPR) – are sometimes referred to as the 'core conditions'.
A further significant development of the therapy was presented in Rogers' 1961 book, On Becoming a Person (Constable & Company). In this, he outlined the perceptual shifts experienced by a client during a series of counselling sessions. Known as 'the seven stages of process', this model was based on Rogers' detailed observations of what he referred to as 'osmotic change': a freeing of the client's rigid self-concept, moving towards a more fluid approach to life and to self.
"Osmotic change: a freeing of the client's rigid self-concept, moving towards a more fluid approach to life and to self."
Rogers was a prolific writer and also published many other books and papers during his life.
Click for a list of Carl Rogers Quotes.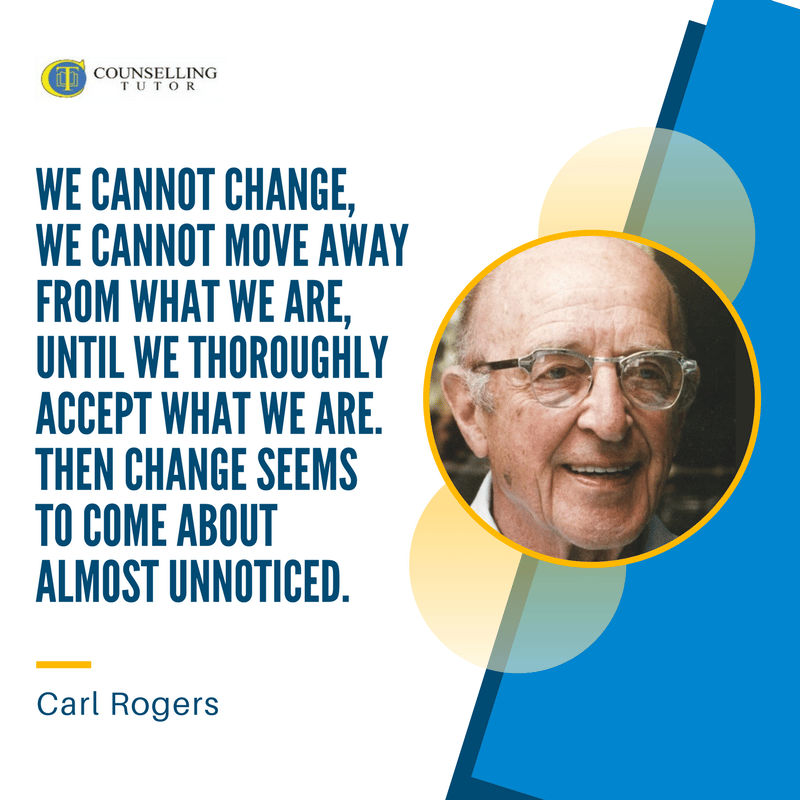 Carl Rogers study career
In 1921, Rogers attended the University of Wisconsin to study agriculture but soon changed course to study history instead. A year later, he attended the World Student Christian conference in Beijing and spent six months in China.
In 1924, Rogers graduated from the University of Wisconsin with a Bachelor of Arts degree in history. He initially enrolled at the Theological Seminary in New York to become a church minister.
However, in 1926, he married Helen Elliot and decided against a career in religion, instead signing up to study psychology and teaching at the University of Columbia.
Early Professional Career
On graduating, he took a position at the Rochester Society for the Prevention of Cruelty to Children, later serving as Director. In 1931, he was awarded his PhD for research on the Rorschach ink-blot test.
It was during his tenure at Rochester that Rogers became strongly influenced by a social-worker colleague who had studied under the psychotherapist Otto Rank.
Rogers also came across the work of Jessie Taft, one of the key female voices in the development of person-centred therapy. Taft was already an accomplished author and had also translated Rank's work from German to English for an American audience. It was the ideas of Rank and Taft that laid the ground for what Rogers would call 'non-directive therapy'.
"Rogers realised the power of letting the client speak about their world, without 'expert' intervention."
Anecdote has it that there was one particular event at Rochester that altered the direction of Rogers' thinking – and thus the world of psychotherapy forever. According to this, when Rogers was working with a child who had behavioural issues, he tried to convince the mother that the reason the child was behaving badly was because of her early rejection of the child.
The mother stormed out, only to return and ask whether Rogers took adults for counselling. When Rogers replied that he did, she proceeded to tell her own story.
Rogers realised the power of letting the client speak about their world, without 'expert' intervention. This encounter formed that basis of what he later described as 'client-centred therapy' or – in Abraham Maslow's words – 'the third force in psychology'.
Acknowledgement of Carl Rogers' contributions to psychology
While Rogers' ideas attracted criticism from the psychotherapeutic community, they also gained wide acceptance over time.
Rogers was honoured with many awards and accolades, including being elected a fellow of the American Academy of Arts & Sciences in 1961.
He was also nominated for a Nobel Peace Prize for his work in Northern Ireland and Russia, where he tried to bring differing factions together in the hope of finding common ground.
Sadly, the nomination for the Nobel Peace Prize arrived a few days after his death on 4 February 1987, caused by a fall at his home in La Jolla, California.