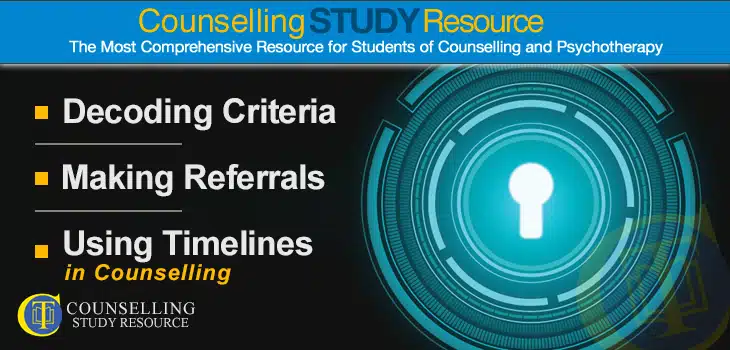 065 – Decoding Criteria – Making Referrals – Using Timelines in Counselling

In episode 65 of the Counselling Tutor Podcast, Ken Kelly and Rory Lees-Oakes explain how to decode the academic language of criteria. Following on – in 'Practice Matters' – Rory advises on making referrals. Finally, the presenters discuss how to use timelines in counselling.
Decoding Criteria (starts at 1.41 mins)
Criteria – the requirements that counselling students have to fulfil in order to pass their qualification – can be really slippery. They are often couched in academic language that bear little resemblance to the everyday language we are used to.
It is helpful to start by looking carefully at the main verb in the instruction, for example 'explore', 'compare', 'describe', 'analyse' or 'evaluate'. Ken and Rory dissect an example criterion, explaining what it means in plain English.
When addressing criteria, it is important to stick to the question and not to prevaricate: you will not get any credit for material that doesn't answer the question, however good this might be.
Rory has done a lecture on how to decode academic language; this is available in the Counselling Study Resource (CSR).
Making Referrals (starts at 13.18 mins)
The Ethical Framework for the Counselling Professions, published in 2015 by the British Association for Counselling & Psychotherapy, requires us to work within our competence (in terms of both qualifications and clinical experience). This may require us to refer clients.
In Counselling Skills for Managers (PHI Learning, 2007), Singh gives five situations where the counsellor would need to refer:
when the client's presenting issues lie outside your proficiency (e.g. psychosis or adoption – the latter was covered in Podcast 58)
when the counsellor and client do not gel for some reason, e.g. personality clash or transference
when the client's issues turn out to relate to someone whom the counsellor knows
when the client is not ready to disclose their issues (e.g. they may need a different type of help from another agency first)
when the client has done as much therapeutic work as they wish for now but is hesitant to finish (e.g. the sessions may be becoming more like cosy chats than counselling).
Rory goes on to offer some good-practice tips on making referrals:
If you work at an agency, ask the staff where they would usually refer and make a list of the possible places, so you have a list ready.
Always talk to your supervisor before referring a client.
Before making a referral, always check that the client would like to be referred, and decide together who to refer to and the best timescale for this.
Record what you have agreed and done in the client's notes.
Remember that making a referral is not a sign of weakness or incompetence on your part; it is a natural and important part of professional practice.
You can download Rory's handout on this topic here, and it is also available on Counselling Study Resource (CSR).
Using Timelines in Counselling (starts at 23.46 mins)
Timelines can be a useful tool in counselling when a client has experienced a number of significant events, and when they have a visual learning style. They are particularly useful when dealing with grief and with attachment issues.
If you are a person-centred counsellor, it is important not to impose this technique on them but instead to suggest it, inviting them to try it if they would like to and feel it would be useful. It would be best to suggest this once you have established the therapeutic relationship rather than to spring it on a new client.
Using timelines can be both affirming and informing. As the exercise might give rise to overwhelming emotions, it is safest to do with the client rather than suggesting to them that they do so between sessions. Your presence will support them in exploring any strong feelings that may emerge.
Many person-centred therapists these days do use creative methods in their work.  Natalie Rogers, daughter of Carl Rogers, was a proponent of this style of working, as shown in the following video clip.
Links and Resources
Counselling Tutor Facebook group