164 – Online Therapy Contract
Practising Skills in an Online Training Environment – Children and Loss
In episode 164 of the Counselling Tutor Podcast, Ken Kelly and Rory Lees-Oakes discuss creative ways of practising skills online. 'The Digital Counselling Revolution' then focuses on specific areas in online therapy contracts. Last, in 'Practice Matters', Rory talks to Nicola Hughes about working with bereaved children.
Practising Skills in an Online Training Environment (starts at 1.40 mins)
Being expected to practise your counselling skills online may feel challenging, but it is really good preparation for online working with clients.
Rory and Ken use Zoom to record these podcasts, and this is one of the online video technologies you can use to practise skills.
Ken and Rory provide tips for practising your skills online:
Ensure you have good headphones, so you can hear what your practice partner is saying really clearly.
If using video technology, then try to sit in a well-lit position, so that your partner can see you properly.
Try turning off your webcam as a way of practising for telephone counselling, and to hone your listening skills. Rory explains that when training students face-to-face, he used to get them to sit back-to-back to create a similar result.
Bear in mind that silence can be trickier when working by telephone and online than in person, as the other person might not be sure whether you are still there. It's good to cover this in contracting, explaining that you may sometimes be silent, and why.
Try recording your sessions, and watching them back – you could even score yourself using the Carkhuff scale; Rory also describes a system for evaluating your skills that was suggested by Mick Cooper.
It can be very developmental to try a fishbowl session using Zoom.
You might like to consider joining our Counselling Study Resource (CSR) if you would like to learn more about counselling skills. This includes an area dedicated to counselling skills, where each counselling skill is defined, along with an analysis of how it helps the client and the therapist, and some audio examples of the skill being applied.
What's more, we are currently offering a special concession, to help counselling students in these challenging times.
Online Therapy Contract (starts at 17.00 mins)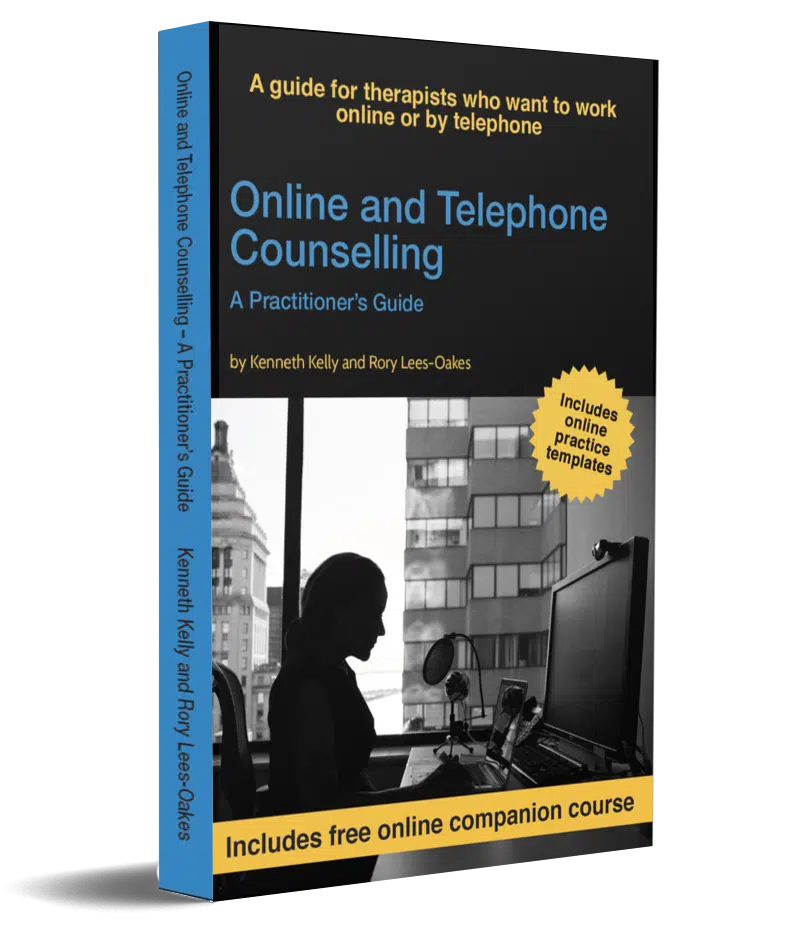 BESTSELLER
Online & Telephone Counselling Book
Available in Paperback and Kindle
Includes FREE COMPANION COURSE that you can do online to underpin and strengthen your learning
Over the years, contracting in counselling has become a more developed process, and this process is changing more with the current digital revolution in the world of counselling and psychotherapy.
Working online requires some different elements to be included in the contract – for example, what would you do if the person you were counselling online, who lives alone, suddenly became seriously ill and collapsed during your session?
Ken and Rory talk through what additional elements to include in an online therapy contract, for example:
information on the benefits and challenges of online counselling for clients
technical instructions and troubleshooting
privacy and confidentiality (to ensure you adhere to the General Data Protection Regulation)
provision for getting a digital signature from your client.
Rory has created a handout on specific areas to include in online therapy contracts that you can download here, or access through the Counselling Study Resource.
And you might like to check out our course, Online and Telephone Counselling, which:
has been awarded Quality Checked training recognition by the National Counselling Society (NCS)
meets the British Association for Counselling and Psychotherapy (BACP) competence framework requirements for practitioners who wish to work with clients via telephone and e-counselling; the course exceeds 80 hours of guided learning, and the learning outcomes are mapped to the BACP competences for telephone and e-counselling.
Counselling Tutor is a recognised Association for Counselling & Therapy Online (ACTO) Online Training Provider, and this course enables the graduate to join ACTO.
The course equips practitioners with the skills, knowledge and abilities to work online and offer services as an online and telephone counsellor, providing that the practitioner already holds a formal recognised counselling qualification.
Children and Loss (starts at 30.40 mins)
In this part of the Counselling Tutor Podcast – aimed at supporting qualified practitioners to sharpen their competence through continuing professional development (CPD) – Rory speaks to counsellor Nicola Hughes, who has specialist knowledge of this important area.
Rory and Nicola explore how to avoid euphemisms for death, how to frame death when talking to children, and how to support parents and families to grieve together.
A stark statistic is that a parent of a child under 18 dies every 22 minutes in the UK. This highlights the prevalence of bereavement among children and young people. Working with them requires different knowledge and knowledge from working with bereaved adults.
You can listen to Nicola's lecture on children and loss in the Counsellor CPD library. Ensuring the completion of regular CPD helps counsellors and psychotherapists better serve their clients.
Free Handout Download
Specific Areas of Contracting in Online Counselling