160 – Benefits and Challenges of Counselling Clients Online
Blended Learning – Working with Bereavement
Welcome to episode 160 of the Counselling Tutor Podcast, in which Ken Kelly and Rory Lees-Oakes discuss what blended learning is, and what it can offer you. Then, our new slot 'The Digital Counselling Revolution' looks at the benefits and challenges of counselling clients online. Finally, in 'Practice Matters', Rory talks to counsellor and trainer Nicola Hughes about the important topic of bereavement.
Blended Learning (starts at 1.30 mins)
The term 'blended learning' – which has been around for decades – refers simply to learning that uses a number of different types of input.
However, in the current situation of the COVID-19 pandemic and consequent need for social distancing, blended learning is about combining face-to-face with remote learning.
This represents a revolution in counselling training, which is both exciting and challenging.
In particular, blended learning requires you, as a student counsellor, to take more responsibility for your own learning.
If you are able to rise to this challenge, you have the opportunity to:
benefit from the huge range of resources available via technology
connect with peers more widely, e.g. through the Counselling Tutor Facebook group
select resources that fit more closely with your own learning style (i.e. auditory, kinaesthetic or visual).
When selecting resources to use, do ensure that they are citable, so that you can reference your sources in an academically rigorous way for your learning institution.
You might like to consider joining our Counselling Study Resource (CSR), which draws on our long experience of providing technology-based learning to bring you a wide range of lectures and resources that are mapped to the main counselling UK qualifications and can all be cited in your assignments.
Benefits and Challenges of Counselling Clients Online (starts at 16.15 mins)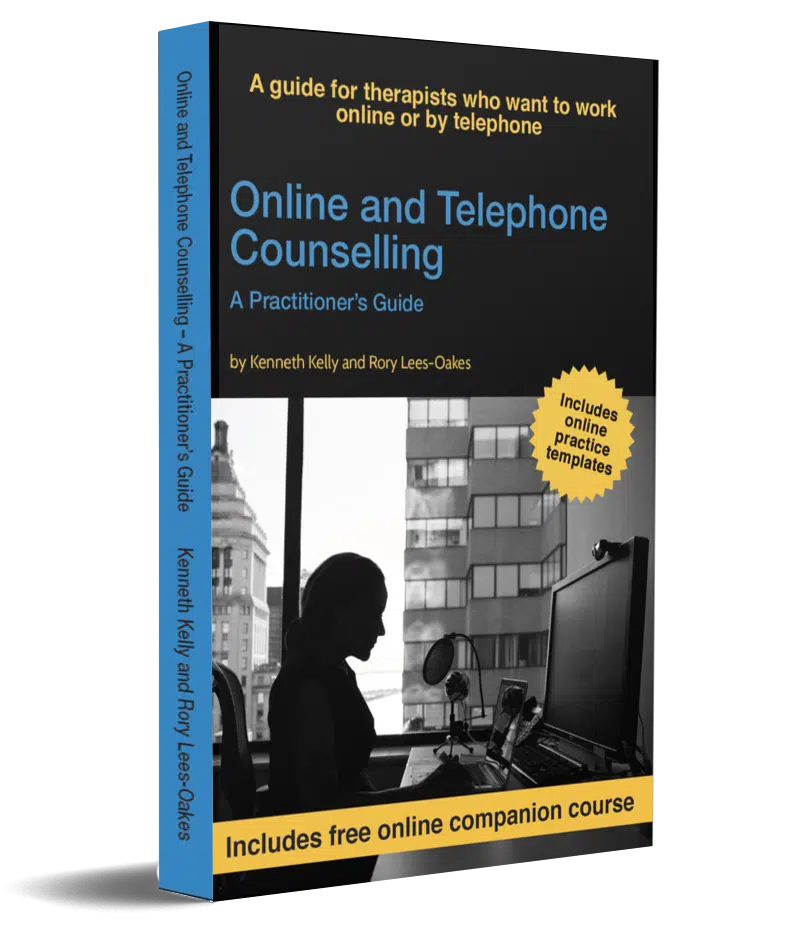 BESTSELLER
Online & Telephone Counselling Book
Available in Paperback and Kindle
Includes FREE COMPANION COURSE that you can do online to underpin and strengthen your learning
The current digital revolution in the world of counselling and psychotherapy brings both benefits and challenges for clients and counsellors alike.
The key benefit of online counselling for clients may be better access to therapy for people who might otherwise have been unable or unwilling to get help, e.g. if travelling is difficult for them, if they have caring responsibilities, or if they are concerned about the possibility of being seen entering or leaving the counsellor's premises.
Counsellors may also benefit from having no travel time (as they may be able to work from home more easily) and the cost saving of not having to hire a room.
Challenges in counselling clients online, meanwhile, include the change in practitioner training, since online working brings the need to understand the technology, the specific psychological theories (e.g. the disinhibition effect and the black-hole effect), and the application of skills.
Also, online working is not suitable for all client presentations and mind-sets.
Rory has also written a handout on the benefits and challenges of counselling clients online. You can download this free of charge here, or access it through the Counselling Study Resource. You might also like to check out our course, Online and Telephone Counselling.
Working with Bereavement (starts at 33.55 mins)
In this part of the Counselling Tutor Podcast – aimed at supporting qualified practitioners to sharpen their competence – Rory talks to Nicola Hughes, who completed her student placement in a bereavement agency and has since built ten years' experience in working with bereavement and loss.
Key issues covered in the interview are the:
shift over time in how grief is viewed theoretically and thus worked with
use of euphemism and metaphor in grief
importance of self-awareness and reflection to working with others' grief
effect of culture and other aspects of group identity on grieving.
You can catch Nicola's lecture in the Counsellor CPD library. Watch out too for another lecture coming soon, specifically on Nicola's specialist area: working with bereaved children.
Free Handout Download
Benefits and Challenges of Working Online