182 – Tasks of Supervision in Counselling
Making Reasonable Adjustments Online – Interview with NCS Chief Executive
Episode 182 of the Counselling Tutor Podcast opens with a discussion between Rory Lees-Oakes and Ken Kelly on the tasks of supervision in counselling. 'Digital Counselling Revolution' then focuses on making reasonable adjustments online. Finally, Rory interviews Meg Moss, Chief Executive of the National Counselling Society (NCS) about her work.
Tasks of Supervision in Counselling (starts at 1.55 mins)
Rory and Ken explore the tasks of supervision in counselling, which they split into four categories:
formative
normative
restorative
ethics
Explaining the meaning of each of these, they note that clinical supervision was originally based on the apprenticeship model. Supervision is not personal counselling, and the supervisor has a responsibility to both the supervisee and their clients, ensuring that all work is in their service.
Supervisors will look not so much at the content of what clients are bringing as at how the supervisee is working with this. Each supervisee–supervisor relationship is unique.
The presenters provide guidance on what to expect from supervision and what you take to it. Expanding on this, Rory has produced a free handout on the tasks of supervision in counselling – you can download this here or through Counselling Study Resource (CSR).
Making Reasonable Adjustments Online (starts at 14.00 mins)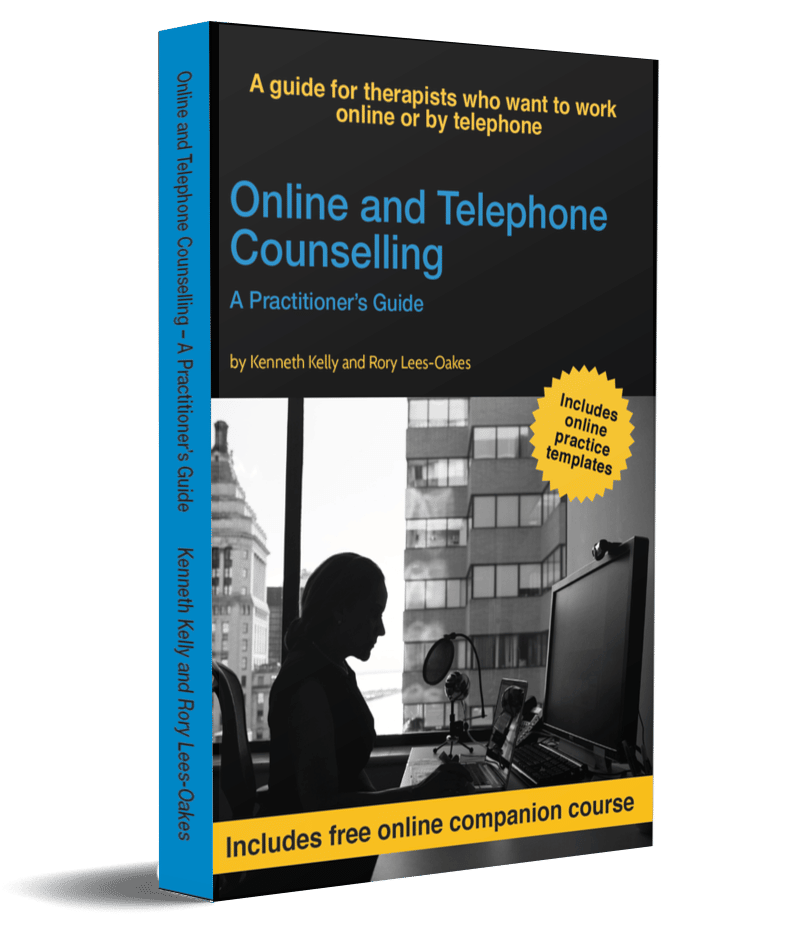 BESTSELLER
Online & Telephone Counselling Book
Available in Paperback and Kindle
Includes FREE COMPANION COURSE that you can do online to underpin and strengthen your learning
Free Handout Download
Supervision: A Brief Overview
'Reasonable adjustments' in the context of counselling are changes to remove or reduce the effect of a client's disability so they can access therapy. Ken provides the example of recording an audio file of discussing the counselling contract that can then be sent to a sight-impaired client to facilitate their review.
Ken and Rory discuss the importance of making reasonable adjustments, and how the nature of these may vary between face-to-face and online working.
It is acknowledged that change can be challenging for both clients and counsellors, but that the growth of online counselling is one that looks set to be sustained, even when it is possible to return to face-to-face working.
Key to successful working online is to have an online mindset, ensuring that you don't see online counselling as second-best somehow.
This is just one of the topics that is discussed in our 80-hour Online and Telephone Counselling course, which has already trained thousands of therapists in online working. It is also covered in our book, Online and Telephone Counselling: A Practitioner's Guide.
Interview with NCS Chief Executive (starts at 27.05 mins)
Rory talks to Meg Moss, Chief Executive of the NCS, about her work. In particular, Meg responds to questions on:
her journey to get to her current role (which began six years ago, when she joined NCS as an administrator)
the changes she has overseen at NCS (two major ones of which are the COVID-19 pandemic and SCoPEd)
what a typical day looks like in Meg's diary (with Meg concluding that there is no such thing really, but that most days involve discussing and liaising with multiple individuals and bodies)
her hopes for the future in her current role.
Meg emphasises the importance of working in the service of members, given that NCS is a membership organisation. As part of this, a new Head of Membership Services has recently been appointed.
Free Handout Download
Supervision: A Brief Overview