170 – Telephone Counselling Tips for Counsellors
Is Transference Person-Centred? – Adverse Childhood Experiences
In episode 170 of the Counselling Tutor Podcast, Ken Kelly and Rory Lees-Oakes answer the question 'Is transference person-centred?' Next in 'The Digital Counselling Revolution', they give telephone counselling tips for counsellors. Finally, in 'Practice Matters', Rory speaks to Dr Suzanne Zeedyk about adverse childhood experiences (ACEs).
Is Transference Person-Centred? (starts at 1.40 mins)
Transference is a phenomenon that you may well have heard Rory mention regularly in podcasts and lectures, but is it relevant to person-centred counselling?
This is a question that is often asked by counselling students, some of whom have found that their person-centred training does not specifically cover transference.
Transference describes the situation when someone unconsciously displaces an emotion or attitude from a person in their past to a person in their present.
Rory gives an example of when one of his students experienced transference towards him, since he reminded her in some ways of her father.
The concept of transference was originally a psychoanalytic concept, introduced by Sigmund Freud.
However, as Ken and Rory argue, it is highly relevant to therapy of all types, since it can detract from the building of a sound therapeutic relationship in which each party can see the other's real self. Carl Rogers did himself speak of attitudes of a transferential nature.
Rory has written a handout giving you an overview of transference; you can download this here, or access it through the Counselling Study Resource (CSR).
Telephone Counselling Tips for Counsellors (starts at 14.15 mins)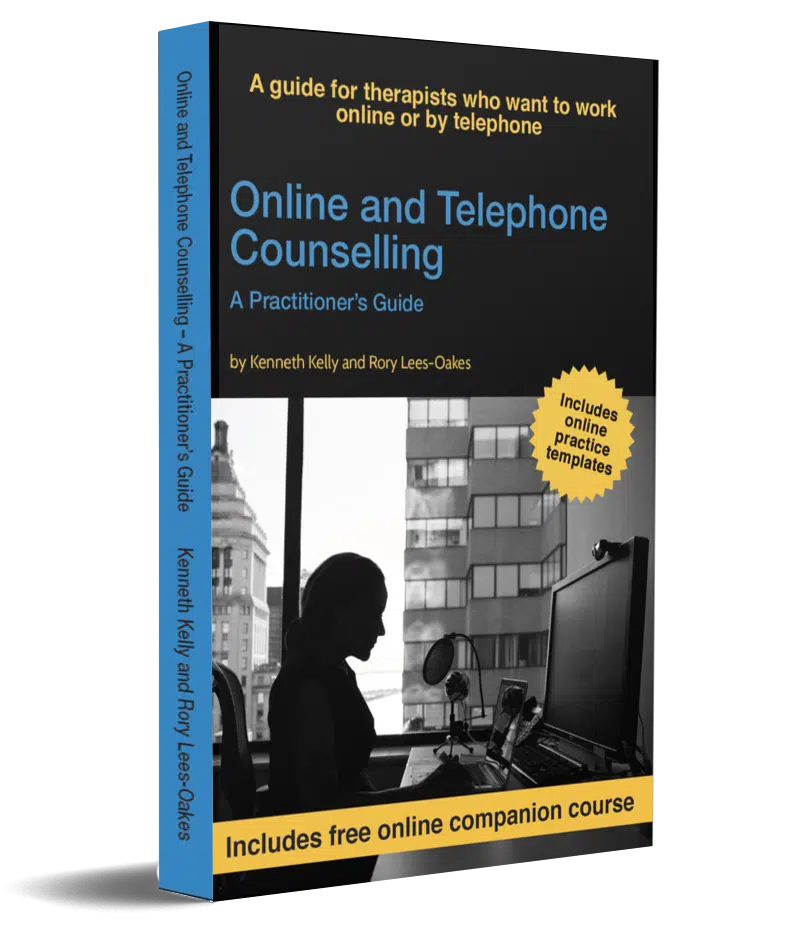 BESTSELLER
Online & Telephone Counselling Book
Available in Paperback and Kindle
Includes FREE COMPANION COURSE that you can do online to underpin and strengthen your learning
Counselling by telephone tends to be seen as similar to online video counselling, but there are some fundamental differences, brought about by the lack of visual information.
Ken and Rory provide various telephone counselling tips for counsellors, including the following:
Don't think of telephone counselling as second-best to online video counselling; in fact, the lack of visual information can allow you to pick up more subtleties in the client's voice and words, building relational depth and enhancing therapy.
Use a good-quality pair of headphones when counselling by telephone, so that you don't have to hold the phone to your ear.
Consider sharing a picture of yourself when contracting with the client, so that they are not distracted by curiosity about your appearance; this can also help eliminate transference.
Do ensure that clients have a safe and private place to speak from.
As the client can't see that you are there, you may need to make it clear to them verbally that you are still there during any silences or if they are speaking at length.
It can be helpful to describe your body language if this feels relevant, e.g. telling them when their words lead you to smile.
You can use online video platforms such as Zoom for audio-only sessions (i.e. with the camera switched off).
If telephone counselling feels strange at first, do give yourself time to get used to it: you may end up liking it much more than you think!
Aside from using these telephone counselling tips for counsellors, you might also like to check out our course, Online and Telephone Counselling, which:
has been awarded Quality Checked training recognition by the National Counselling Society (NCS)
meets the British Association for Counselling and Psychotherapy (BACP) competence framework requirements for practitioners who wish to work with clients via telephone and e-counselling; the course exceeds 80 hours of guided learning, and the learning outcomes are mapped to the BACP competences for telephone and e-counselling.
Counselling Tutor is a recognised Association for Counselling & Therapy Online (ACTO) Online Training Provider, and this course enables the graduate to join ACTO.
The course equips practitioners with the skills, knowledge and abilities to work online and offer services as an online and telephone counsellor, providing that the practitioner already holds a formal recognised counselling qualification.
You can read over 1,000 reviews of the course on our website too.
Adverse Childhood Experiences (starts at 29.05 mins)
In this segment of the podcast, Rory speaks with Dr Suzanne Zeedyk ­– Research Scientist, Developmental Psychologist and Founder of connected baby – about the importance of understanding ACEs in therapy work.
ACEs is a relatively new area on therapy research, with the first study having been published around 20 years ago.
Suzanne explains what ACEs are, and why they matter in therapy, explaining that they are just as relevant to working with adults as with working with children/young people.
Suzanne sees ACEs as being as important to therapy as attachment style. ACEs can affect people both psychologically and physiologically.
To find out all about ACEs, you may like to consider watching Suzanne's specialist lecture on this highly important topic, available in Counsellor CPD, our online CPD library that contains hundreds of hours of on-demand CPD lectures, training and resources to support your development.
Free Handout Download
What is Transference and Countertransference?