206 – Compassion Fatigue in Counselling
Contracting in Counselling - Clothing and Counselling
In Episode 206 of the Counselling Tutor Podcast, hosts Rory Lees-Oakes and Ken Kelly discuss three more topics to help you with your counselling journey.
'Counselling Foundations' returns with this week's topic, contracting in counselling and its importance.
'Focus on Self' is looking at clothing in counselling.
And finally, 'Practice Matters' is back with Rory speaking to Martin Smith about compassion fatigue in counselling.
Contracting in Counselling [starts at 1:44 mins]
Contracting in counselling has for the most part shifted from verbal contracts to paper contracts that must be read and signed. In this section, Rory and Ken will discuss the pros of having a contract between you and your client, and things you should be aware of when creating one:
A contract is there in service of the client and the relationship you have with them.
It helps the client to feel safe, eradicates the risk of surprise.
A contract is there if things happen to go terribly wrong.
Things that need to be covered by your contract eg. confidentiality.
A contract is being honest; the relationship with your client develops from there.
Think of it as a part of the therapy.
Be mindful of the client – ask if they understand.
A contract levels the playing field, creates a mutual understanding.
Clothing and Counselling [starts at 23:10 mins]
Get on-demand Certified CPD that is implementable in your practice
Counsellor CPD Library
Over 150 hours of on-demand CPD lectures to help you stay current with your CPD ethical requirements
Support, and be supported, by thousands of other counsellors as a member of the exclusive online community.
Access your learning anytime you want ... anywhere you choose ... using any device type — desktop or mobile.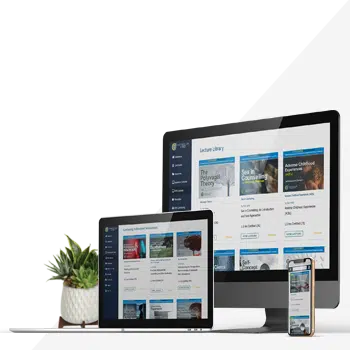 In this section, Rory and Ken discuss the impact clothing can have in the therapy room, and why it's a good idea to be mindful.
Clothing has a psychological message.
Consider what your clothing could mean to someone.
We subconsciously evaluate people using their clothing.
The importance of being mindful and just giving it an extra thought.
Compassion Fatigue in Counselling [starts at 34:15 mins]
In this week's Practice Matters, Rory is speaking with Martin Smith on compassion fatigue, something that can happen to anyone in an emotionally strenuous line of work.
The key points discussed include:
Compassion fatigue is like 'running out of steam'.
A sign you could be starting to feel compassion fatigue in counselling work includes an increasing sense of dread or insecurity, feelings of relief when a client cancels etc.
Make use of your supervision and your peers – other people can see it before we can.
Make sure you're paying attention to your self-care, monitor how many clients you take on and manage your workload.
Free Handout Download
Contracting in Counselling