188 - Counselling for Personality Disorders
Dual Process Model of Grief – Attachment Issues in Telephone Therapy
In episode 188 of the Counselling Tutor Podcast, Rory Lees-Oakes and Ken Kelly start with 'Student Check-In', discussing the dual process model of grief. In 'Digital Counselling Revolution', they then turn to attachment issues in telephone therapy – before Rory speaks with Martin Smith, in 'Practice Matters', about counselling for personality disorders.
Dual Process Model of Grief (starts at 1.35 mins)
Grief is an experience that everyone has in some form at some time. While the loss of a loved one through death might be the most obvious time at which we would expect to feel grief, it is a natural reaction to other forms of loss too – for example, loss of a relationship, loss of health, and job loss.
Counselling for bereavement and loss is not about 'curing' the client, but about helping them to process the loss.
Elisabeth Kübler-Ross's 1969 five-stage model of grief is well-known for its use in grief work. It is sometimes known as 'DABDA', after the initials of its five stages:
Denial
Anger
Bargaining
Depression
Acceptance
A more recent model of grief, however, is the dual process model, described by Margaret Stroebe and Henk Schut in the journal Death Studies in 1999. This model refers to the oscillation between loss-oriented and restoration-oriented responses and activities.
Ken and Rory look at the dangers of being stuck in one or the other of these two modes, and ways of using the approach in therapy. Ken shares his own experience of grief, noting the difference between losses.
You can download a handout that provides an overview of the dual process model here (in the blue box above).
Attachment Issues in Telephone Therapy (starts at 15.30 mins)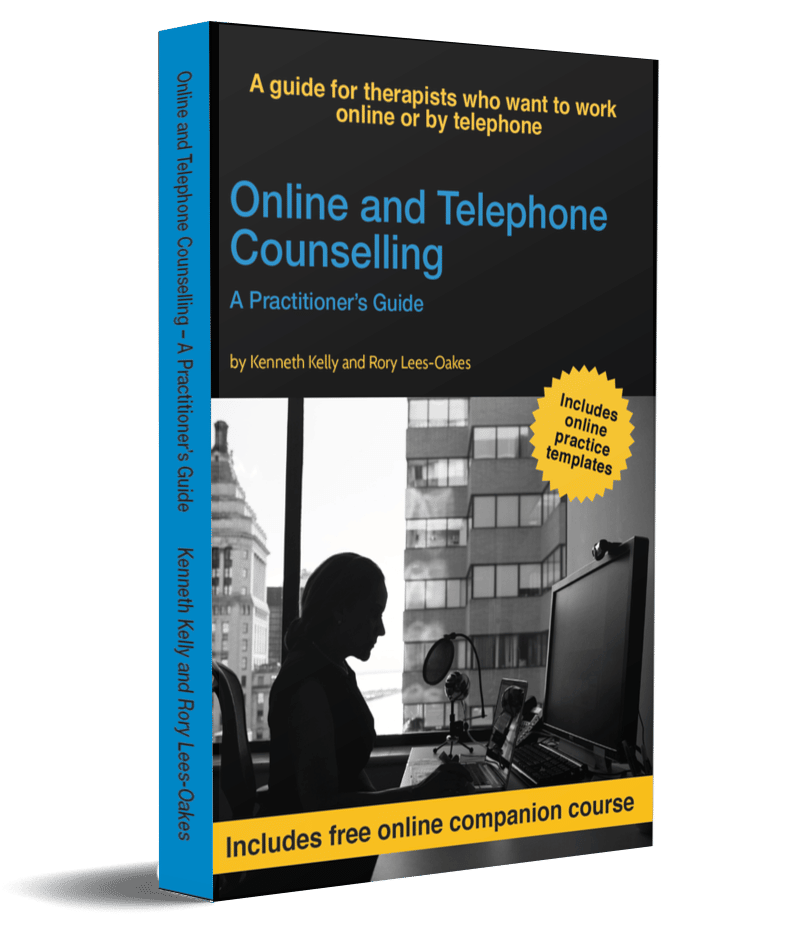 BESTSELLER
Online & Telephone Counselling Book
Available in Paperback and Kindle
Includes FREE COMPANION COURSE that you can do online to underpin and strengthen your learning
Providing therapy by telephone brings challenges that may be new to those whose work has previously been face-to-face. One such challenge is the disinhibition effect, as described by John Suler.
Transference can also be powerful and brings a number of risks when working with voice-only technology. It is easy to create an imaginary picture of what the other person looks like; this is an important pitfall to be aware of. Avoiding speculation is vital.
Both these phenomena are influenced by attachment style. Ken and Rory share anecdotes of their experience with telephone working, illustrating the possible hazards and how to ensure you practise in a way that is ethical and professional.
Professional training in working online is vital, and you may wish to consider taking our Online and Telephone Counselling Certificate course. The course exceeds 80 hours of guided learning, and the learning outcomes are mapped to the BACP's 2021 competencies for telephone and e-counselling.
Most of the course is self-directed learning via online lectures and resources; this means that you can work at your own pace, and complete the course with no external time pressure.
Counselling for Personality Disorders (starts at 27.30 mins)
Martin Smith specialises in working with clients who have personality disorders, and he has recorded a lecture on this topic for our Counsellor CPD library (which offers hundreds of hours of on-demand lectures, training and resources to support the continuing professional development of qualified practitioners).
Martin and Rory discuss a range of issues relating to counselling for personality disorders, including:
what personality disorders are
how they affect life
the duration of personality disorders
aim of counselling for people with personality disorders
statistics in the general population and among counselling clients
how to adapt your skillset to working with these clients
understanding what you see in the therapy room
tell-tale signs of personality disorders
other issues that may accompany personality disorders, e.g. substance abuse, addiction and depression
the potential pitfalls in counselling clients who have personality disorders.
Given the number of counselling clients who may have a personality disorder, it is important to have an understanding of this important area.
You may well also come across clients who have loved ones with personality disorders; again, having knowledge on the management of personality disorders enable you to better serve them, too.
Free Handout Download
Dual Process Model of Grief