251 – Difference between PTSD and Complex PTSD
The Four Pillars of Gestalt Therapy – Talking about Sexual Intimacy in Therapy
In Episode 251 of the Counselling Tutor Podcast, your hosts Rory Lees-Oakes and Ken Kelly are back with this week's three topics:
Firstly in 'Theory in Practice' we look at the four pillars of Gestalt therapy.
Then in 'Practice Today' Rory and Ken will discuss sexual intimacy.
Lastly in 'Practice Matters', Rory speaks with Lou Lebentz on the difference between PTSD and complex PTSD (CPTSD).
The Four Pillars of Gestalt Therapy [starts at 02:45 mins]
This segment of the Counselling Tutor Podcast is sponsored by
WebHealer.net
WebHealer are the go-to provider of websites for private practitioners

in the UK.

Established over 20 years, WebHealer offers a

non-technical and fully supported service

to help therapists grow their private practice.
Just one customer from your website each year pays for their service.
Go to WebHealer.net and use coupon CT100 for £100 off their "Do it for me" service.
First up this week, listen as Rory and Ken take us through the four pillars of Gestalt therapy:
Phenomenology – how the individual views their world:

A client's view may be very different to your own and you may even disagree.
Understand the reasons behind their views.
Meet the client where they are.
Through discussion, the client may change their view after looking into it further.

The dialogical relationship – the relationship between therapist and client.

There needs to be dialogue between you as the therapist and them as the client.
Be empathetic, show your humanity and allow the client to engage with that.
The client should perceive you as someone who is working hard to try and understand their world view.

Field theory – what's going on around the client?

Their life and day-to-day will effect how they are with you.
Things happening both inside and outside of the therapy room.
This applies to both you and the client.

Experimentation – clients encouraged to do experiments.

This is something not seen in person-centered therapy.
Experimentations such as empty chair –allows the client to speak the unspoken.
It can help the client have internal contact with the disconnected parts of themselves.
Doing things such as writing a letter and burning it if they find verbal communication uncomfortable.

Gestalt therapy is all about connecting emotionally and physically with ourselves.
Theory to Practice is sponsored by
Counselling Skills Academy
Learn counselling techniques by seeing counselling skills used in real sessions by qualified therapists.
Real sessions – real-life presentations – real skills.
Talking about Sexual Intimacy in Therapy [starts at 22:37 mins]
Speaking about sexual intimacy may feel uncomfortable for some, but it is a large part of an individual's life and should be welcomed in the therapy room.
The main points of this discussion include:
If you as the therapist are reluctant, shy or worried about this topic, the client can't go there with you – this means an important part of the client's reality is shut off.
Sexual intimacy and activity impacts a client's whole life – sometimes clients will want to talk about it and that takes courage.
Try considering how you would feel sharing this information with a professional, and how you would want them to approach that with you.
You need to warmly welcome this part of your client.
Become comfortable with the aspects of this discussion.
Show the client the door is open, that it's okay.
If you're struggling to engage with this subject, visit supervision and explore why that might be.
The key things to take away are:

Welcome the topic.
Look for a framework, do some CPD, try talking about sexual intimacy.
Desensitize giggles, blushes and cringes – understand where your hidden prejudices lie.

Read up on sexual health and consider speaking about this with your client – especially with young people.
Get on-demand Certified CPD that is implementable in your practice
Counsellor CPD Library
Over 150 hours of on-demand CPD lectures to help you stay current with your CPD ethical requirements
Support, and be supported, by thousands of other counsellors as a member of the exclusive online community.
Access your learning anytime you want ... anywhere you choose ... using any device type — desktop or mobile.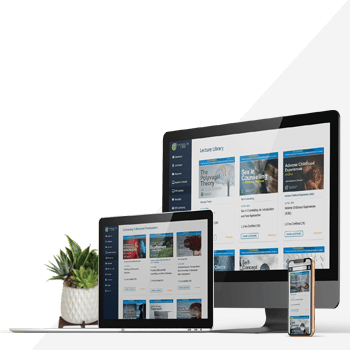 Difference between PTSD and Complex PTSD [starts at 39:04 mins]
In this week's 'Practice Matters', Rory speaks with Lou Lebentz on the difference between PTSD and complex PTSD (CPTSD).
PTSD is often the result of a singular traumatic event e.g. a car crash, a natural disaster. Its difference to complex PTSD is CPTSD refers to someone who has experienced a series of traumas.
They usually suffer from difficulty with emotional self-regulation.
They may have a negative view of self: feelings of shame, guilt, feeling unworthy.
There is an interpersonal disturbance.
Mistrust of others, self-blame.
CPTSD is often rooted in childhood.
As a therapist you provide co-regulation – an external scaffold.
All feelings are accepted in the therapy room – help the client learn to manage and regulate these feelings.
Having your own therapy will be something to look into.
EMDR (Eye Movement Desensitization and Reprocessing) presents itself a lot in trauma.
You may take a body-led and body-based approach.
Stay with the feeling of the client – don't move over it or dismiss it.
The National Counselling and Psychotherapy Society is proud to sponsor Practice Matters.
NCPS (formerly NCS) are really excited to have launched their Children and Young People Therapist Register for counsellors working with the younger age group.
Free Handout Download
The Four Pillars of Gestalt Therapy