273 – How to Develop a Therapist Network
Planning Your Research Project – Kink in the Therapy Room
In Episode 273 of the Counselling Tutor Podcast, your hosts Rory Lees-Oakes and Ken Kelly discuss this week's three topics:
Firstly in 'Student Services' we discuss some things to consider when planning and completing your research project.
Then in 'Ethical, Sustainable Counselling', Rory and Ken discuss how to develop a therapist network and why it is important.
And lastly we have 'Practice Matters', where this week Rory spoke with Bay Whitaker about kink in the therapy room.
Planning Your Research Project [starts at 02:43 mins]
This segment of the Counselling Tutor Podcast is sponsored by
WebHealer.net
WebHealer are the go-to provider of websites for private practitioners

in the UK.

Established over 20 years, WebHealer offers a

non-technical and fully supported service

to help therapists grow their private practice.
Just one customer from your website each year pays for their service.
Go to WebHealer.net and use coupon CT100 for £100 off their "Do it for me" service.
As a counsellor or a student of counselling, there's no doubt you will or have already encountered a research project. In this section, Rory and Ken discuss some of the things you'll need to think about when it comes to completing your project:
SMART action plan – think about whether your project is Specific, Measurable, Achievable, Relevant, and Timely.
Group work – when working as a group, it's important that you are co-operating and listening to one another, meeting regularly and reviewing what has been done and are not afraid to ask for help. Think about how you can play to the individual strengths of those in your group.
Think about what methodology you are going to use.
Secondary research - you might look at an existing theory or model and see whether you discover the same findings as the initial research.
Qualitative vs. Quantitative – qualitative looks at the numbers and can be collected much quicker (e.g. in the form of a questionnaire), and quantitative looks at the experience and can be collected through interviews etc.
Another important thing to consider about your project is ethics. You will need to make sure your project idea has been approved and is ethical.
Theory to Practice is sponsored by
Counselling Skills Academy
Learn counselling techniques by seeing counselling skills used in real sessions by qualified therapists.
Real sessions – real-life presentations – real skills.
How to Develop a Therapist Network [starts at 20:16 mins]
Throughout your career as a counsellor, you will benefit from having peers and colleagues that you can talk to and share ideas with.
The main points of this section on how to develop a therapist network include:
Counselling is a solitary occupation – having peers/colleagues/friends you can discuss and debate with is a form of self-care.
It's helpful to have diverse and critical voices within your therapist network.
Your supervisor counts as a part of your support network.
You need a place to share your excitement over something new you might have learnt with people who understand and can share this enthusiasm.
This will help you to sustain your practice. Going through this career on your own, you are likely to burn out quite quickly, hence it is important to develop a therapist network.
If you are considering training in a niche (e.g. children and young people), it's a good idea to find a colleague who works within that niche. Ask them how they find it and get advice and guidance so you can be sure that it is something you would like to look further into.
Counselling Study Resource:
Assignment Guidance & Study Support for Counselling Students
Academic Lecture Library - Lectures that cover key theory, skills and professional development linked to your counselling study.
Assignment Guidance - Complete assignment exemplars and portfolios of work that have been passed by both tutors and awarding bodies. 
Theory Decoded, Skills Mastery and More - Counselling theories and skills are broken down into easy-to-understand 'chunks', with clear examples to guide you.
Kink in the Therapy Room [starts at 34:40 mins]
In this week's 'Practice Matters', Rory speaks with Bay Whitaker about kink in the therapy room.
The key points of this discussion include:
It's important that kinks are being exercised safely and consensually.
BDSM – within BDSM, there is a pretend power imbalance. It's important that you talk with your 'play partner' about what they're okay with and any limits they might have.
There should always be a safe word/signal.
If you're looking for more information about kinks, there are plenty of informative websites and communities.
A client will feel more comfortable sharing this with you if you are comfortable yourself and have the knowledge to discuss it.
Challenge the assumption that there must be an 'origin' story for someone who is kinky – it is simply a case of taste and sexual preference.
The idea of mainstream fetishes – they are still fetishes, but because they are mainstream, they aren't viewed this way or stigmatised in the same way.
These clients are still just people – it is simply a preference.
You can be kink aware without being kinky yourself – don't let that hold you back from seeking more information on the subject.
Get on-demand Certified CPD that is implementable in your practice
Counsellor CPD Library
Over 150 hours of on-demand CPD lectures to help you stay current with your CPD ethical requirements
Support, and be supported, by thousands of other counsellors as a member of the exclusive online community.
Access your learning anytime you want ... anywhere you choose ... using any device type — desktop or mobile.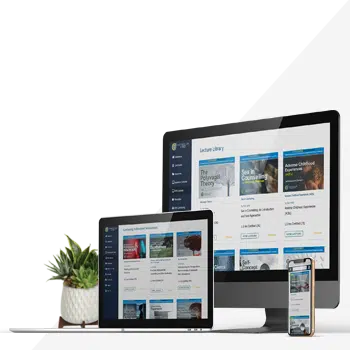 Free Handout Download
Guide to Small Scale Research Projects