216 - Insurance for Counsellors
The Skill of Challenge – When Friends Ask for Counselling
In Episode 216 of the Counselling Tutor Podcast, Rory Lees-Oakes and Ken Kelly discuss this week's three topics:
In 'Counselling Foundations' we'll look at the skill of challenging.
Then in 'Focus on Self', we move on to how to deal with friends and acquaintances once they discover your career.
And finally in 'Practice Matters', Rory speaks with Jo Mountain about insurance for counsellors and psychotherapists.
The Skill of Challenge [starts at 1:25 mins]
Sometimes challenging the client during your practice becomes necessary and in this section, Rory and Ken discuss the situations this may come into play:
If a client is clearly under the influence and not in a suitable state to undergo the session or late to a session without notice, it may be necessary to challenge them on this.
Not doing things that would benefit them such as homework you've set will hamper progress and open the opportunity for challenge.
When it comes to person-centred therapy, you could challenge incongruence within the client.
In recovery counselling, there can be a high level of challenge necessary as a part of the process.
Challenging is something that needs to be practised.
When Friends Ask for Counselling [starts at 19:37 mins]
Get on-demand Certified CPD that is implementable in your practice
Counsellor CPD Library
Over 150 hours of on-demand CPD lectures to help you stay current with your CPD ethical requirements
Support, and be supported, by thousands of other counsellors as a member of the exclusive online community.
Access your learning anytime you want ... anywhere you choose ... using any device type — desktop or mobile.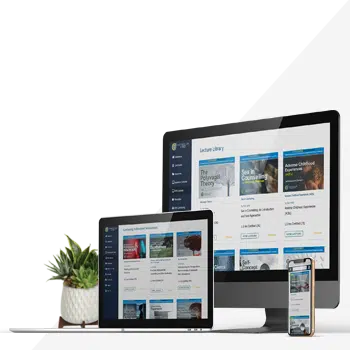 Dealing with those closest to you can sometimes become difficult when they are made aware of your career as a counsellor. It's important that you know how to deal with this when faced with it.
The key points of this discussion include:
Start as you mean to go on within the relationship.
Explain why you are unable to be a counsellor for your friends and that counselling is a managed activity.
Be careful that you don't unconsciously slip into the process.
Ethically you can't counsel a friend or family member.
Practice with peers, not at home.
Be aware that when speaking with friends you naturally have an unavoidable bias.
Importance of Insurance for Counsellors [starts at 30:51 mins]
This week, Rory speaks with Jo Mountain from Howden Insurance on the importance of having insurance as a counsellor and psychotherapist.
Having insurance is primarily optional.
There are two essentials when it comes to insurance within your counselling practice:

Complaints defense – if you receive a complaint that results in a poor outcome, it could seriously effect and reduce your career.
Civil action – puts your personal wealth at risk.

Insurance provides support – helping to respond to complaints and attend hearings if a complaint manages to get that far.
Can cover working from home.
Reduced rates for students and premiums for members of ethical bodies, (specific to Howden).
Helpful third-party partners.
Howden won't insure deliberate actions, or if there was prior knowledge of a situation e.g. complaint.
Free Handout Download
When to Use Challenge in the Counselling Relationship