181 – Neuroscience and Counselling
Stages in the Counselling Relationship – Referrals in Online Counselling
In Episode 181 of the Counselling Tutor Podcast, Rory Lees-Oakes and Ken Kelly talk about the different stages in the counselling relationship. 'Digital Counselling Revolution' then examines the process of making referrals in online (as opposed to face-to-face) counselling. Last, Rory interviews Maggi McAllister-MacGregor about a new lecture she has recently produced for Counsellor CPD on neuroscience and counselling.
Stages in the Counselling Relationship (starts at 1.30 mins)
Being aware of stages of the counselling relationship and the skills required at each of these is an important element of passing the advanced skills assessments that form part of all practitioner-level counselling training courses.
The counselling relationship can be seen as having three phases:
Ken and Rory talk through the challenges and rewards of each stage, and the skills that are particularly pertinent at each. If you're not already a member of the Counselling Tutor Facebook group, why not come along and exchange views on this topic with other students, practitioners, tutors and supervisors in the world of counselling and psychotherapy?
While the field of counselling is an area for scientific research, so that we have an evidence base on which to base our practice, Rory notes that it is also very much an art.
He uses the analogy of the theatre to illustrate the three phases of the counselling relationship, from the characters' first appearance on stage to their leaving at the final curtain. Of course, for some clients, there may be a sequel – either with the same counsellor or with another agency, through the referral process.
You can also download a free handout on the stages in counselling here or through Counselling Study Resource (CSR).
Referrals in Online Counselling (starts at 18.05 mins)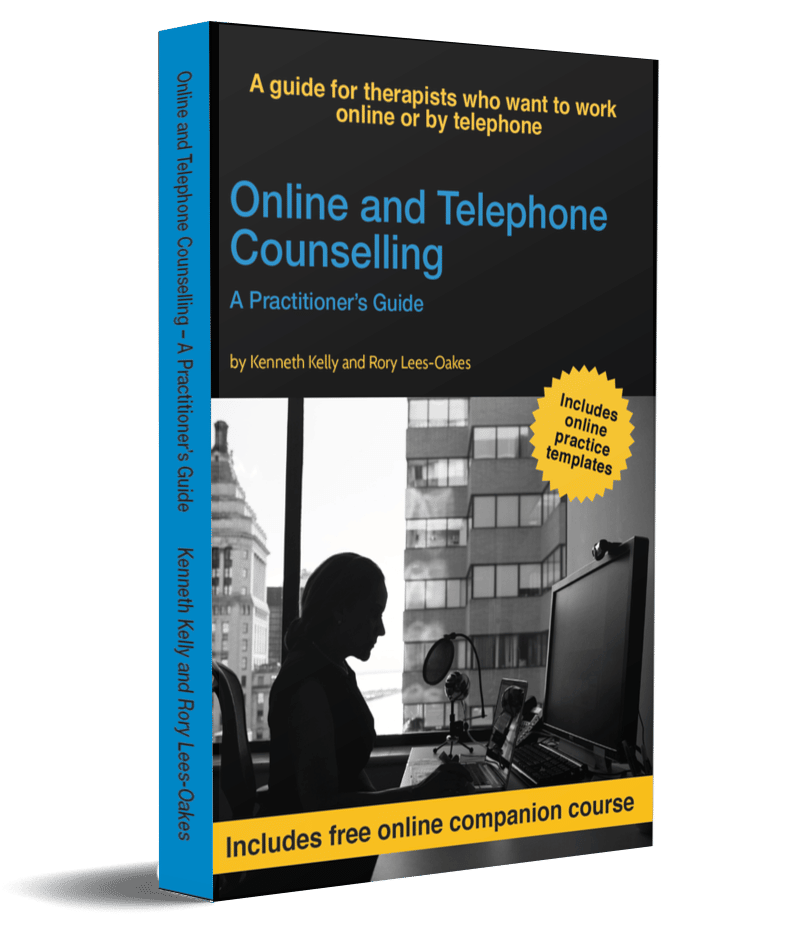 BESTSELLER
Online & Telephone Counselling Book
Available in Paperback and Kindle
Includes FREE COMPANION COURSE that you can do online to underpin and strengthen your learning
Ken and Rory discuss how different the referral process can be in online versus face-to-face counselling.
Perhaps the biggest difference is that in face-to-face work, you will generally be working with clients from the local area, and so you can develop a detailed knowledge of local agencies and individuals there who may be helpful.
Once you are working online, however, clients may live at the other end of the country, and so you will naturally be less familiar with possible referral routes and processes.
Ken and Rory describe solutions to this, including the search tool on Helplines Partnership's website, which allows you to search for UK agencies by keyword, topic and region.
If you are actually making a referral yourself, rather than simply signposting clients to agencies for self-referral, it's vital to ensure that you follow the Caldicott Principles. This important set of principles was developed in 1997 following a review (chaired by Dame Fiona Caldicott) of how the NHS handled confidential patient information.
This topic is covered in more detail in our new book, Online and Telephone Counselling: A Practitioner's Guide, and our course, Online and Telephone Counselling, which has already trained thousands of therapists in online working.
Neuroscience and Counselling (starts at 31.15 mins)
Rory talks to Maggi McAllister-MacGregor about neuroscience in the world of counselling and psychotherapy, including:
how long the discipline of neuroscience has been around
technological developments in the last 20 years
what neuroscience can tell us about how the human brain functions
the brain–body connection
the role of the vagus nerve
neuroscience in trauma
application of neuroscience to counselling practice
psychoeducation of counselling clients, and effect on psychological contact
possible areas for future research.
Our online Counsellor CPD library offers hundreds of hours of on-demand CPD lectures, training and resources to support your continuing professional development.