183 – Online Therapy Research Findings
Keeping in the Client's Frame of Reference – Choosing a Video Background
In episode 183 of the Counselling Tutor Podcast, Rory Lees-Oakes and Ken Kelly share their tips on getting into and staying within the client's frame of reference. 'Digital Counselling Revolution' then looks at choosing a video background for your online counselling work. Last, Rory interviews integrative psychotherapist Emily Mitchell about her online therapy research, particularly on her findings about the relational aspect of online counselling.
Keeping in the Client's Frame of Reference (starts at 1.25 mins)
Rory and Ken discuss this important topic, covering a range of areas:
what a frame of reference is
what it means to be in the client's frame of reference
how to avoid your own frame of reference contaminating your attending to the client
skills used to support getting in – and staying within – the therapeutic relationship
the role of patience, and how this benefits the client.
How to keep in the client's frame of reference is a topic much discussed in the Counselling Tutor Facebook group. If you're not already a member of this group, why not come along and ask to join? There, you'll find over 36,000 students, practitioners, supervisors and students interested in the world of counselling and psychotherapy.
Rory has produced a free handout on the rules of therapeutic pacing – you can download this here or through Counselling Study Resource (CSR).
Choosing a Video Background (starts at 16.10 mins)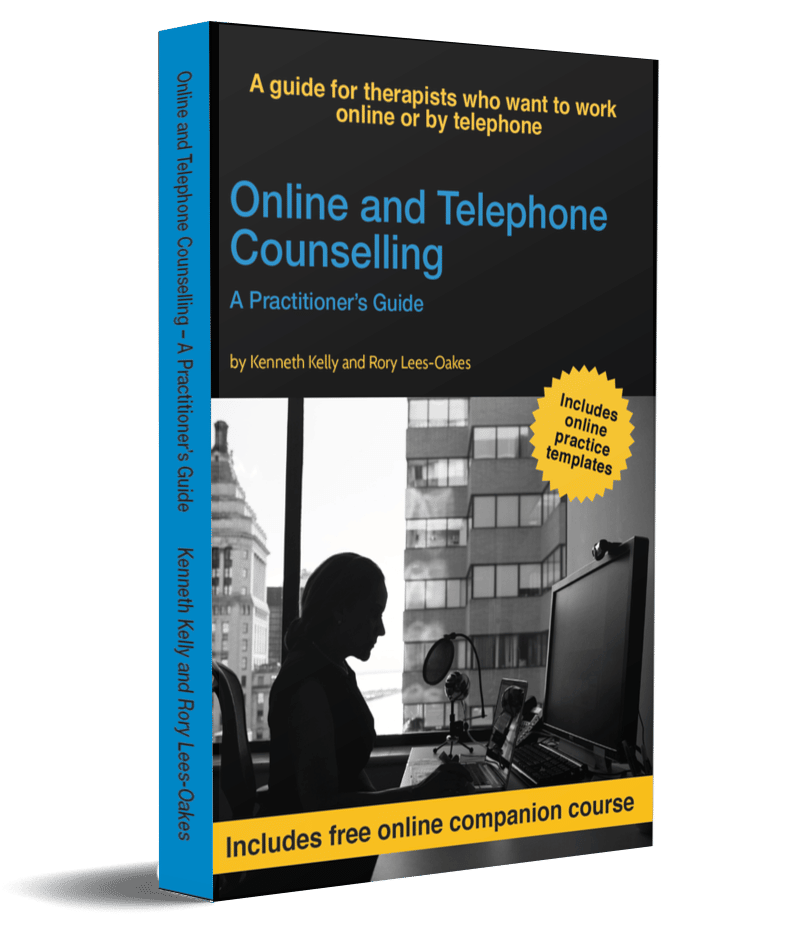 BESTSELLER
Online & Telephone Counselling Book
Available in Paperback and Kindle
Includes FREE COMPANION COURSE that you can do online to underpin and strengthen your learning
Whichever video conferencing platform you are using, you need to be thoughtful about the background that clients will see during sessions – and to be aware too of the background they show you.
In effect, the client is inviting you into their home (if that is where they are having their online therapy).
Ken and Rory provide a range of tips on video backgrounds, including the following:
Talk to the client during contracting about backgrounds, ensuring they have considered that you will be able to see theirs.
Avoid then commenting on the client's background.
Plan your background just as you would your counselling room.
Choose a neutral background.
Avoid personal items in your own background (e.g. family photos) and also any distracting items/colours or anything that might be triggering or upsetting for clients (this may vary between individual clients).
Test out your online background with a colleague before using it with clients.
Ken and Rory discuss in some detail the use of virtual backgrounds, including the pros and cons, when they might be appropriate, and how to explain your use of them to the client. Standard virtual backgrounds do have some technological shortcomings, and more sophisticated options are available.
Choosing your video background is one of the topics covered in our 80-hour Online and Telephone Counselling course, which has already trained thousands of therapists in online working. It is also included in our book, Online and Telephone Counselling: A Practitioner's Guide.
Online Therapy Research Findings (starts at 28.25 mins)
Rory talks with Emily Mitchell, who has recorded a lecture for Counsellor CPD, our digital library for qualified practitioners.
Emily recently undertook a qualitative research study on the relational aspects of online therapy, finding that relational depth is still entirely possible.
The online therapy research used the subjective lived experience of six experienced integrative psychotherapists, who concluded overall that online therapy is different from face-to-face working, but is 'much more than second-best'.
Emily summarises the various themes that arose in her online therapy research, including:
what is seen and what is hidden
intimacy and distance
openness to connection
importance of attitude and skillset.
Free Handout Download
The Four Rules of Therapeutic Pacing