163 – Questions to Ask Counselling Placement Interviewers
The Black-Hole Effect – Preparing to Work with Self-Harm
In episode 163 of the Counselling Tutor Podcast, Ken Kelly and Rory Lees-Oakes look at questions to ask at counselling placement interviews. 'The Digital Counselling Revolution' then focuses on another theory to be aware of when working online: the black-hole effect. Last, in 'Practice Matters', the presenters discuss working with clients who self-harm.
Questions to Ask at Counselling Placement Interviews (starts at 1.30 mins)
You'll find lots of discussions about interviews for counselling placements in our Facebook group.
It's usual to feel preoccupied with what the interviewers will ask you, but do remember that the interview process is a two-way dialogue, and you will also have the opportunity to ask questions at your counselling placement interview.
It's not just about them deciding that you're suitable for the role: you can also use the interview as an opportunity to find out whether this placement and this agency are right for you.
Ken and Rory suggest various questions to ask at counselling placement interviews:
'What is your process for assessing and allocating clients?' This question can really help you gauge the ethical quality of the agency, as student counsellors should not be given clients with complex needs. Even qualified counsellors need always to ask themselves whether the client's presentation is within their competence level before starting work with them. Working beyond your confidence is potentially damaging to the client (in terms of breaching the ethical value of non-maleficence, i.e. doing no harm) and to you as the counsellor (potentially unnerving you and diminishing your, your agency's and the profession's reputations).
'What other activities and support are offered?' For example, some agencies provide free or low-cost CPD opportunities. There may also be group discussions. Feeling well supported by your placement manager is really important.
'What are the referral pathways and how are they activated?' It's good to get to understand how clear these are, ensuring that you will have the chance to work with a good supply of appropriate clients.
'Could I look at the room where I'd be working, please?' This would be really interesting to see at the placement, if possible, as ensuring a safe and secure environment for both you and your clients is another important part of ethical practice.
Above all, remember that you will be happiest, most fulfilled and most comfortable working at an agency whose values and philosophy are a good fit with your own.
The Black-Hole Effect (starts at 15.20 mins)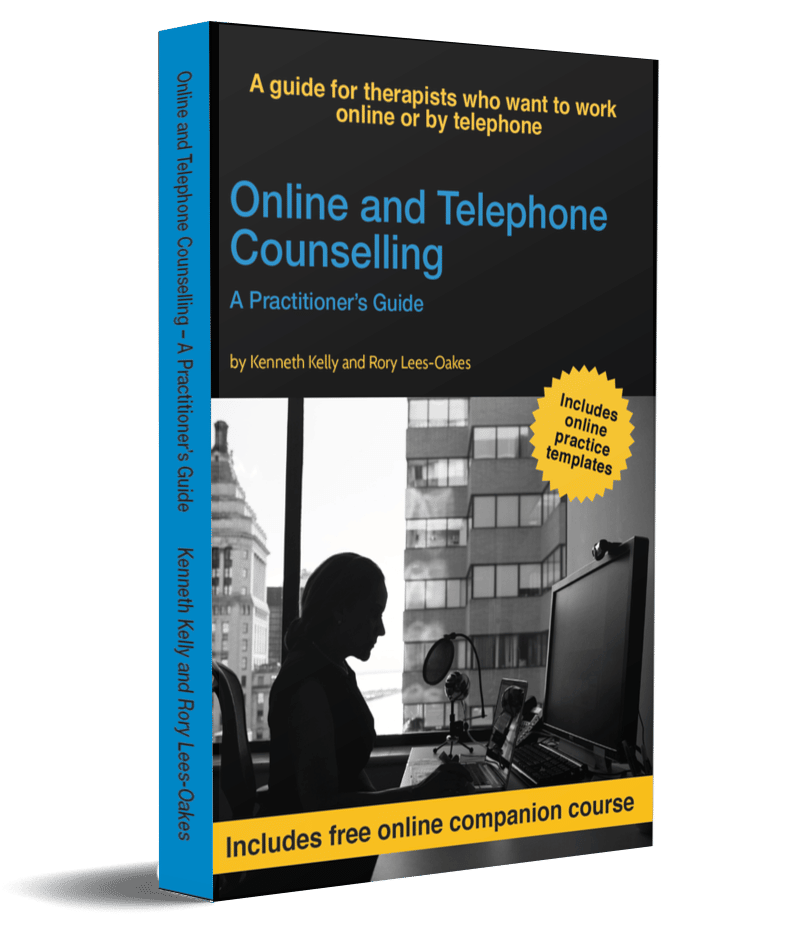 BESTSELLER
Online & Telephone Counselling Book
Available in Paperback and Kindle
Includes FREE COMPANION COURSE that you can do online to underpin and strengthen your learning
Working online as a counsellor – an intrinsic part of the digital counselling revolution – requires an awareness of various theories that you may not have learned about in your training for face-to-face work.
In the previous podcast, we looked at the disinhibition effect – and now we continue this dive into online-specific theories turning to the black-hole effect.
This term describes the situation when a client disappears and never comes back, i.e. there is an unplanned and very abrupt ending.
This could happen between sessions or even mid-session, given the lack of joint physical presence in online and telephone working.
Rory describes an example of how he experienced this phenomenon himself while involved in a leisure activity, online gaming.
The black-hole effect describes not just the hole left by the 'missing' client but also the multiple feelings of deficit that may arise in the therapist as a result. For example, you may wonder whether you did something wrong, and feel concern for the client's wellbeing.
Like the online disinhibition effect, the term 'black-hole effect' was first coined by American psychologist John Suler – in this case, in 1997 in his blog entry entitled 'The Black Hole of Cyberspace'. (If you click on this link, our top tip is to scroll down!)
The black-hole effect describes not just the hole left by the 'missing' client but also the multiple feelings of deficit that may arise in the therapist as a result.
It's important to plan for the possibility of an unplanned, abrupt ending at the contracting stage, ensuring that both parties have a second means of communicating with each other in case of technology failure.
It's also good practice to contract with the client on what action they would prefer you to take if they don't 'turn up' for a session (e.g. do nothing or call an agreed number).
You can find an article about this phenomenon on the Counselling Tutor website.
Rory has also created a handout that you can download here, or access through the Counselling Study Resource.
And you might like to check out our course, Online and Telephone Counselling, which – we are proud to announce – has recently gained Quality Checked recognition from the National Counselling Society.
Preparing to Work with Self-Harm (starts at 26.40 mins)
In this part of the Counselling Tutor Podcast – aimed at supporting qualified practitioners to sharpen their competence – Rory and Ken talk about working with clients who self-harm, an increasingly common presentation.
Ken and Rory:
explain the vicious cycle of self-harm, which can become addictive and be extremely challenging to break, with clients feeling well and truly stuck in the pattern
look at the different forms that self-harm can take
examine what self-harm is and is not
discuss possible societal factors influencing self-harm
refer to the importance of high-quality assessment and contracting, especially with regard to confidentiality and its limits
talk about the role of counselling and other forms of help in supporting people who self-harm.
You'll find Rory's lecture on preparing to work with clients who self-harm in the Counsellor CPD library.
Free Handout Download
Black Hole Effect – What It Looks Like in Practice