211 - Self-Disclosure and Immediacy in Counselling
Choosing Your Ethical Body – Engaging with Supervision
In Episode 211 of the Counselling Tutor Podcast, your hosts Rory Lees-Oakes and Ken Kelly return with three more topics:
First in 'Counselling Foundations', Ken and Rory will go over self-disclosure and immediacy in counselling.
Then in 'Focus on Self', we'll look at choosing your ethical body.
And finally in this week's 'Practice Matters', Ken will speak with our very own Rory Lees-Oakes on his upcoming lecture about engaging with supervision.
Self-Disclosure and Immediacy in Counselling [starts in 1:55 mins]
In this week's 'Counselling Foundations', listen as Rory and Ken discuss the skill of immediacy and the important role it can play in the relationship with your client when used correctly.
In this discussion on self-disclosure and immediacy in counselling, the key points raised include:
Immediacy is a therapeutic skill – used to cement, repair and strengthen the therapeutic relationship.
Brings in your own frame of reference.
Speaking about the unspoken – allows the client to see you differently.
You must be thoughtful about what you disclose and how.
It takes maturity in the therapeutic relationship with the client – it is a skill that will sharpen as it goes on.
Requires a built-up relationship before it can be used.
Choosing Your Ethical Body [starts in 19:27 mins]
Get on-demand Certified CPD that is implementable in your practice
Counsellor CPD Library
Over 150 hours of on-demand CPD lectures to help you stay current with your CPD ethical requirements
Support, and be supported, by thousands of other counsellors as a member of the exclusive online community.
Access your learning anytime you want ... anywhere you choose ... using any device type — desktop or mobile.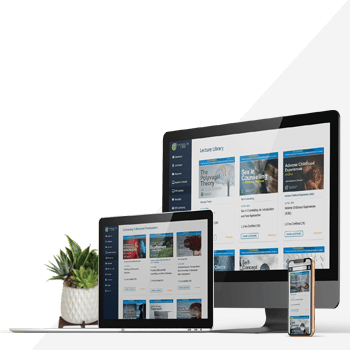 In this section, Rory and Ken discuss choosing the ethical body that's right for you – and recognising that you do have a choice when it comes to picking the one that most aligns with your values:
Check that you're choosing a professional ethical body, not an organisation.
Have a look at their websites and talk with your peers.
Choose one that aligns with the values that you uphold in your practice.
Look at what benefits they offer.
Take the time to look around – even if you currently have a body that you've been with for a while.
Engaging with Supervision [starts 30:49 mins]
In today's 'Practice Matters', Ken speaks with Rory Lees-Oakes about his upcoming lecture on engaging with supervision, which will be free for anyone to attend on the 2nd January 2022.
The key points of this section include:
Understanding what supervision is about will help you make the most of your own supervision.
Your supervisor needs to be someone you can trust and communicate with.
You want a supervisor who understands that counselling is relational, not procedural.
It's okay to change your supervisor – what got you here, might not get you there.
Free Handout Download
The Skill of Immediacy in Counselling