186 – Understanding Your Attachment Style
Counselling Training in Australia – Managing Digital Footprints
In Episode 186 of the Counselling Tutor Podcast, Rory Lees-Oakes interviews Torrie Hall, a final-year counselling student from Australia. 'Digital Counselling Revolution' then focuses on the importance of managing digital footprints when working online, before – in Practice Matters – the presenters discuss attachment styles, and how important understanding your attachment style is for counsellors.
Counselling Training in Australia (starts at 2.00 mins)
Rory talks to Torrie Hall, who is a final-year counselling student in Australia, working towards her Diploma of Counselling through TAFE (technical and further education), an Australian government institution. This will enable her to become a registered counsellor with the Australian Counselling Association.
Torrie talks to Rory about:
similarities and differences between the Australian and UK systems for training to be a counsellor
her experience of remote learning
ethical bodies in Australia
the role of creative teaching
the structure of her course
clinical supervision
choice of modality
counselling placements
Managing Digital Footprints (starts at 15.15 mins)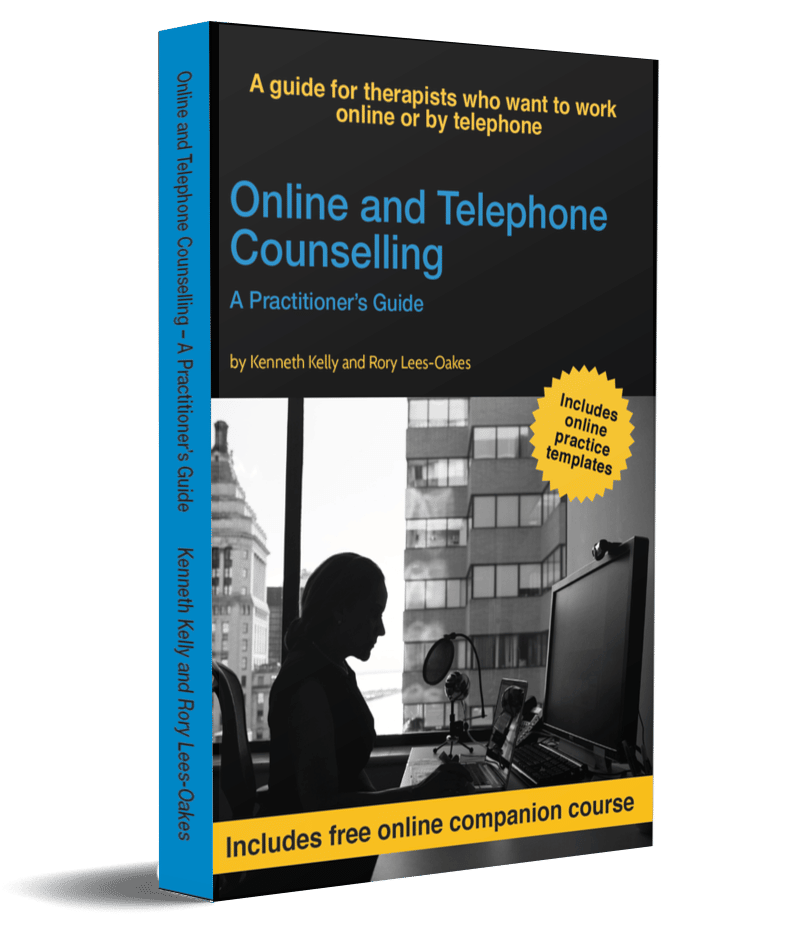 BESTSELLER
Online & Telephone Counselling Book
Available in Paperback and Kindle
Includes FREE COMPANION COURSE that you can do online to underpin and strengthen your learning
The BACP has recently updated its competence framework for online and telephone therapy. The new framework recognises the advances in technology since the original publication and includes a number of new competencies, including the professional competence of 'knowledge of, and ability to work with, issues of confidentiality and consent, including data protection (GDPR) and ability to monitor own digital footprint and that of the clinical work'.
Rory and Ken compare digital footprints with physical footprints on the sand but note that the former is far less visible and much harder to remove. When working as online counsellors, we must therefore try to minimise our client's digital footprint, for example relating to:
payment arrangements
Phone bills
technology platforms used in therapy
information submitted to you by the client
cookies
search history.
Ken and Rory also talk about the dangers of facial recognition software and how important it is to be very careful with your own social media presence.
Understanding Your Attachment Style (starts at 24.05 mins)
We may be well aware of the value of knowing our clients' attachment styles, but are you aware of what your own is?
Attachment style affects how we relate to others, and so understanding your attachment style is essential knowledge for counsellors – especially when transference and/or countertransference come into play.
Drawing on the work of John Bowlby and Mary Ainsworth, Rory talks about the four main attachment styles, and Ken equates these to Eric Berne's plain-language versions:
secure = 'I'm OK; you're OK'
insecure ambivalent = 'I'm not OK; you're OK'
insecure disorganised = 'I'm not OK; you're not OK'
insecure avoidant-dismissive = 'I'm OK; you're not OK'.
Ken and Rory discuss their own attachment styles, their origins, and how understanding your attachment style will advance your counselling practice.
Last, Rory shares some statistics on the prevalence of the various attachment styles, which he has also built into a handout (including how to start to identify and work with your own attachment style). You can download this here. It can be useful to have personal counselling to help you examine your attachment style.
Free Handout Download
What Is Your Attachment Style?