234 – Using Humour in Therapy
How to Use the Core Conditions in Counselling – Business Mindset for Counsellors
Back with a new season of the Counselling Tutor Podcast after the academic break, your hosts Rory Lees-Oakes and Ken Kelly are thrilled to be back with today's three topics – two of which are brand new:
We start with 'Theory in Practice', looking closer at how theories you learn apply within sessions. This week we focus on how to use the core conditions.
Then in 'Practice Partner', Rory and Ken will discuss aspects of setting up your own private practice, focusing this week on having a business mindset.
And lastly 'Practice Matters' returns, where this week Rory speaks with Christine Shore about using humour in therapy.
How to Use the Core Conditions in Counselling [starts at 04:38 mins]
This episode of Counselling Tutor Podcast is sponsored by
WebHealer.net
WebHealer are the go-to provider of websites for private practitioners

in the UK.

Established over 20 years, WebHealer offers a

non-technical and fully supported service

to help therapists grow their private practice.
Just one customer from your website each year pays for their service.
Go to WebHealer.net and use coupon CT100 for £100 off their "Do it for me" service.
The core conditions: empathy, congruence and unconditional positive regard (UPR) are considered essentials of counselling, but reading and writing about them in essays, is different from using them in practice.
The key points of this section include:
Congruence – being real and genuine within sessions will make a client feel more comfortable, and thus more likely to open up. It is important to understand that it's okay for you to be you.
Empathy – putting your own stuff aside and listening to a clients frame of reference. The more you know about yourself, the easier empathy will come.
UPR – you will meet people with different values and views from your own; it is necessary for you to pause your own value system and hear the clients'. Realising that everybody, even those with views different from your own, deserve to be free of pain.
These are all areas of personal development that have to be worked on, nobody can do them straight away.
Practicing these skills outside of sessions, during your everyday life, can be very difficult. They are difficult to maintain, but as with most things, it will get easier with time.
Theory to Practice is sponsored by
Counselling Skills Academy
Learn counselling techniques by seeing counselling skills used in real sessions by qualified therapists.
Real sessions – real-life presentations – real skills.
Business Mindset for Counsellors [starts at 20:38 mins]
Running a business isn't something necessarily taught during core training, but through the 'Practice Partner' section, Rory and Ken will share some of their thoughts and tips when it comes to setting up and running a private practice.
The main points of this section are:
Putting a monetary value on your skills can be very challenging; especially considering counselling is very much a helping profession.
It can feel like you are exploiting people by charging for your services, but there will always be people who choose to pay, there is no exploitation in the exchange.
It's important to value yourself – you have worked hard for your training (and paid for it.)
Everyone who chooses to pay for private practice, is making the waiting list shorter for those who can't afford it.
You may need to look at, and confront, your relationship with money – if you often say you're bad or irresponsible with money, why is that? Who first introduced this idea to you? This is something you can take to supervision.
Paying household bills such as gas and electricity – is you running your home business. You're already most of the way there in terms of having that mindset, and being capable of running your practice.
Get on-demand Certified CPD that is implementable in your practice
Counsellor CPD Library
Over 150 hours of on-demand CPD lectures to help you stay current with your CPD ethical requirements
Support, and be supported, by thousands of other counsellors as a member of the exclusive online community.
Access your learning anytime you want ... anywhere you choose ... using any device type — desktop or mobile.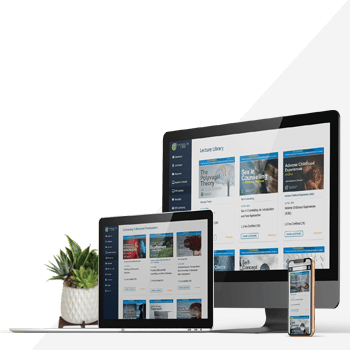 Using Humour in Therapy [starts at 39:28 mins]
In this week's 'Practice Matters', Rory speaks with Christine Shore about using humour in counselling.
The key points of this discussion include:
Sometimes clients are able to come to a point of realisation that allows for relief and joy – and with relief and joy, sometimes comes humour.
Seeing an enthusiasm for life come through within a client – why be serious or stoic about that?
You're sitting with another human being, taking yourself too seriously can hinder more than it'll help.
Having a small laugh with a client can improve the therapeutic relationship – it shows the client that you're a human too.
When using humour in therapy, remember that humour should arise naturally – always work with what the client brings and presents.
The National Counselling Society is proud to sponsor Practice Matters.
NCS are really excited to have launched their Children and Young People Therapist Register for counsellors working with the younger age group.