235 – Making a Counselling Business Plan
Introjected Values – Carl Jung's Theories on Ego and Self
In Episode 235 of the Counselling Tutor Podcast, your hosts Rory Lees-Oakes and Ken Kelly are back with this week's three topics:
Firstly in 'Theory in Practice', we look at introjected values.
Then in 'Practice Partner', Rory and Ken discuss making a counselling business plan.
And lastly in 'Practice Matters', Rory speaks with Dr. Jessica Bockler about Carl Gustav Jung's theories on ego and self.
Introjected Values [starts at 02:40 mins]
This episode of Counselling Tutor Podcast is sponsored by
WebHealer.net
WebHealer are the go-to provider of websites for private practitioners

in the UK.

Established over 20 years, WebHealer offers a

non-technical and fully supported service

to help therapists grow their private practice.
Just one customer from your website each year pays for their service.
Go to WebHealer.net and use coupon CT100 for £100 off their "Do it for me" service.
We start today with Rory and Ken discussing introjected values, and how these may present themselves in the therapy room.
The key points of this discussion include:
Introjected values are views we adopt from our caregivers and society.
Some people struggle when they find themselves having a view through their own experience that opposes these values.
Introjected views are unseen to the person who holds the value – to them, it is a 'truth'.
In therapy, you have to treat disarming these 'truths' carefully.
A sign of introjected values may be that the client recognises that their beliefs are different from the values they know.
When people 'find themselves' this is an example of recognising and stepping away from these introjected values in order to find your own.
It is important to remember that these introjected values don't exist solely within the client, they exist within us too.
Theory to Practice is sponsored by
Counselling Skills Academy
Learn counselling techniques by seeing counselling skills used in real sessions by qualified therapists.
Real sessions – real-life presentations – real skills.
Making a Counselling Business Plan [starts at 21:01 mins]
In a discussion that will be continued in next week's podcast, Rory and Ken list a few things that you might want to think about when making a business plan for your counselling service.
The main aspects of this discussion include:
A business plan is a layout of what your business will look like – complete with your motivations for starting your own private practice.
Consider things like whereyour sessions will take place – will they take place in your home? Online? Will you rent a space or go to the clients' house? What considerations are necessary due to this choice?
Think about the cost of set up and what you might need e.g. comfy seating, stable internet, a work email, lockable filing cabinet, a clock, tissues, you may even consider a card reader.
Consider accessibility to clients who may use a wheelchair or have other mobility issues.
Part of making a counselling business plan is thinking about how you will advertise your business.
Take into account costs to yourself (such as possible travel costs) when deciding how much you'll charge.
When making a counselling business plan, consider too whether you'll set up as a sole trader or a limited company – research the differences and decide which is a better fit for you.
Get on-demand Certified CPD that is implementable in your practice
Counsellor CPD Library
Over 150 hours of on-demand CPD lectures to help you stay current with your CPD ethical requirements
Support, and be supported, by thousands of other counsellors as a member of the exclusive online community.
Access your learning anytime you want ... anywhere you choose ... using any device type — desktop or mobile.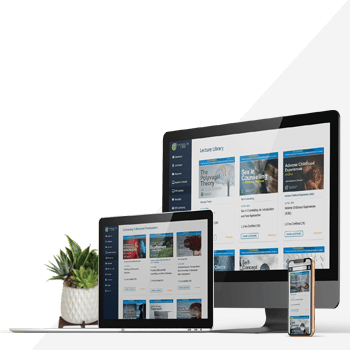 Carl Jung's Theories on Ego and Self [starts at 40:47 mins]
In this week's 'Practice Matters', Rory speaks with Dr. Jessica Bockler about the theories of Carl Gustav Jung including the collective unconscious and archetypes.
The key points of this discussion include:
The collective unconscious is something primal and that we are unaware of.
We embody archetypes that can be seen throughout history in art and literature – things like heroes, sages, rebels etc.
When working with archetypes you will encounter what is called the shadow – this is a place where all the traits we've been told are bad about ourselves are kept e.g. maybe a young boy has been consistently told that boys don't cry, and this will create an adult man who holds back from showing such emotion.
We are able to see qualities in other people that we don't like within ourselves (projection) – it takes looking within and taking ownership over these traits to fully explore this.
Carl Gustav Jung also looked at dreams vs active imagination. He decided that dreams where the conscious mind is not in charge is good for free flowing engagement with deeper materials, but it is active imagination that is a more powerful route to engage with unconscious contents – you have more control to frame and challenge the ego.
By beginning to write down your dreams your recall will improve, and you may begin to spot themes.
The National Counselling Society is proud to sponsor Practice Matters.
NCS are really excited to have launched their Children and Young People Therapist Register for counsellors working with the younger age group.