231 – Working with Couples in Therapy
Six Necessary and Sufficient Conditions for Therapeutic Change – Appropriate Self-Disclosure in Counselling
In Episode 231 of the Counselling Tutor Podcast, join hosts Rory Lees-Oakes and Ken Kelly as they take us through this week's three topics:
In 'Counselling Foundations', we look at the 6 necessary and sufficient conditions for therapeutic change.
Next in 'Focus on Self', what can we class as appropriate self-disclosure?
And finally in 'Practice Matters', Rory speaks with Dr. Mary Goss on working with couples in therapy.
The Six Necessary and Sufficient Conditions for Therapeutic Change [starts at 01:41 mins]
Counselling Foundations is sponsored by
Counselling Skills Academy
Learn counselling techniques by seeing counselling skills used in real sessions by qualified therapists.
Real sessions – real-life presentations – real skills.
Where you may know only 3 core conditions, in this section, Rory and Ken will discuss the importance of the other 3 'hidden conditions':
Psychological contact between the client and the therapist.
The client being in a state of incongruence.
The therapist is congruent in the relationship.
The therapist shows unconditional positive regard for the client.
The client receives empathy from the therapist.
The client perceives and accepts this empathy and unconditional positive regard.
These conditions are all necessary to form a successful therapeutic relationship.
The three core conditions (3, 4, and 5) will not work to their full potential without their counterparts (1, 2 and 6).
Appropriate Self-Disclosure in Counselling [starts at 17:34 mins]
Get on-demand Certified CPD that is implementable in your practice
Counsellor CPD Library
Over 150 hours of on-demand CPD lectures to help you stay current with your CPD ethical requirements
Support, and be supported, by thousands of other counsellors as a member of the exclusive online community.
Access your learning anytime you want ... anywhere you choose ... using any device type — desktop or mobile.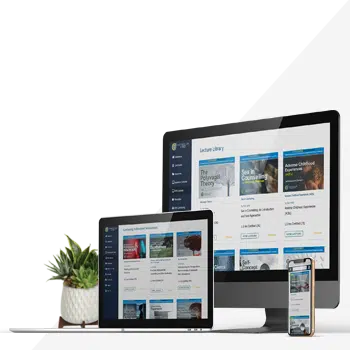 In this week's 'Focus on Self', Rory and Ken discuss what could be considered appropriate self-disclosure and what would be considered inappropriate.
The key points of this discussion include:
Self-disclosure is an important factor of the therapeutic relationship.
Clients want a human being in the room with them.
Self-disclosure is only appropriate when it is useful – having a positive impact on the client.
Some examples of appropriate self-disclosure could be:

To normalise something a client is feeling.
To help them separate liking something/someone, and loving something/someone.

This all depends on what modality you're working in.
Keep a sharp focus on what will help the client.
Remember that you are just two human beings in a room, with one in service of the other.
Working with Couples in Therapy [starts at 36:44 mins]
The National Counselling Society is proud to sponsor Practice Matters.
NCS are really excited to have launched their Children and Young People Therapist Register for counsellors working with the younger age group.
This week Rory speaks with Dr. Mary Goss on working with couples in therapy.
The main points of this discussion are as follows:
Couples therapy isn't just two individuals in the same room – it's very different from regular therapy.
When working with couples in therapy, your role is not only as a counsellor, but also as a facilitator, a witness, and an educator.
Someone who tries couples counselling without proper training will experience unconscious incompetence – they will be making many mistakes without realising.
It is more active on the side of the therapist than normal – there is more for them to do during the session.
There needs to be a structure in place and you will need to be able to interrupt.
The first few sessions will mainly be about assessment.
The only circumstances for individual counselling would be unsafe behavior and control.
When working with diversity (e.g. couples of the LGBTQ+ community) there isn't much difference in terms of technique, but there must be knowledge. Don't assume that the problem is due to the diversity.
Free Handout Download
The Six Necessary and Sufficient Conditions for Therapeutic Change