207 - The Wounded Healer Counsellor
First Counselling Session – Counselling Paperwork
In Episode 207 of the Counselling Tutor Podcast, Rory Lees-Oakes and Ken Kelly return with your favourite three sections:
This week's 'Counselling Foundations' looks at the first counselling sessions - both your first session as a counsellor and the first session with each client.
Then in 'Focus on Self', Rory and Ken discuss the wounded healer counsellor.
And finally in this week's 'Practice Matters', Rory speaks with Tamara Howell about paperwork.
First Counselling Session [starts in 1:50 mins]
First counselling sessions are bound to be nerve-racking, whether it's your first session with a new client or the first session of your professional career.
In this segment, Rory and Ken share personal advice and experiences on first counselling sessions:
Doing your best and being yourself are the most important things to remember.
Remembering to sort out contracting the first time you meet with a client, you can even practice this with a peer.
Silence and active listening – two of the most important skills you should be bringing into the therapy room.
Acknowledging that by the time you get into the practice room, you're good enough. You have earned the right to be there.
Those feelings of nervousness are a sign of your passion.
The Wounded Healer Counsellor [starts in 19:50 mins]
Get on-demand Certified CPD that is implementable in your practice
Counsellor CPD Library
Over 150 hours of on-demand CPD lectures to help you stay current with your CPD ethical requirements
Support, and be supported, by thousands of other counsellors as a member of the exclusive online community.
Access your learning anytime you want ... anywhere you choose ... using any device type — desktop or mobile.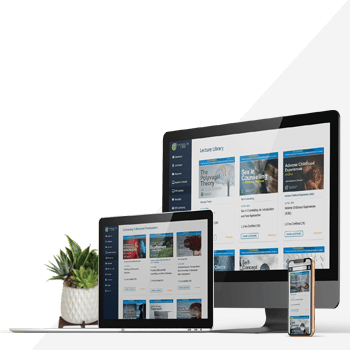 In this week's Focus on Self, Rory and Ken discuss the term 'the wounded healer' and share things to be cautious of when you meet yourself in the therapy room:
Be careful of over self-disclosure. You should avoid projecting yourself onto the client.
Make sure you're sufficiently healed to work with a client.
Use your own experiences as a source of empathy – not as a way to solve your client's situation.
Aim to be the person you wanted during your own crisis.
Think about your own 'why'. Why did you decide to work in the service of others?
Counselling Paperwork [starts in 36:06 mins]
Rory speaks to Tamara Howell, a good friend of Counselling Tutor with an enthusiasm for something others tend to dread – paperwork.
The key points from this discussion are as follows:
Paperwork is there to protect the client, and to protect us.
Having things in writing can help you to be present and focus on the client.
Tamara's bare minimums of paperwork such as contact details, a therapy contract/agreement (outlining things such as boundaries), a welcome note, and informed consent.
Working online requires more paperwork (on privacy, environment and security etc.).
The importance of emergency contact paperwork.
Being prepared gives you confidence.
Paperwork is in the service of the client.
Free Handout Download
First Counselling Session