189 - Role of Parents in Mental Health
History of CBT – Choosing the Right Equipment for Working Online
Episode 189 of the Counselling Tutor Podcast opens with Rory Lees-Oakes and Ken Kelly talking through the history of cognitive behavioural therapy (CBT) in 'Student Check-In'. 'Digital Counselling Revolution' then looks at the equipment you will need to practise online therapy effectively and ethically. Last, in 'Practice Matters', Rory talks to special guest Dr Roseann Capanna-Hodge about the role of parents in mental health, in particular how they can support their children's mental health between counselling sessions.
History of CBT (starts at 1.55 mins)
Rory provides a potted history of CBT, starting some 2,000 years ago, including:
the Greek philosophy of stoicism
developments in Roman times
Albert Ellis, RBT and the ABCDE model
Aaron Beck
third-wave CBT
CBT is essentially based on the idea that each situation triggers thoughts, which affect our feelings, which in turn affect our behaviours – and so our lives.
CBT encourages clients to check the rationality of their thoughts, looking at the evidence for and against. It is well established in the NHS, thanks in part to its measurability.
As an active-directive modality, it is different from the non-directive person-centred approach, though the modern third-wave CBT approaches do bridge this divide to an extent, so incorporating mindfulness.
You can download a handout on the history of the CBT model and the ABCDE model here. We also have lots of information on CBT on our website, including its history and philosophy.
Choosing the Right Equipment for Working Online (starts at 13.40 mins)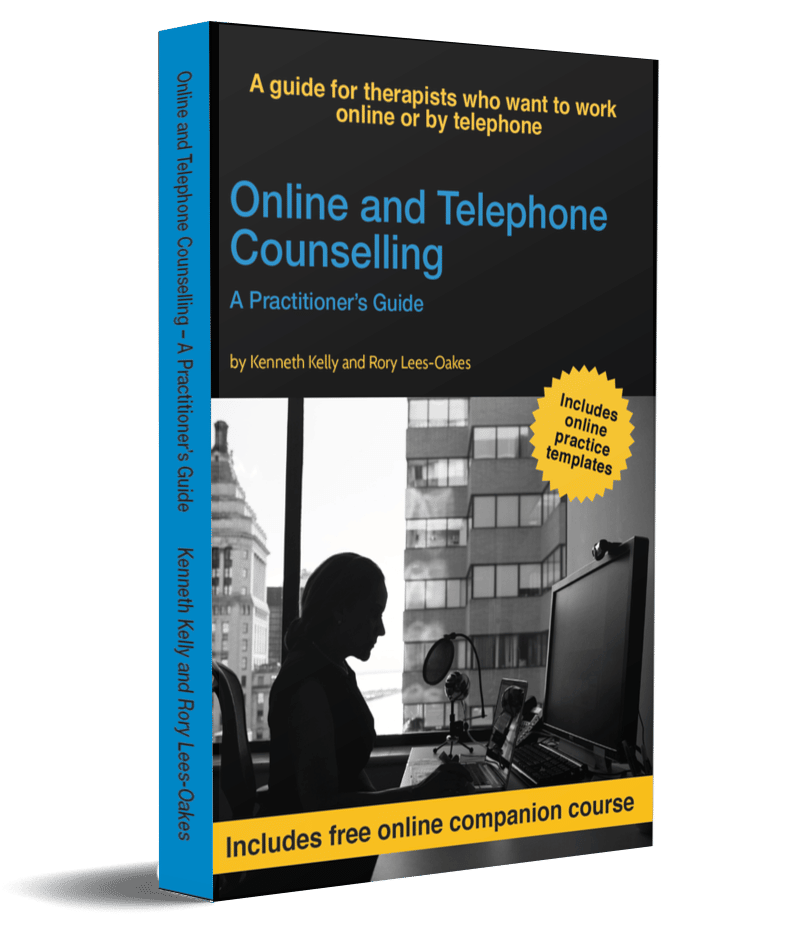 BESTSELLER
Online & Telephone Counselling Book
Available in Paperback and Kindle
Includes FREE COMPANION COURSE that you can do online to underpin and strengthen your learning
In order to provide effective digital counselling, one of the prerequisites is the right equipment. Ken and Rory talk through what you need, and share their tips from online working of how to configure this, covering:
getting the sound quality right
selecting headsets, air pods and external microphones
avoiding echo
protecting your hearing
ensuring your equipment is not obtrusive
getting your lighting right
using all your equipment properly.
Why not share your experience and ask any questions in the Counselling Tutor Facebook group (where you can hang out with over 37,000 counselling students, qualified practitioners, tutors and supervisors)?
You might also like to find a buddy to practise your skills with online, providing feedback on each other's equipment.
Choosing the right equipment is covered in more depth in our Online and Telephone Counselling Certificate course.
Role of Parents in Mental Health (starts at 31.00 mins)
Rory talks with Dr Roseann Capanna-Hodge – who is based in Connecticut, USA and has a special interest in children's mental health – about the role of parents in mental health.
Parents may be surprised to find out just how much they can do to reduce and reverse mental-health symptoms in children.
The key to this is regulating the nervous system, triggering a parasympathetic state: achieving this for even ten minutes per day can make a real difference. We all live in a world full of stressors, and the COVID-19 pandemic has been a source of additional stress.
Roseann asserts that if parents work on their own nervous systems, this in itself has a huge positive impact on their children, given that children learn from parents.
Roseann uses the REPS ProtocolTM, which provides four steps to getting stress under control:
Respirate (looking at the importance of breathing)
Envision (seeing oneself with successful solutions)
Positivity (ensuring positive self-talk)
Stress management.
Free Handout Download
History of CBT and the ABCDE Model