First Counselling Session
First Counselling Session – Overview for Student Counsellors
Download The Overview of a first counselling session - It's 100% FREE
A lot of clients wonder what their first counselling session will be like, maybe asking themselves: 'How will I feel? What is the counsellor's role? What if I don't like it? Will I get advice?'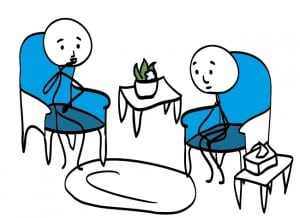 So, in this blog post, I am going to take the mystery out of the first session and give you a 'fly on the wall' view of the very first session and how it is conducted. Before I go any further, we counsellors are a diverse lot, so if your first session is not exactly the same, don't worry. However, I suspect that it will be broadly the same approach as described below.
Please also be aware that I am writing from a UK perspective, but I believe that most of what I state will apply to almost any country in the world. (Do write and tell me if I am wrong!)
First things first: counselling should be a consensual activity. In other words, you should want to go – and even if you find that it is not for you, the decision is yours and yours alone.
The British Association of Counselling and Psychotherapy (BACP), the organisation that oversees good practice  for counsellors in the United Kingdom, states:
'Counselling and psychotherapy are always undertaken at the request of the client and no-one can properly be "sent" for counselling or psychotherapy. There are many situations these days where people with influence in our lives (perhaps a relative, manager at work, or teacher) will suggest talking therapies as a solution to a problem. This should be offered without any pressure or strings attached.' – BACP
Opening and Closing a Counselling Session
'Topping and tailing' a counselling session is an important skill, which is assessed as part of the advanced skills assignment that trainee counsellors on Level 4 diplomas here in the UK must pass. Of course, it's about how all your counselling skills are used, but a lot of the marks are given to how you start and end your session.  I know that this can be challenging: what do you need to say, and how do you do so in a way that is respectful to the client?
Click here to link to a podcast where we cover the opening and closing of a counselling session.
What Is 'Topping' a Session?
It's a working agreement – an introduction – where we contract for what's going to happen in this session and how. It's important not to rush it – so it might take ten minutes even for a 30-minute skills session. The working agreement empowers the client, giving them choices within the counselling relationship. Checking the client's understanding as we go, we need to explain:
What's on offer
our modality of counselling (e.g. person-centred)
limitations in confidentiality (dependent on the country and legislation there)
health and safety
non-maleficence (see the BACP Ethical Framework)
time boundaries.
How about 'Tailing'?
About five or ten minutes before the end of the session, it's important to let the client know that the time is coming to an end, so they have time to 'pack up'. It allows them to 'change gear' and gives you, as the practitioner, the chance to close everything up before they leave, making sure they're safe to 're-enter the world'.
Click here to download a scripted overview of the first counselling session.
Over the years, I have met clients who have been 'sent' for counselling usually by partners, parents, employers or friends. The result is usually the same: after a brief conversation, the client decides that perhaps the people above would be better seeking therapy and the client goes on their merry way reassured that they are not 'mad', a 'psycho' or any of the any of the other labels that have been given them by other people (yes, this really does happen).
For clients who decide to stay, because they want to, this signals the beginning of what I will call the 'therapeutic relationship', about which I will explain more as we go along.
Counselling is a professional activity; it is therefore important that at the beginning, both parties are clear about what is on offer.
So after meeting your counsellor and chatting through what your difficulties are, the counsellor will invite you to make a 'contract'. This is basically an agreement, which can be verbal or written. It sets out clearly what the counsellor is offering so that you (the client) can make an informed desision on whether or not to proceed.
A contract will usually cover the following areas:
Time and day(s) of session(s)
Duration of the session (usually 50 minutes)
How many sessions are available
What approach the counsellor uses (click here to find out more about this)
Fee (if a paid service)
How long your notes will be kept for, who can see them, and how they will be disposed of
Complaints procedure
Confidentiality
As a client, you would expect a counsellor to offer confidentiality. However, there are exceptions to confidentiality, some of which sound quite logical and others of which may sound a bit bizarre to anyone outside the world of counselling.
Exceptions are disclosures such as:
Harm to self and/or to others (this is usually the policy of organisations that employ counsellors)
Money laundering, acts of terrorism, drug trafficking and child protection issues (which the counsellor has a legal obligation to disclose*)
The counsellor may also ask you how you would like them to respond if, for instance,  you bumped into them in the street and they were with their family. It might be  that your client wants you to ignore them so that they don't have to answer awkward questions, such as 'Who was that?'
Finally, when you agree the contact – which, in my experience, takes about 10 minutes – then the work begins, as you explain your issues to the counsellor and together you try to make sense of them and maybe come to a resolution.
Below are some common questions that friends, colleagues and relatives have asked me before having their first session of counselling. 
How will I feel?
I guess only you will know; some clients report relief, and others nervousness and some anger. This all goes to prove there is no 'right way to feel' in your first (or any other counselling session). 
What is the counsellor's role? 
To offer an emotionally warm, safe and confidential environment for you to discuss your issues or difficulties, so that hopefully you can resolve or come to terms with them. This is sometimes know as a therapeutic relationship. The bottom line is that it's about you and your needs.
What if I don't like it?
Sometimes it gets harder before it gets easier: consider what you don't like and how it feels, and try to talk this through with your counsellor. Like all human relationships, some work and some don't. If you feel that you are not connecting with your counsellor, you have talked it through with them and it still feels the same, maybe find another counsellor.
Will I get advice? 
In theory, counsellors don't give advice; however, the reality is that some do. If this is the case, consider whether you could get the same service from you next-door neighbour; if so, what is the difference? Counselling should be about you and the choices you wish to make in your life.
References
http://www.bacp.co.uk/seeking_therapist/right_therapist.php
** Refers to UK legislation; other countries will vary.
Download The Overview of a first counselling session - It's 100% FREE