Continuing Professional Development
Continuing professional development (CPD) is an ethical imperative of most professional organisations, including the British Association for Counselling and Psychotherapy (BACP), National Counselling Society (NCS) and UK Council for Psychotherapy (UKCP).
By identifying and fulfilling your learning needs (for example, relating to areas of practice in which you would benefit from further development), you are also making an important contribution to client safety.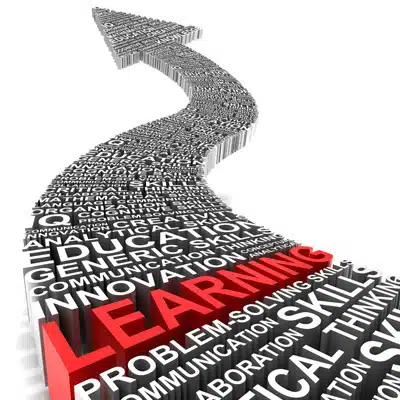 The BACP Register defines CPD as follows:
Any learning experience that can be used for the systematic maintenance, improvement and broadening of competence, knowledge and skills to ensure that the practitioner has the capacity to practise safely, effectively and legally within their evolving scope of practice. It may include both personal and professional development.
It presents CPD as a cyclical process, as shown in the diagram.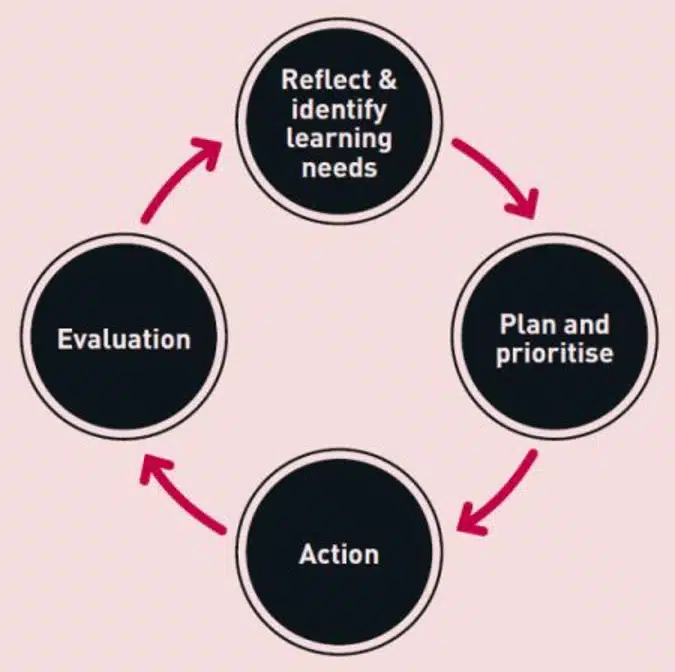 The starting point is usually at the top – identifying one's own learning needs, often with the support of your clinical supervisor (and/or managerial supervisor, perhaps as part of your annual performance review).
However, it could happen that unplanned learning occurs at a different point of the cycle. Either planned or spontaneous CPD can be included in the minimum of 30 hours' CPD required for BACP registrants.
As a registered member of the BACP, you must:
record all your CPD using a standard template provided
seek to pursue a range of different CPD activities that relate to your actual or planned practice
be able to demonstrate the four stages of process (as shown in the diagram above) for each piece of CPD, including impact on practice.
The professional body audits registrants' CPD record; if you are asked for this, you must send it in for checking.
The National Counselling Society defines CPD as:
A range of learning activities through which professional counsellors grow and develop throughout their careers to ensure that they retain their ability to practise safely, ethically and legally within their evolving scope of practice.
Again, it requires registrants to have at least 30 hours' CPD per year.
The UK Council for Psychotherapy's requirements are specified over a five-year as well as a one-year timescale.
Registrants must gain a minimum of 250 hours' CPD activity over a five-year period, with a minimum of 20 hours during any single year within that period.
Although the UKCP may appear to require more hours overall of CPD than the other two professional bodies discussed here, it in fact allows clinical supervision to be included in this amount, whereas the BACP and NCS do not.
Given that the latter two bodies' requirement for supervision is a minimum of 1.5 hours per month (i.e. 18 hours per year), this in fact brings the three organisations to a similar requirement overall.
Apart from this difference on whether or not clinical supervision can be counted in your hours for CPD, most professional associations allow similar types of activities to be included – for example:
events – e.g. seminars, conferences and workshops (either in person or online, as for webinars ­ and either as a presenter or as a learner)
e-learning modules
mentoring
research (conducting your own or supervising other people's work)
writing articles
reading and reflecting on books, journals or internet articles
work shadowing
organising or attending specialist groups
watching/listening to and reflecting on TV and radio programmes.
As noted above, it is good to ensure that you include a variety of these types rather than all one type.
Counselling Tutor and the Counselling Study Resource (CSR) are ideally placed to provide you with convenient and cost-effective CPD across a wide range of subject areas relevant to the theory and practice of counselling and psychotherapy.
Free Handout Download
Continuing Professional Development