Biography of Carl Rogers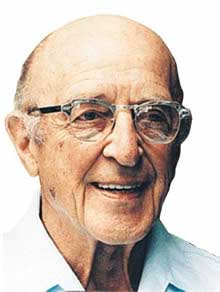 Carl Ransom Rogers was born on the on the 8th of January 1902 in Oak Park Illinois, a Chicago Suburb , his parents Walter A Rogers and Mother Julia M Cushing were both devout Christians attending a Pentecostal church. Carl was the 4th of Six Children.

Rogers was home schooled consequently he could read before he attended kindergarten.
At the age of 12 the Rogers family moved to a bigger house in Oak Park, were the family developed a small farm it is widely believed that Rogers gained his appreciation of the scientific method, by observing Moths and other living things.
See the document archive below for more information
It was around this time he became an altar boy at the vicarage of Jimpley following an education in a strict ethical and religious environment which left him an isolated and disciplined person.
Rogers trained in a number of disciplines including agriculture, history, and religion before deciding to move in to the world of Education and Psychology.

The father of the Person Centred Approach to counselling, he is credited along with Abraham Maslow with developing the 'Third Force in Psychology 'also known as the Humanist school.

The Humanistic approach was a direct challenge to the dominant theories of the day, that of Psychoanalysis, championed by Sigmund Freud and Behaviourism, who's main advocate was Burrhes Fredrick Skinner.

Rogers became an influential figure in the world of psychotherapy, and gained many awards and accolades. These include being elected a fellow of the America Academy for Arts and Sciences in 1961.
He was also nominated for a Nobel peace prize for his work in Northern Ireland and Russia trying to bring differing factions together in the hope of finding common ground.

Sadly the nomination arrived a few days after his death caused by a fall at his home.
Carl Rogers died on February the 4th 1987 in La Jolla California, he was 85 years old.


Download further information on Carl Ransom Rogers.