The Oxford Dictionary defines 'criterion' (the singular form of 'criteria') as 'a principle or standard by which something may be judged or decided'.
This is accurate in the context of counselling courses, as your work is judged (marked), and a decision made about whether you've passed.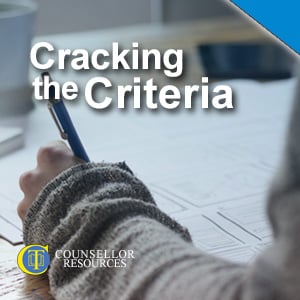 What Tutors Are Looking For
In general, counselling tutors are looking for:
understanding and appreciation of the issues raised by the question or topic
knowledge and application of specific skills
ability to express ideas or arguments clearly and concisely
relevance and fullness in answers
use of arguments and evidence to support your answers – i.e. being evidence-based (e.g. through the use of references).
Watch this Lecture + Access Hundreds of Hours of CPD
Certified CPD for Qualified Counsellors
Hundreds of hours of on-demand CPD lectures to help you stay current with your CPD ethical requirements
Support, and be supported, by thousands of other counsellors as a member of the exclusive online community.
Access your learning anytime you want ... anywhere you choose ... using any device type — desktop or mobile.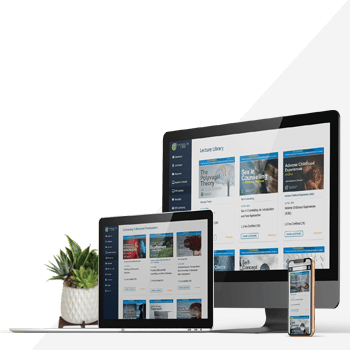 Even if the tutor knows – through familiarity with you in the broader context of the course – that you are good enough to pass, they cannot pass you if you don't show them specific evidence in the assessed work.
Work is internally and externally moderated, so that even if the tutor knows you well, they need to be able to prove your competence to the moderators.
In academic writing, it's important always to:
use the right terminology
explain this (not assuming that your reader will automatically know what you mean)
back it up with evidence.
Breaking Down the Question
It's vital to look in detail at the question itself, breaking down what it is asking you to do. Otherwise, you could produce a brilliant piece of writing but it wouldn't answer the question and so would get referred.
It's really useful to be aware of Bloom's taxonomy (a model named after Benjamin Bloom, an American educational psychologist).
The taxonomy includes the concept of command verbs, which are action words normally appearing as the first word in the question – for example, 'Explain …', 'Describe …' or 'Evaluate…'
Your awarding body may well have produced a short document that spells out in detail what each of these command verbs means, and what it is expecting to see in your answer.
Before you start your assignment, first make a plan, in particular looking at:
how many words you need to write and whether there is any leeway in this (often you are allowed to go up to 10% below or above)
how many references you need to have, and from where
when the deadline is (maybe write it in your dairy/calendar or put a sticky note on your computer)
how much time you think it will take you for each stage of the assignment – e.g. thinking, researching, drafting, redrafting and checking.
It can be useful to break the question down into component parts, making yourself a list of the different elements to cover.
You could then use this to make a 'cheat sheet', maybe using mind-mapping or just a long list, showing all the aspects you might want to cover, and thinking of examples you could use to illustrate the different points.
You can then use this to work from. It may even help you identify a structure for the assignment, using key list items as headings.
At this stage, you need to find all the information you need, for example from:
our Counselling Study Resource (CSR)
class handouts and slides
books and journal articles (through your college/university library or at a large public library)
authority websites.
Authority websites are those run by:
government organisations in your country
universities
professional bodies (such as the British Association for Counselling and Psychotherapy, UK Council for Psychotherapy, National Counselling Society and British Psychological Association)
registered charities (e.g. Mind, Rethink and Young Minds)
medical bodies (for example, the Royal College of Psychiatrists).
In general, websites that include '.org', '.ac' or '.gov' in their URL should be good choices, although Wikipedia is not an authority source, as it can be edited by anyone at any time.
You can use your mobile phone to good effect in college at this stage, for photographing flip charts of group work and for voice-recording any resources mentioned to you by your tutor.
Maybe you and your peers could make your own Facebook, WhatsApp or Messenger group, where you can share resources.
It can be helpful to start with the headings you have planned to use, so that you have a 'skeleton' of the assignment straight away, giving you an overall structure to write within. This can help you to write an opening paragraph in each section.
Every assignment falls into three main parts: the introduction, the main body and the conclusion.
Use this part of the assignment to gain the reader's attention (e.g. with relevant statistics), refer to the topics in the assignment question, and briefly outline three or more ideas that you will explain in the body of the assignment.
This is the longest section, containing a number of fully developed paragraphs, each supporting one idea.
Each paragraph should contain:
a topic sentence
and at least four to five detailed sentences
Try to link your idea with connecting words and phrases, for example 'also', 'however' or 'furthermore'. This helps your work to flow.
Finally, the conclusion briefly restates the main ideas without duplicating the introduction word for word. You might like to end with a summary sentence that links the topic clearly and strongly to the ethos of counselling.
Referencing your work shows that you:
are reading around the subject
can identify and link different ideas
have critical thinking skills
are working at an appropriate level of study.
Referencing should be used to support your own ideas, written in your own words.
It's vital that you don't copy-and-paste other people's ideas into your assignments and try to pass them off as your own. This is plagiarism, and is obvious to experienced tutors.
Most universities use a very sophisticated plagiarism checker called Turnitin, which provides reports to tutors on how much of an assignment is original work.
Make sure the bulk of your assignment comprises your own writing and ideas – in other words, don't make it too quote-heavy. It can be a good idea to ask your tutor roughly how many quotes/references they're looking for within the word count.
The final stage is to revisit your assignment, checking that you have:
met the command verb(s)
covered everything on your 'cheat sheet'
used examples and quotes
provided specific (not just general) information
not become distracted by fear of being judged (it's not an intelligence test)
not got carried away by a desire to impress your tutor (which would possibly suggest the presence of transference).
Remember that all your tutor wants is to see that you have understood what they've taught you and answered the questions.
Proofreading can strike fear into the hearts of students who struggle with dyslexia.
If you think you may be dyslexic, ask your college or university if they can arrange for you to be tested. Getting a proper diagnosis means you can then get assistance.
For example, many colleges and universities will lend you computer equipment. You may even be able to claim Disabled Students' Allowances.
Useful resources for the proofreading stage include programs such as Quetext (which checks for plagiarism) and Grammarly (for spelling and grammar).