In this lecture, Lisa Mathurin (a counsellor, psychotherapist, supervisor and trainer) introduces you to life scripts in TA, a theory of child development. You will learn how to identify:
the life script apparatus
different types of life scripts.
Drawing on Eric Berne's work, Lisa defines the concept of life scripts, which essentially explain how our present life patterns originated in childhood. These patterns may no longer be effective or appropriate for us in adult life, and may even be causing significant suffering. Life scripts affect how we view ourselves, others and the world.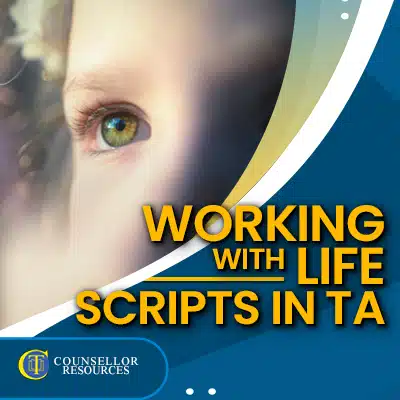 You will learn about the process through which life scripts develop, their nature and their effects (both positive and negative). Script messages are delivered to children in a range of ways.
Watch this Lecture + Hundreds More
+ Assignment Guidance & Study Support for Counselling Students
Academic Lecture Library - Lectures that cover key theory, skills and professional development linked to your counselling study.
Assignment Guidance - Complete assignment exemplars and portfolios of work that have been passed by both tutors and awarding bodies. 
Theory Decoded, Skills Mastery and More - Counselling theories and skills are broken down into easy-to-understand 'chunks', with clear examples to guide you.
Turning to the concept of script apparatus – the elements that combine to form the script – Lisa covers injunctions, counter-injunctions, programs and injunctions. You will be introduced to the script matrix, which represents these elements in a graphic format. In particular, you will hear about:
12 recurring themes in injunctions
five headings under which counter-injunctions (drivers) can be categorised
positive and negative program messages.
A life script comprises both content and process. While each person's content (script apparatus) is unique, script process may be winning script, losing script or non-winning script. Emma goes through each of these categories, using examples to illustrate them.
There are a great many benefits to we and clients being able to understand our life scripts, including:
understanding behaviours
counteracting self-defeating behaviours that are causing painful situations
developing self-awareness
having the choice, as a result, to choose different outcomes.
You will leave this lecture with a glossary of eight key terms in working with life scripts, as well as a list of eight references for further reading and exploration of this fascinating part of TA theory.
About the Lecture Presenter
Alongside running a successful counselling and supervision private practice, Lisa Mathurin has been delivering supervision and counselling training since 2009. She is passionate about the power of group dynamics and the therapeutic relationship and trusts in founding a relationship of respect, trust and confidentiality as an essential way of working with clients and students.
In conjunction with her enthusiasm for community and connection, Lisa is a Wellbeing Consultant for a local charity.
Lisa is a Registered Member of the UK Council for Psychotherapy, British Association for Counselling and Psychotherapy, the UK Association for Transactional Analysis, European Association of Transactional Analysis and the International Association for Transactional Analysis.
Free Handout Download
Working with Life Scripts in TA - lecture overview