When you listen to this lecture, counsellor and coach Michelle Vickers – who is also trained in working with children and adolescents –  will give you:
an alternative perspective on anxiety disorders and how to bring about remission of symptoms
an understanding of the two arms that are relevant when working with a client who presents with an anxiety disorder
insight into reversing habitual behaviours that keep the cycle alive, including a visual tool, The Fear Monster™.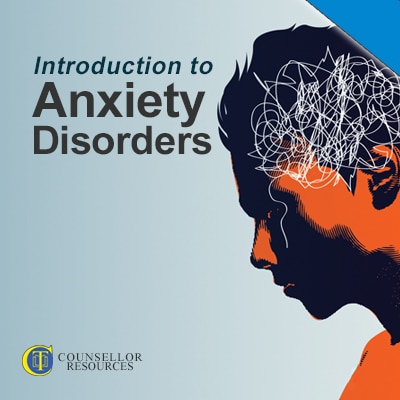 Watch this Lecture + Access Hundreds of Hours of CPD
Certified CPD for Qualified Counsellors
Hundreds of hours of on-demand CPD lectures to help you stay current with your CPD ethical requirements
Support, and be supported, by thousands of other counsellors as a member of the exclusive online community.
Access your learning anytime you want ... anywhere you choose ... using any device type — desktop or mobile.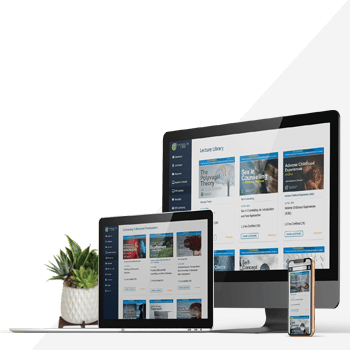 Imparting information not simply textbook-style but rather from a practical perspective, considering both the client's perspective and her own personal reflections, Michelle will give you a unique insight into this widely applicable and highly topical area of counselling and psychotherapy.
Key topics that you will explore during this lecture include:
what anxiety is and what turns a panic attack into an anxiety disorder
causes and the prevalence of anxiety disorders in the United Kingdom
understanding brain biology in anxiety
common anxiety disorders
the impact of anxiety disorders and trigger events on clients' lives
the cycle of anxiety, thoughts, feelings and behaviours (based on cognitive behavioural therapy)
the role of avoidance in anxiety disorders
how it may feel to suffer with an anxiety disorder
treatment options
how to work with a client who is experiencing an anxiety disorder
client responsibilities.
Looking at the two arms of working with clients with anxiety disorders, you will be encouraged to explore 'the self' as the root of who we are, and how it may impact thoughts, feelings and behaviours – as well as our reactions in life. We all live in our 'normal' reality, but what is normal?
For those counsellors who are working with young people, Michelle gives detailed instructions on how to use The Fear Monster™ concept to represent anxiety in a visual form, looking at where he operates and how he grows.
At the end of the lecture, you will be given a list of references, each with its own internet link so that you can explore this important area further at your convenience.
About the Lecture Presenter
Michelle Vickers is a registered Counsellor with a Level 4 Diploma in Therapeutic Counselling and a BSc (hons) in Therapeutic Counselling. She also has a Life Coach Qualification and is a member of the BACP.
In addition, she has a Level 4 Certificate in Counselling Children and a Child and Adolescent Diploma.
Michelle works within the private practice with adults, children and young people but in addition, she works with adults, children and young people at a local hospice who are pre-or post-bereavement or who have been given a terminal diagnosis.
Michelle considers her specialist areas to be Panic, Phobias and Anxiety Disorders, and Bereavement, although she works with all issues.
Her interest in counselling came through experiencing a difficult childhood and subsequently experiencing many adverse life events which she believes now enable her to support others with empathy and a wider perspective.
Michelle believes she is authentic, open and honest and she is not afraid to share her own experiences to support the wider understanding of others in their own work supporting their client base.
Personally, Michelle suffered acute anxiety which became chronic, developing into anxiety disorders and eventually house-bound agoraphobia.
Her issues seemed to progressively get worse until she researched and developed her own understanding of what was happening to her which, in turn, enabled her to adopt a different approach rather than acting on a gut instinct to protect herself.
Somewhere inside her, Michelle found the belief and hope that this could be ok. She identified a gap in the information or plain English answers that she believed would have helped her to understand how her body may respond to anxiety and what she was currently doing to make her symptoms worse rather than better.
This began her passion to share her experiences and findings with others in order to help them to facilitate their own recovery. This was through her website www.itsjustafeeling.co.uk
Michelle now also teaches her methods for supporting clients with anxiety disorders and panic symptoms using her Fear Monster ™ concept to other mental health professionals.
She found that current medical approaches aim to cure a symptom without looking or considering the root cause. Through her own suffering and professional work, Michelle has started to understand the importance of discovering who we are and linking mind and body to calm our anxiety over the longer term. Knowledge is power.
Michelle's teaching has evolved over the years with influence from her own experiences and that of her research and continuous work with herself and with others who are suffering these symptoms.
Michelle came to realise that dealing with the cycle of anxiety and longer-term reduction of fear in relation to the cycle was to learn about herself first and then tackle the anxiety cycle.
Today Michelle is well and trying to live as full a life as possible, spending time with family and friends and with a vested interest in sports for self-care.