In this lecture, you will learn from Dr Anna Louise Fry, whose research seeks to enhance understanding of British South Asian lesbian and bisexual women's lives, about:
the social stress hypothesis
the social psychological position
the minority stress process model (as described by psychiatric epidemiologist Ian Meyer in 2003)
minority stress processes
minority stress processes in lesbian, gay and bisexual individuals in action.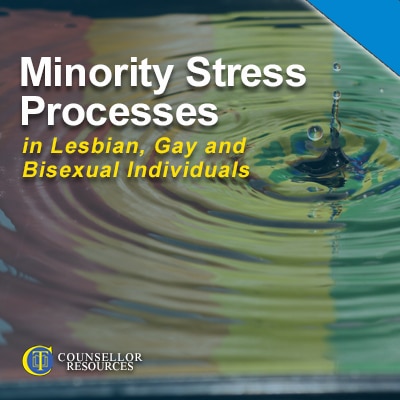 Watch this Lecture + Access Hundreds of Hours of CPD
Certified CPD for Qualified Counsellors
Hundreds of hours of on-demand CPD lectures to help you stay current with your CPD ethical requirements
Support, and be supported, by thousands of other counsellors as a member of the exclusive online community.
Access your learning anytime you want ... anywhere you choose ... using any device type — desktop or mobile.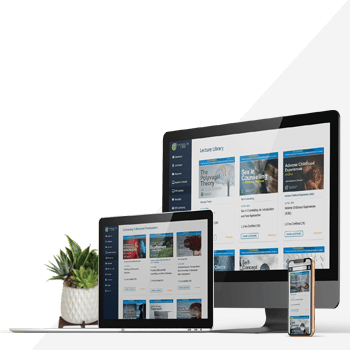 So what is social stress? Anna provides a definition of this, and relates the phenomenon to statistics showing the prevalence of suicidal and self-harming thoughts and behaviours among lesbian, gay and bisexual people, especially those in their younger years.
Supporting you to work more empathically and effectively with this client group, Anna discusses the nature of positive and negative interactions – and the impact of societal pressures on psychological wellbeing.
You will learn about the four key types of stressors that particularly affect lesbian, gay and bisexual individuals, and the processes that link them.
Anna illustrates the concept of intersectionality, highlighting the connections between social categorisations such as race, class and gender. In this way, you will be introduced to the multiple layers of discrimination faced by some clients.
Anna describes the effect on mental health of experiencing this layered prejudice, and how individuals may react to it, for example through concealing their emotional self and/or by internalising the stigma they experience.
This will give you a unique insight into the situations of these clients, and so act as a key to knowing how to proceed with therapy in this context – for example, how to work to boost coping strategies and social support.
A detailed case study provides an insight into the lived experience of one such person, who is struggling to combine her sexuality with her culture.
Anna concludes the lecture with a list of further reading and websites that you can visit if you are interested in learning more about this topical and fascinating subject, and so extending your ability to work with this client group.
About the Lecture Presenter
Dr Anna Louise Fry (PhD) is a person-centred counsellor and counselling supervisor in private practice.
She is also a lesbian, gay, bisexual and transgender (LGBT) mental health facilitator at a women's centre, being a member of the LGBTQ+ community herself.
Anna is a registered member of the BACP and graduate (chartership pending) member of the British Psychological Society.
Having grown up in four different countries on two continents, Anna has a keen interest in diversity, identity development and the influences of minority stress on mental health and wellbeing.
Anna has always been interested in psychology; however, she started her working career in engineering and studied electrical engineering at college. She worked in a variety of engineering roles over the years until she settled in highway design.
However, Anna's interest in psychology did not wane and she began to question how the designs she was creating impacted on the people using them.
Anna volunteered for the Samaritans during this time and became a team leader and assistant trainer. This experience enabled her to train as a person-centred counsellor.
Anna volunteered for Cruse Bereavement Care as a support worker, supervisor and assistant trainer and counselled at a women's centre before setting up in private practice.
Anna's dream of studying psychology was never far from her mind and she decided to leave the world of engineering behind and follow her passion. She enrolled on a psychology course and graduated with a first-class honours degree which enabled her to continue on to postgraduate study.
Anna's doctoral research was in intersectionality and the lived experience of non-heterosexual British South Asian women. Through their narratives, she explored identity and identity processes that the women employed in order to understand their experience of being British, of South Asian descent and non-heterosexual. Anna also examined their experiences of minority stress and how these experiences impacted on their mental health and wellbeing.
Protective factors were also identified in terms of risk and resilience. In her research, Anna was also interested in their experience of mental health provisions and barriers to seeking help.
Anna therefore has a special interest in minority stress theory and identity process theory which form the basis of her theoretical approach.
Anna has taught on both the level 3 certificate and level 4 Diploma courses for person-centred counselling theory and practice.
Furthermore, she currently contributes to the individual differences and social psychology modules at the University of Huddersfield.
In the past Anna has contributed to the qualitative research methods module also at the University of Huddersfield.
Anna is a keen runner and ran her first marathon in 2018 and has relatively recently discovered a love of yoga which she finds beneficial for her running and mind/body connection. She loves to write poetry and prose. Anna is currently studying to become a mindfulness practitioner.
Free Handout Download
Minority Stress Processes in LGB Individuals lecture overview