In this lecture, you will learn from counsellor, supervisor and trainer Lisa Mathurin, who introduces the concept of contracting in the context of transactional analysis (TA), enabling you to:
describe different types of contracts
identify the benefits and limitations of contracting
list factors for effective contracting.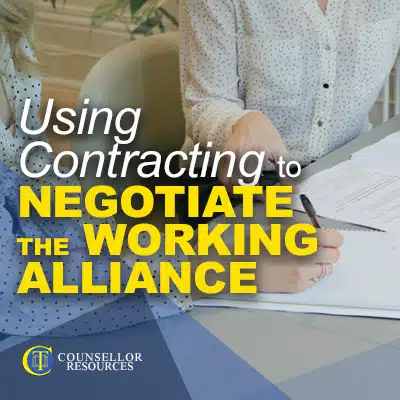 Lisa opens the lecture by looking at definitions of contracting by some key names in TA, before unpicking these into their component parts – looking at their implications and suggesting what key elements they should contain. You will see the context of all this, as Lisa explains why contracts are considered so important in TA.
Watch this Lecture + Hundreds More
+ Assignment Guidance & Study Support for Counselling Students
Academic Lecture Library - Lectures that cover key theory, skills and professional development linked to your counselling study.
Assignment Guidance - Complete assignment exemplars and portfolios of work that have been passed by both tutors and awarding bodies. 
Theory Decoded, Skills Mastery and More - Counselling theories and skills are broken down into easy-to-understand 'chunks', with clear examples to guide you.
You will learn about the three key types of contract used in TA – administrative, therapeutic and sessional – and the different terms that may be used for these. You will be given a list of questions that you can use to assess the effectiveness of your contracts. Lisa then takes a deeper dive into criteria for effective contracting, helping you to understand how TA therapists contract with their clients and to apply relevant good practice in your own work.
Of course, contracting may not always run smoothly, and Lisa highlights possible pitfalls, helping you to prepare for this eventuality. You will take away with you a six-stage model for contracting for change, which tackles the limitations of contracting in TA, together with an understanding of two other models that you can also apply to your practice.
Lisa concludes her lecture with a reflective question, encouraging you to consider your own approach to contracting – and a list of six references for further reading into this topic.
About the Lecture Presenter
Alongside running a successful counselling and supervision private practice, Lisa has been delivering supervision and counselling training since 2009.
She is passionate about the power of group dynamics and the therapeutic relationship and trusts in founding a relationship of respect, trust and confidentiality as an essential way of working with clients and students.
In conjunction with her enthusiasm for community and connection, Lisa is a Wellbeing Consultant for a local charity.
Lisa is a Registered Member of the UK Council for Psychotherapy, the British Association for Counselling and Psychotherapy, the UK Association for Transactional Analysis, the European Association of Transactional Analysis and the International Association for Transactional Analysis.
Free Handout Download
Using Contracting to Negotiate the Working Alliance lecture overview