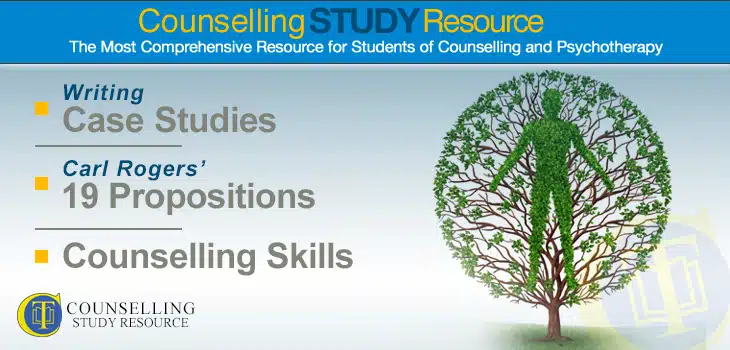 041 – Writing Case Studies – Carl Rogers' 19 Propositions – Counselling Skills

In episode 41 of the Counselling Tutor Podcast, Rory Lees-Oakes and Ken Kelly describe how to write a case study. 'Theory with Rory' looks at how best to apply the 19 propositions when writing case studies and assignments. Last, the presenters talk about diversity in the counselling room.
Writing Case Studies (starts at 3.26 mins)
Ken and Rory offer a number of tips on writing case studies as a student:
Always check the criteria set by your awarding body before you start writing.
Open the case study with a 'pen portrait' of the client – e.g. age, gender and presenting issue.
Continue by describing the client's counselling journey, from start to finish.
Depending on the criteria you are working to, there are various themes you can develop – for example, ethics, the theory of your modality, and your self-awareness during the work.
It is always good to reflect on your own learning from your sessions with the client, and how you might approach things differently in future.
Carl Rogers' 19 Propositions (starts at 13.51 mins)
The 19 propositions were developed by Carl Rogers, the founder of person-centred therapy. They describe his theory of personality, expressed in terms of how a human being perceives the world (i.e. phenomenology). This part of person-centred theory is often seen as particularly hard to 'decode'. Rory has done so previously in Counselling Tutor Podcasts 13 and 14. One key tip he offers when reading Rogers' original wording is to swap the word 'organism' for 'person'.
Rory offers three insights into how you can make maximum use of the 19 propositions when writing case studies and assignments. For example, you can use this theory to:
evidence how clients engage with their incongruent selves
describe how, in making sense of their reality, clients can transcend it (as the philosopher Edmund Husserl believed that once indivuduals understand their reality, they can then transcend it)
explain how clients engage with their truth and what changes they make as a consequence of that.
Key to all these is to use client statements from counselling interactions to illustrate your points.
For more information, you can download Rory's handout, 'Three Positions in Phenomenology: The 19 Propositions'.
Free Handout Download
19 Propositions: Three Positions in Phenomenology
Counselling Skills (starts at 19.40 mins)
In counselling training, it is harder to demonstrate our use of skills than our understanding of theory (which can be written about in assignments). Because our work with clients is subject to confidentiality, we must showcase our grasp of skills through simulated sessions with peers. This can feel rather artificial, with a pressure to somehow slot in every skill in order to meet the criteria.
Ken's new book, Basic Counselling Skills: A Student Guide is a great resource for skills development at all qualification levels. Uniquely, this includes links to online audio recordings of skills demonstrations. The effect of each skill is explored. As shown in research by Catherine Goldsmith at the University of Manchester, which led to the dodo bird conjecture, the key to effective therapy is primarily the relationship between the patient and therapist. Good counselling skills are key to building this relationship.
Rogers used to audio record client sessions and listen back to these for learning. Recording is really useful for student counsellors; Ken strongly recommends doing so as much as possible (with client consent). Voice recorders can be purchased inexpensively these days.
Links and Resources
Counselling Tutor Facebook group