159 – Challenges in Online Counselling Training
The Digital Counselling Revolution – Existential Therapy
Welcome to episode 159, the first in our brand-new series of the Counselling Tutor Podcast. In this episode, Ken Kelly and Rory Lees-Oakes discuss the challenges of online counselling training where much of the input is provided remotely.
Then, in an innovative new slot 'The Digital Counselling Revolution', the presenters look at where counselling is going in the era of social distancing and reduced opportunity for face-to-face contact.
Last, 'Practice Matters' focuses on existential therapy, with input from guest lecturer Professor Mick Cooper.
Challenges in Online Counselling Training (starts at 1.50 mins)
Counselling is different from many other fields of study in that it can be very challenging for students and teachers alike to switch to remote learning and teaching.
The current COVID-19 pandemic has led to a need to adapt quickly to this new way of working.
Students are facing huge challenges never seen before. Indeed, recent research by Professor Susanna Loeb at Brown University shows that online classes are generally less effective than in-person teaching for most learners, and particularly for those with weaker academic backgrounds.
One of the key losses in online learning is that of peer support. Indeed, the Education Endowment Foundation found that peer interactions can provide motivation and improve learning outcomes.
So what can you do to help yourself in this brave new world, particularly with regards to online counselling training? Ken and Rory suggest the following:
Join the Counselling Tutor Facebook group, where you can connect with over 32,000 students, tutors, qualified counsellors and supervisors. It's a great opportunity to ask any questions and discuss your learning, getting other people's ideas and input into your learning.
Consider starting your own small peer support group with others from your course, for example using Zoom or Skype.
For your online counselling training, try to attend the live versions of any lectures rather than rely on the recorded ones. This allows you to ask questions at the time, and so clarify your understanding when the tutor is there to answer them.
Use your webcam when attending live lectures, as this makes you far more likely to stay focused and not be tempted to multitask.
Close any other programs and apps that 'go ping'! In other words, don't have other websites and software open that will send you notifications when you need to be concentrating on your learning.
Put in robust planning for your study. For example, you might like to consider complementing your formal studies with some back-up support from experienced specialists in online learning (not the case for many tutors), for example via our Counselling Study Resource (CSR).
In summary, it's important to take your online studies just as seriously as you would when studying in the classroom.
The Digital Counselling Revolution (starts at 19.23 mins)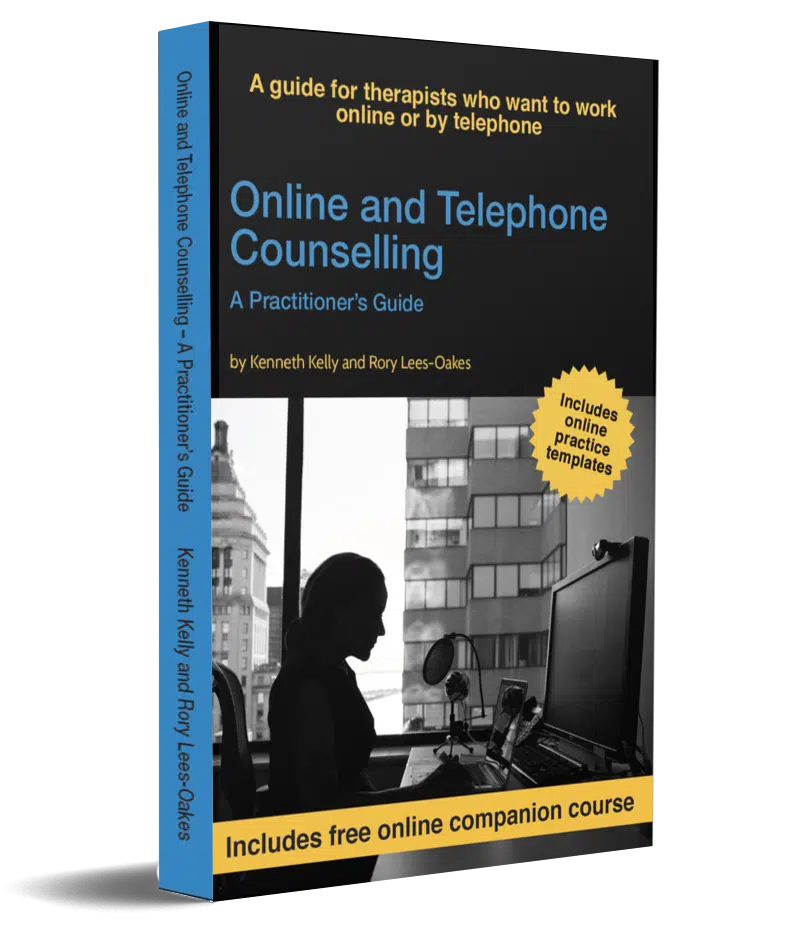 BESTSELLER
Online & Telephone Counselling Book
Available in Paperback and Kindle
Includes FREE COMPANION COURSE that you can do online to underpin and strengthen your learning
In this new slot for this academic year, we will be exploring lots of different aspects of technology-assisted therapy, a hot topic in the world of counselling and psychotherapy.
Counselling online is a very different environment than counselling face-to-face – and so change is needed in order to be able to adapt to this new way of working, and to do so safely, effectively and ethically. As with all change, there can be 'pain in the pivot'.
Counselling Tutor has created a course, Online and Telephone Counselling, to support you in this. Offering over 80 learning hours, it meets the BACP's competences for telephone and e-counselling.
Key to pivoting successfully to online working is having an online mind-set ourselves.
Feeling that online counselling is less effective than face-to-face working may well undermine the therapeutic relationship and/or our clients' confidence in their therapy.
Research suggests that it is perfectly possible to achieve positive and meaningful outcomes for clients by working online. Does this feel true for you? And if not, might this reflect your own relationship with technology?
As Rory points out, technology and counselling are in fact long-established partners, with Carl Rogers using technology to audio-record and film counselling sessions many years ago as a way of helping practitioners to learn and develop.
Ken and Rory provide some tips on understanding and developing your relationship with technology:
Journal about this, as a way to develop your own self-awareness.
If you identify shortfalls or reticence in your use of technology, have a look on YouTube for videos that could show you how to tackle any such gaps in your knowledge and skills.
Remember too that all providers of technology products (e.g. Zoom) link to their own training videos from their websites.
Try searching online for 'free basic computer courses'.
Try not to think of online counselling technology as strange and different – you likely use your microwave and TV without a second thought, and this can become just as familiar and comfortable with the right training and practice.
Free Handout Download
Developing an Online Mindset
Existential Therapy (starts at 34.40 mins)
In this part of the Counselling Tutor Podcast – aimed at supporting qualified practitioners to sharpen their competence – Rory talks to Professor Mick Cooper, whose lecture on existential therapy has recently been added to the Counsellor CPD library.
Mick provides an introduction to existential therapy, its routes in existentialism (a branch of philosophy), and how many of the core ideas can be applied by therapists in any modality.
Mick and Rory also discuss:
key figures in existentialism and existential therapy, e.g. Kierkegaard, Buber, Sartre and Frankl
differences from and similarities with the person-centred approach
which clients might be suited – or not suited – to this approach.